School of Professional Studies
Welcome to the Charles Morton Share Trust Division of Nursing
It is an exciting time to be a Registered Nurse! Never before have so many career opportunities been open to RNs prepared with a BSN. The Nursing Program at NWOSU prepares its graduates to tackle the role of the professional registered nurse in a variety of settings and lays the foundation for its graduates to pursue advanced nursing education and leadership roles.
The NWOSU Charles Morton Share Trust Nursing program is among the top in the state with the national RN licensing examination (NCLEX) pass rates. The BSN program is accredited by the Accreditation Commission for Education in Nursing, Inc. (ACEN) and is approved by the Oklahoma Board of Nursing (OBN). The BSN-to-DNP program for Family Nurse Practitioners has received provisional approval from the Oklahoma Board of Nursing. In April 2014, we were proud to be ranked in the Top 20 National Nursing Programs by CollegeAtlas.org based on academic quality, accessibility, affordability, and program outcomes. The yearly application process begins in October.
Our nursing conceptual framework is based on Jean Watson's caring theory and several other important concepts.
The Kaplan Nursing Program Admission Test dates are available after October 1. Please contact Pam Hess, the Charles Morton Share Trust Division of Nursing Administrative Assistant, to schedule your exam at (580)-327-8493.
---
The BSN-to-DNP Program for educating Family Nurse Practitioners is scheduled for its first accreditation visit through the Commission for Collegiate Nursing Education (CCNE) on November 13- 15, 2019. The Commission provides the opportunity for program constituents and other interested parties to submit, in writing, third-party comments concerning a program's qualifications for accreditation. CCNE shares third-party comments with members of the evaluation team prior to the visit, but at no time during the review process are these comments shared with the program. During its review of the program, the evaluation team considers third-party comments that relate to the accreditation standards. All third-party comments submitted to CCNE must be written in English and all comments must be submitted no later than October 15, 2019.
If you would like to submit a third-party comment for a program currently under review, please submit to thirdpartycomments@ccneaccreditation.org.

Or, if you prefer, mail comments to:
Commission on Collegiate Nursing Education
Attn: Third-Party Comments
655 K Street, NW, Suite 750
Washington, DC 20001
---
Contacts:
Pam Hess
Charles Morton Share Trust Division of Nursing Administrative Assistant,
(580)327-8493; Fax (580) 327-8434
prhess@nwosu.edu
Dr. Shelly Wells
Charles Morton Share Trust Division of Nursing Chair
Professor of Nursing
(580) 327-8489
scwells@nwosu.edu
Dr. Leslie Collins
Assistant Professor of Nursing
Assist. Co-Chair Alva
Charles Morton Share Trust Division of Nursing
(580) 327-8496
lncollins@nwosu.edu
Dr. Pat Thompson
Wisdom Family Foundation Doctoral Program for Rural Nursing Practice Doctor of Nursing Practice Program Director
Associate Professor of Nursing
Charles Morton Share Trust Division of Nursing
(580)-327-8497
prthompson@nwosu.edu
---
Clubs:
---
Student Spotlight
Blake DeMond, Broken Arrow, OK, 2018 Graduate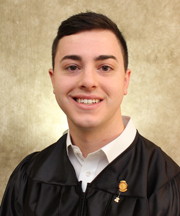 "I wanted to be a nurse ever since sophomore year of high school and the Division of Nursing has given me the opportunity to do so. The Division of Nursing has provided me the tools necessary to exceed in my future career and provide excellent care in any area. The program has instilled in me the characteristics of knowledge, care, and empathy needed to be a prudent nurse."
Northwestern Oklahoma State University's Nursing program participates in articulation agreements with selected career technology centers within its region, as listed below.
These agreements apply only to students who have earned a nationally recognized certification as a Licensed Practical Nurse (LPN), Certified Nurse Aide (CNA), or Emergency Medical Technician (EMT).
Northwest Technology Center
Autry Technology center
High Plains Technology Center
Pioneer Technology Center
Scholarship opportunities are available for students in this department.
Current students have until March 15 for academic scholarships and February 15 for departmental scholarships. Please use the Continuing Student Scholarship Application.
For departmental scholarships you also will need to fill out a form provided by the department chair.
Departmental scholarships available in this area and more can be found at https://my.nwfoundation.com/scholarships, including numerous miscellaneous unspecified scholarships.
For additional information, please visit Scholarships, as well as contacting Dr. Jennifer Mahieu at jlmahieu@nwosu.edu.
NWOHEC Scholarship
NW Oklahoma Healthcare Coalition
2929 E. Randolph, Rm 130
Enid, OK 73701
Carol Williams, 580-747-197
Nursing Program Accreditation and Approval
The Board of Commissioners of the Accreditation Commission for Education in Nursing, Inc. (ACEN) has reaffirmed full accreditation status for Northwestern Oklahoma State University's Bachelor of Science in Nursing degree program following a site review of the program in 2014.
The actions of ACEN further validates the academic standing of our nursing program and supports the changes that have been made to further strengthen the program. Each member of the nursing faculty has successfully met the challenges of assuring the curriculum and clinical experiences meet the needs of the professional marketplace.
Patterns of strength noted by the evaluators included affordability and accessibility through distance learning technology, strong library facilities with state-of-the-art on-line services, articulate and mature students who are committed to the program, strong community commitment and support, and evidenced support of the Northwestern administration for the program, faculty and students.
The BSN-to-DNP Nursing Program will be submitted for national accreditation after the first year of courses have been completed as required by the national accreditation agencies.
The Northwestern Bachelor of Science in Nursing Degree Program is approved by the Oklahoma Board of Nursing. The BSN-to DNP Nursing Program for the preparation of Family Nurse Practitioners has received provisional approval of the Oklahoma Board of Nursing.
Oklahoma Board of Nursing
2915 N. Classen Blvd, Suite 524
Oklahoma City, OK 73106
(405) 962-1800
---
For questions regarding the Bachelor of Science in Nursing degree program accreditation, write to:

ACEN
3343 Peachtree Rd., NE
Suite 850
Atlanta, Ga. 30326
Phone - 404-975-5000
Nursing Practice Laboratories
Northwestern Nursing Practice Laboratories
The Ketterman Lab, located on the Enid Campus, provides support to the clinical education of nursing students and healthcare staff in northwest Oklahoma. Students of all ages, allied health and medical personnel tour the lab or attend an American Heart Association Basic Life Support class, or a specific simulation designed to meet the students' learning outcomes.
The Wymer Lab, located on the second floor of Carter Hall on the Alva Campus provides support to Northwestern Oklahoma State University nursing students with high fidelity adult, child, and maternity simulators.
A smaller Nursing Practice Lab with an adult and infant simulator is available for nursing students on the Woodward campus and the AllianceHealth Ponca City hospital houses a nursing practice lab facility for student use.
The high-fidelity adult, child, maternity, and infant simulators along with volunteer standardized patients allow practice of nursing skills and communication in a safe learning environment. Simulation practice prepares nursing students for the clinical setting by increasing confidence. Students experience a variety of simulation situations which may or may not be commonly present in the clinical setting. Simulation by health care professionals improves patient outcomes in the health care setting.
To arrange or schedule a tour or class in any of the Nursing Practice Lab settings, contact the Ketterman Lab Coordinator.
Contact Information:
Jean Wahlgren, MSNE,RN
Coordinator of Ketterman Lab
Charles Morton Share Trust Division of Nursing
Northwestern - Enid
(580) 213-3157
jcwahlgren@nwosu.edu
Charles Morton Share Trust Division of Nursing Program Outcomes
The Charles Morton Share Trust Division of Nursing at Northwestern Oklahoma State University values its role and recognizes its responsibility in preparing baccalaureate-prepared nurses for northwestern Oklahoma and the surrounding areas. The Charles Morton Share Trust Division of Nursing is proud to share its program outcomes with our stakeholders: