School of Professional Studies
Agriculture Department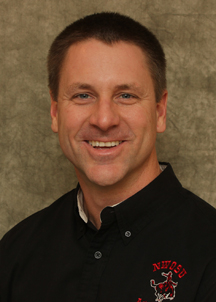 Greetings from Northwestern Oklahoma State University in Alva, Oklahoma, home of the Rangers! We are pleased about your interest in our Agriculture Department and are confident that you will find Northwestern to be a great place to continue your education.
Northwestern's Agriculture Department offers students the unique opportunity to obtain a bachelor's degree in an agriculturally-related discipline at a regional university in Oklahoma. The rural, geographic location of the University along with its regional mission provide an excellent foundation for the program. The Agriculture Department offers bachelor of science degrees in agriculture and agricultural education, both of which prepare students for rewarding careers. Students majoring in agriculture have the opportunity to choose a minor in specialty areas such as animal science and field crop consulting, but also in areas such as business, entrepreneurship, mass communication and many others. Students studying agricultural education are comprehensively prepared to obtain state licensure and to begin teaching agriculture in our Oklahoma high schools. The affordability of each degree and subsequent low student debt, in conjunction with competitive entry-level salary opportunities, provide students of the program tremendous flexibility as they begin agricultural careers after graduation.
The Agriculture Department at Northwestern offers courses that are directed to, and for, students. We are proud to say that you are never just another face in the crowd at Northwestern. The typical student-to-faculty ratio of around 17-to-1 guarantees that agriculture students will have an opportunity for excellent personal interaction with their instructors, and helps foster a close-knit atmosphere that so many agriculture students desire. Additionally, the agricultural student body is made up of people from many different states, countries, and backgrounds, providing students with opportunities to develop lifelong friendships with individuals from literally around the world.
Another major strength of the Agriculture Department at Northwestern is the opportunity for students to combine academic efforts with practical, hands-on experiences at our University Farm. Ultimately, our goal at Northwestern is to prepare our graduates for dynamic careers in production agriculture, agricultural business, and agricultural education in order to feed, clothe, and fuel our nation and our world.
If you have questions about Northwestern and our agriculture programs, I encourage you to contact me or our Office of Recruitment today to set up a campus tour. We look forward to helping you reach your educational goals.
s/Dr. Dean Scarbrough, Chair
Contact:
Dr. Dean Scarbrough, Chair
Professor of Agriculture
Jesse Dunn 106
Northwestern-Alva
(580) 327-8487
dascarbrough@nwosu.edu
---
---
Student Spotlight
Riley Tune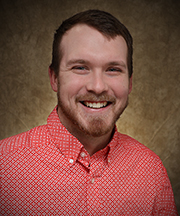 Seiling, OK
Senior
Major: Agriculture
Minor: Animal Science
"The Agriculture Department here at Northwestern has not only provided me direction for a career but also direction for who I want to be. The professors are always willing to lend a helping hand and are invested in anything we do. All the classes I've had the privilege to take have provided hands-on experiences to help us better understand the content. I am where I am today, and have the opportunities I have, due to the Agriculture Department."
DEGREES OFFERED
The Agriculture program at Northwestern Oklahoma State University is designed to introduce its majors to scientific principles and practical skills associated with modern agriculture. Students develop a deep understanding of traditional agricultural practices in plant and animal sciences, and agricultural management, economics, and marketing.
The Agriculture Department offers two bachelor of science degrees.
Agriculture
Agricultural education
Agriculture major
Students seeking a degree in agriculture complete a general education curriculum consisting of 45 required hours plus 6-9 hours of electives. The agriculture major is comprised of 47-48 hours with specific emphases in animal production and management, crop and forage production, soil fertility, and agricultural economics and marketing. Agriculture majors also complete a 19 to 21-credit hour academic minor. There are over 40 minors from which Northwestern agriculture students may choose, but common preferences include field crop consulting, animal science, business, or mass communication.
Agricultural Education major/minor
Students seeking a degree in agricultural education complete a general education curriculum consisting of 45 required hours plus approximately 4-5 hours of electives. The agricultural education curriculum consists of 70 credit-hours focused in two core areas including agriculture and professional education. The agriculture core is comprised of 36 hours of agriculture science and mechanized agriculture-based classes, while the professional education core includes 24 credit hours of education-based classes and 10 credit hours associated with the student teaching semester.
Both degree programs require a minimum total of 120 hours for graduation. Detailed information regarding course requirements and descriptions for these majors and minors can be found in the NWOSU Undergraduate Catalog, Section XIII Degree Curricula and Course Descriptions.
AGRICULTURE CERTIFICATES
​The Northwestern Agriculture Department offers certificates in animal science and plant and soil science.
Certificate in Animal Science

For Agriculture Education majors

For non-Agriculture majors, or non-Agriculture Education majors

Certificate in Plant and Soil Science

For Agriculture Education majors

For non-Agriculture majors, or non-Agriculture Education majors
Both certificate programs are designed to allow non-agriculture and non-agricultural education majors the opportunity to add value to their undergraduate degree by developing a deeper understanding of the biological principles and production practices associated with modern livestock and/or crop and forage production. Upon successful completion of associated course requirements, each certificate is officially documented on transcripts for the intent of enhancing students' career opportunities.
Requirements
Students must be admitted to Northwestern Oklahoma State University under normal admission requirements, maintain a retention/graduation GPA of 2.00 or better, and meet or exceed other conditions as outlined in the NWOSU University Catalog (see Section IV General Academic Regulations & Section XII Certificates). Academic advisors, department chairs and administration are available to assist students, but it is the student's responsibility to make sure all requirements are met satisfactorily.
Degree Planning Resources
Course Rotation
Degree Plans
Plans of Study
Departmental Program Highlights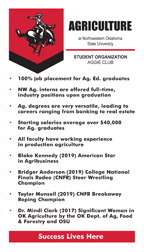 AGRICULTURE DEPARTMENT HIGHLIGHTS
100% job placement for Ag. Ed. graduates

NW Ag. interns are offered full-time, industry positions upon graduation

Ag. degrees are very versatile, leading to careers ranging from banking to real estate

Starting salaries average over $40,000 for Ag. graduates

All faculty have working experience in production agriculture

Blake Kennedy (2019) American Star in Agribusiness

Bridger Anderson (2019) College National Finals Rodeo (CNFR) Steer Wrestling Champion

Taylor Munsell (2019) CNFR Breakaway Roping Champion

Dr. Mindi Clark (2017) Significant Woman in OK Agriculture by the OK Dept. of Ag, Food & Forestry and OSU
Student Organizations / Clubs
AGRICULTURE STUDENT ORGANIZATIONS
FACILITIES
University Farm
In addition to classrooms located on the Alva campus, Northwestern's Agriculture program currently has a working University Farm, located approximately 8 miles southwest of the city of Alva. The 320-acre farm consists of both tillable wheat ground and mixed-grass prairie. Improved buildings include a swine farrowing barn, hay & equipment barns, cattle working facilities, classrooms, and the Wisdom Family Agriculture Education Building.
Student Learning Outcomes
AGRICULTURE STUDENT LEARNING OUTCOMES
Students will characterize / differentiate between species of, and anatomical features of, agriculturally important animals.

Students will design, create, and defend practical feed rations for domestic livestock.

Students analyze and effectively communicate important concepts in agronomy and animal science.

Students will characterize / differentiate between species of, and morphological structures of, agriculturally important plant species.
CAREERS IN AGRICULTURE
Students graduating with a degree in Agriculture from Northwestern gain employment in many different areas of the agriculture industry. Many choose to pursue careers in agricultural lending, grain production & management, crop consulting, or animal production. Others choose to return home to the family farm / ranch, or opt to start their own agriculture-related businesses.
The demand for college graduates in the field of Agriculture is great, and this trend will continue as long as people rely on agricultural products for food, fiber, and fuel.
Search for ideas on what you can do with this major: http://whatcanidowiththismajor.com/info.html