Study Abroad
Northwestern's Study Abroad Program
is a once in a lifetime learning opportunity. Students not only get to take a fascinating course on the country they're visiting but they'll get to experience the lessons for themselves. Many students comment that the trip and the things they've learned will never be forgotten.
Here are a few memorable lessons from previous trips:
Discussing the Irish fight for independence in the post office that served as the "headquarters" of the Irish rebellion--complete with bullet holes (UK 2012)
The significance of flamenco dance to Spanish culture while attending a live flamenco performance (Italy & Spain 2014)
Experience Māori architecture at the Māori Cultural Centre in Rotorua (Australia & New Zealand 2017)
Touring the ruins of excavated Pompeii and experiencing a unique snapshot of ancient Roman life (Italy 2019)
Every year we have travelers join our trip that aren't taking it for course credit. We welcome anyone interested in joining one of our Study Abroad trips to email the appropriate faculty member or fill out the study abroad interest form to join our email list.
The Study Abroad Program's Mission
In order to provide quality educational and cultural opportunities to learners with diverse needs, Northwestern Oklahoma State University's Study Abroad committee offers globally-aware curricula and internationally-focused student programs. By facilitating experiential and traditional learning, sponsoring programs, and guiding the University's study abroad initiatives, these efforts provide a much needed global perspective for the NWOSU community.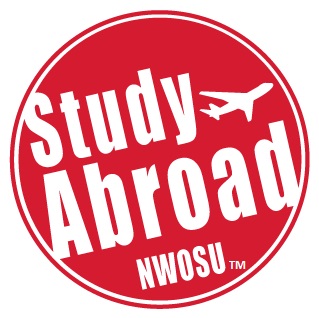 Email: studyabroad@nwosu.edu
More information about studying abroad can be found here.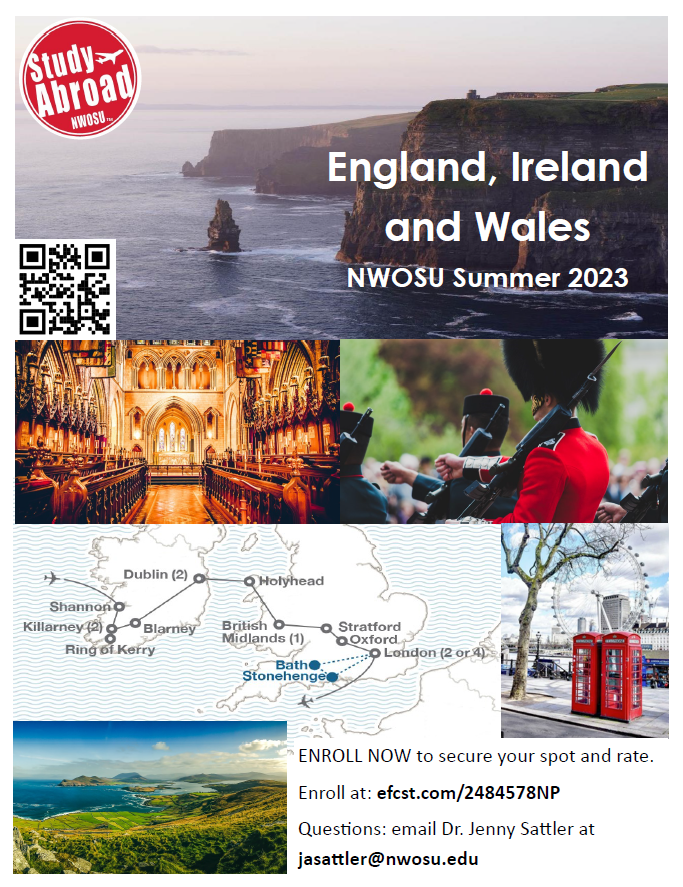 Northwestern Oklahoma State University's Study Abroad Committee has its sights set on taking a tour group to England, Ireland and Wales in the summer of 2023. Study abroad trips are not only for Northwestern students and employees but are open to the general public as well.
Spend 11 days abroad, earn college credit, and experience something new. In the British Isles, the bindings of culture and history are as strong as King Arthur's sword. As travelers zip across the landscapes that knights spent centuries battling for, it all comes into focus. Participants will see where ties were broken and kingdoms were defended. English works everywhere the group goes, but the jam-packed adventure will leave group members fluent in everything British Isles.
Some items on the itinerary include an excursion to the Ring of Kerry, a 112-mile coastal route with incredible views of the Atlantic Ocean and the surrounding mountain range of Macgillycuddy's Reeks. After exploring Dublin, the group will travel via ferry to Holyhead, a port city in Wales. The guided tour of London includes visits to Big Ben, Houses of Parliament, Piccadilly Circus and Stonehenge.
Learn more about the Northwestern Summer 2023 Study Abroad Trip at one of the upcoming interest meetings:
Thursday, Sept. 29

Thursday, Oct. 6

Tuesday, Oct. 18

Tuesday, Nov. 1

Thursday, Nov. 17

Thursday, Dec. 1
The 5 p.m. meetings will take place in the Industrial Education Building Room 131 on the Alva campus, Room 218 in Enid and Room 145 in Woodward. Zoom options are available upon request to Dr. Jenny Sattler, chair of the Department of Natural Science and associate professor of physics, at jasattler@nwosu.edu or (580) 327-8568.
Sattler and Dr. Leslie Collins, chair of the Charles Morton Share Trust Division of Nursing and associate professor of nursing, are the group leaders for this next study abroad adventure. For more information contact Sattler or Collins at lncollins@nwosu.edu or (580) 327-8489.
UNIV 2013 - GLOBAL CITIZENSHIP
UNIV 2013: Global Citizenship
This course utilizes an interdisciplinary approach to ensure students gain a broader understanding of the global environment, their place in the world, and the issues within that world.
This 3 credit hours course is offered every spring in the 2nd 8 weeks.
Can be used to meet the Values & Beliefs electives or as a general elective.
Works in tandem with the university-sponsored trip.
Can work with other international travel.
Faculty-Led Study Abroad Courses