School of Arts & Sciences
Join us in the Department of Natural Science at NWOSU, where you can:
Begin your journey to become an engineer
Become a high school science teacher
Complete a degree as you prepare for medical school
Build a strong foundation for graduate school
Prepare for work in goverment agencies
Transition directly to the workforce after completing your degree
The Department of Natural Science at NWOSU offers coursework in Biology, Chemistry, and Physics with several NCA accredited major and minor degree programs to choose from. The department also works closely with the Department of Education to provide state certifications for teaching high school Biology, Chemistry, and Physics.
"Why Science at NWOSU?" We're glad you asked! Here are just a few reasons our majors excel at NWOSU:
Smaller class sizes and a tight-knit faculty means more 1-on-1 time with qualified faculty and increased opportunities to complete independent studies & undergraduate research projects!

With several science clubs (Chemistry Club, Biology Club, Medical Sciences Club, Society of Physics Club, Ranger Rocketry Team), you can become actively involved with others in engaging activities and outreach programs!

You can complete pre-requisite coursework for professional programs at a fraction of the cost -- and with faculty who genuinely care about your successes!
---
Contact:
Dr. Jenny Sattler, Chair
Associate Professor of Physics
Science Building 107-B
Northwestern-Alva
(580) 327-8568
jasattler@nwosu.edu
---
---
Student Spotlight
Morgan Marks, Chester, OK, Senior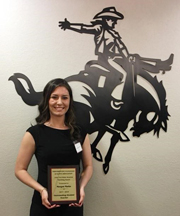 "Northwestern is a great place to go to school! I was able to get a great education that prepared me for my career. The science department and faculty were very helpful and have their students' best interests in mind. These professors pushed me to become better and helped me get to where I am today."
Morgan Marks was awarded the 2018 John Ted Meier Student Teaching Award and will be teaching High School Chemistry in Newkirk for the 2018-19 academic year.
Amanda Harding, Mannford, OK, Sophomore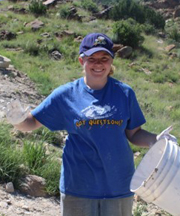 "Northwestern is an awesome place to learn, especially in the Department of Natural Science. After taking many Biology classes, I've learned so much that I don't look at nature the same way as I used to. Instead of looking at an animal and just seeing it, I can look and think about why it moves, looks, or acts the way it does and what role it plays in its environment! I have always loved being outside and looking at wildlife, but now I appreciate it even more because I can look deeper into how it works."
We offer degree programs in:
| | | | |
| --- | --- | --- | --- |
| | Major | Minor | Science Education |
| | | | |
| | | | |
| | | | |
For a detailed look at the course requirements and descriptions for these degrees, please see the Undergraduate Catalog.
Pre-Professional Programs (Pre-Health & Pre-Engineering)
Pre-Professional programs of study within the Department of Natural Science at NWOSU consist of pre-requisite coursework for professional programs offered at other institutions. Students work with their advisors to select the most appropriate coursework for their academic goals.
For example:
Pre-Engineering students typically complete general education, mathematics and physics coursework in two years at NWOSU and continue their education at an ABET accredited engineering program at another institution.
While not required of engineering programs, NWOSU also has available upper-level elective coursework to build upon introductory pre-requisite coursework (i.e. Science Fair Judging and C-STEM Investigations)
Pre-Medicine students generally complete four years of study at NWOSU, earning a BS in biology (often with a chemistry minor) and continue their education at medical school immediately after graduation.
A Pre-Health Advisory Committee exists to assist students in this process, proving the opportunity for students to complete a professional interview which ultimately leads to a committee letter submitted to schools of the student's choice.
If interested in these programs, submit the Pre-Health Program Interview Application.
---
Pre-Health Program
The Department of Natural Science at Northwestern Oklahoma State University offers much of the required preparatory coursework for future professionals pursuing careers in:
Chiropractic Medicine
Dental Hygiene
Dentistry
Medicine
Occupational Therapy
Optometry
Pharmacy
Physical Therapy
Radiologic Technology
Veterinary Medicine
NWOSU / OSU 3 + 1 Rural Medical Track Program
Students interested in this program will complete an accelerated degree plan in the biological sciences at NWOSU. In their fourth year of study, they will attend OSU-Tulsa, completing coursework at OSU to finalize their BS (biology major) at NWOSU while working toward their DO at OSU-CHS in the Rural Medical Track (RMT). More detialed informatin can be found here: https://health.okstate.edu/com/admissions/three-one-program.html. If you are interested in this program, you will need to visit with your advisor during your first year at NWOSU.
Regardless of their program of study, each student within the sciences works closely with an advisor to schedule classes to best prepare for his or her career goals. Because NWOSU's Department of Science is of modest size and student to teacher ratios are low, every student becomes well acquainted with each of their professors and enjoys a comfortable, invigorating and supportive atmosphere.
The Pre-Health Advisory Committee
Comprised of dedicated faculty from the department, the Pre-Health Advisory Committee is committed to fulfilling the following duties to help prepare students in the admission process:
Provide information and offer counsel to candidates to strengthen their application packages
Conduct professional interviews as candidates near completion of their degree
Submit committee letters of recommendation on behalf of qualified pre-professional students
Remain available as a resource for candidates beyond graduation at NWOSU
Current members of the Pre-Health Advisory Committee include:
Jennifer Sattler, PhD
Cornelia Mihai, PhD
Assigned on a rotating basis
Ideally, each committee member will know all candidates through advising and/or coursework. In the event that two or more committee members are not familiar with the candidate, then other members of the science faculty may serve as alternate members of the Pre-Health Advisory Committee for the interview process. Alternate committee members will be directly involved in writing the final letter of recommendation.
---
Pre-Engineering Program
Northwestern Oklahoma State University offers pre-engineering as a pre-professional program of study. This preparatory program is especially attractive for students wishing to pursue engineering and
would like to save on expenses earning prerequisite credit, or
are seeking a smaller campus experience before studying engineering at a larger institution. Northwestern is proud of its small campus feel, its friendly atmosphere, and its qualified faculty; making it the school of choice for many students wishing to prepare for a diverse array of fields.
At least two years of approved academic work is the minimum requirement for entrance to engineering schools. The course requirements of engineering schools vary, as does the required cumulative college grade-point average of applicants. Although pre-engineering students at NWOSU have advisors to assist with their program of study, it is ultimately the responsibility of each student to be aware of the specific requirements (prerequisite courses and grade-point average) of the institution he or she intends to apply.
Prerequisites and Requirements
The pre-engineering program at NWOSU is designed to be a two-year preparatory program for advanced study at other engineering schools. Based on the academic background and need of a particular student, more than two years of preparatory study may be required. Advisors at NWOSU try to maintain a balance between enrolling students in required pre-engineering coursework in addition to general education requirements common to NWOSU and other engineering schools. This way, students will be prepared if they move on to engineering school or if they decide to remain and earn their four-year degree at NWOSU. Typical "staple" coursework for pre-engineering students at NWOSU includes the courses listed in the table below.
MATH 1513* College Algebra Advanced standing tests are available for MATH 1513 and MATH 1613
MATH 1613 College Trigonometry
MATH 2215 Analytic Geometry and Calculus I
MATH 2315 Analytic Geometry and Calculus II
MATH 3323 Multivariable Calculus
PHYS 2114 Physics I MATH 2215 is a prerequisite for PHYS 2114 and 2214.**
PHYS 2214 Physics II PHYS 2114 is a prerequisite for PHYS 2214
*Students with ACT scores less than 19 must take content area placement exams for enrollment purposes at NWOSU. Based on the results of the mathematics placement exam, students may be required to take Pre-Intermediate Algebra (MATH 0013) or Intermediate Algebra (MATH 0123) prior to enrolling in College Algebra.
**Students may be approved to take MATH 2215 concurrently with PHYS 2114 as a corequisite instead of as a prerequisite.
Opportunities for Involvement
NWOSU offers its students an environment that is rich with opportunities for academic and personal growth. This extends to NWOSU's science and pre-engineering students as well.
Each fall, high school and middle school teams compete in the Heartland BEST robotics competition. This annual event requires significant planning in the fall and spring; raising public awareness, refurbishing/testing equipment, and building a demonstration robot are only a few of the ways pre-engineering students can get involved.
Each spring, NWOSU offers Science Fair Judging as a service learning course in the sciences. In this course, NWOSU students judge local science and engineering fair projects. Numerous other activities are planned and sponsored by student campus organizations.
A few organizations pre-engineering students might be interested in include SPS (Society of Physics Students), Biology Club, Chemistry Club, Math Club, and the Computer Science Club.
The science faculty encourages all students to explore ways to get involved on campus and community activities to broaden their experiences. And, as one can see, finding ways to get involved in science and engineering related activities that goes beyond the usual class work is as easy as it is rewarding!
Degree Planning Resources
Course Rotations
Plans of Study
Biology Major - Natural Science Option
Departmental Program Highlights
Prepare for a career in medicine, engineering, research, high school science teaching, industry, and more

Experience science firsthand with small class sizes and well-equipped labs

Excel in academics with options available in pre-professional areas to include pre-health and pre-engineering

Participate in undergraduate research and present at professional conferences

Become involved in several K-12 STEM outreach programs

Earn awards with over $20,000 in departmental scholarships for continuing science majors each year
If you are a first, second, or third year student at NWOSU, then you are eligible for a Continuing Student Scholarship! Even if you plan to graduate in the winter (rather than May) of next year, you are still eligible!!
To apply, please complete the Math, Computer Science, and Science Scholarship Form by February 15.
In addition, for Science Education majors, please be sure to complete the Continuing Student Division of Education Scholarship Application process as well!
For a list of science scholarships and their descriptions, please browse to this page.
All incoming freshmen or transfers are encouraged to fill out their respective scholarship forms: Freshman Scholarship or Transfer Scholarship, which should be submitted along with the Application for Admission to the University. The incoming freshman deadline is May 15, while the transfer student deadline is July 15.
Students also should complete the FAFSA form at www.studentaid.gov.
For more information and opportunities, please visit the NWOSU Scholarships page.
Departmental Statement on Evolution
Evolution is a central unifying principle in the biological and physical sciences. As such, the Department of Natural Science at Northwestern Oklahoma State University teaches evolution in many of its courses. As a scientific endeavor, the study of evolution relies on observation and testing. Evolutionary theory is well documented by evidence in fields as diverse as biochemistry, paleontology, and embryology. The Natural Science faculty agree that students must understand evolution if they are to be competent health professionals, scientists, and educators. This statement was unanimously approved by the Natural Science faculty at Northwestern Oklahoma State University on October 11, 2011.