School of Arts & Sciences

The Department of English, Foreign Language, and Humanities offers a broad range of courses leading to the Bachelor of Arts degree in English, English Education, or Spanish. Students may also pursue a minor in English, Writing, or Spanish.
Students may become involved in the Spanish Club, the Spanish honor society Sigma Delta Pi, the English honor society Sigma Tau Delta, and Writer's Roundtable. These organizations promote the study of language and literature.
Follow us on Facebook and Twitter to see what the EFLH Department is up to.
Contact:
Dr. Roxie James, Chair
Associate Professor of English
Vinson Hall 210
Northwestern - Alva
(580) 327-8474
rjjames@nwosu.edu
---
Student Spotlight
Chandler Steckbeck, Enid, OK, 2017 Graduate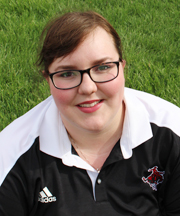 "An English degree prepares you with skills in communication, analysis, and time management, or, everything you need to succeed in any field. I've learned how to balance my time and take gentle criticism; two things I am sure will come in handy in the future as I want to teach English at the University level. I plan to go to graduate school and eventually earn a Ph.D. in English. I know my time at Northwestern, and especially in this program, has prepared me to do just that."
---
Announcements:
Fall Events
Movie Night!

Banned Book Reading!

​Writing Marathon!

Dia De Los Muertos Celebration!
Visiting Writer!

Creativity Festival!

EFLH Scholarship Apps. Due!
Guided by the principles of Northwestern's mission, the English program offers courses in literature and composition to develop creative and critical thinking skills, leading to successful performance in written communication required for success in a rapidly changing global environment. In addition, the program encourages innovative and interactive learning through computer technologies, engages students as participants in the construction of knowledge, and involves them in the analysis and creation of texts and discourse through historical, cultural, visual, and rhetorical contexts. Furthermore, English courses foster a sense of intellectual community between faculty and students by cultivating discussions about literature, rhetoric, writing, film studies, and pedagogy. They stimulate intellectual curiosity and creativity, leading to original and independent thinking in order to prepare students to teach in the public school, to enter graduate programs, or to qualify for careers in non-academic environments.
We offer:
Bachelor of Arts in English

Bachelor of Arts in English Education

Bachelor of Arts in Spanish

Minors in Spanish, English, Writing
For a detailed look at the course requirements and descriptions for these degrees, please see the Undergraduate Catalog.
Degree Planning Resources
Course Rotations
Plans of Study
Scholarship opportunities are available for students in this department!
Current students have until March 15 for academic scholarships using the Continuing Student Scholarship Application.
Use the English, Foreign Language, and Humanities Department Scholarship Application Form to apply for foundation/departmental scholarships by February 15.
Gladys Bingham-Dotter Scholarship

: Awarded to a full-time junior or senior majoring in English with a 3.00 CGPA. Preference will be given to applicants from the Northwestern service area.

Judy Jenlink Language Arts Scholarship

: Awarded to a full-time junior or senior majoring in English Education with a 3.25 CGPA. The candidate must also be active in at least one campus organization.

Agnes Lebeda Writing Award

: Granted to a full-time senior or graduate student majoring in English with a 3.50 CGPA.

The Milt and Becky Lehr Award

: Given to a full-time sophomore student who has been admitted to the Teacher Education Program and who is majoring in Elementary Education, English, or Mathematics. The English Department awards this scholarship every third year.

Gloria Piersall Scholarship

: Awarded to a full-time English major with a CGPA of 2.50.

Fran Wadley Slack Scholarship

: Awarded to a full-time junior or senior English major or minor with a CGPA of 3.00.
Dorothy Day Scholarship: Awarded to full-time Spanish Majors or Minors with a CGPA of 3.00.
For more information, please visit Scholarships.
Departmental Program Highlights
80% English & English Education graduates have full-time jobs in their chosen field within 3 months of graduation.

15% of graduates choose to pursue graduate studies.

All graduates are gainfully employed within 6 months of completing their degree.

The department hosts the Visiting Writer event every spring, bringing diverse Oklahoma authors to NWOSU.

The first location/university department to host a Writing Marathon in the state of Oklahoma.

Dr. Kathryn Lane won the John Sheffield Outstanding Teaching Award in 2015.