School of Arts & Sciences
Department of Fine Arts
The Department of Fine Arts prepares students for a career as an educator and/or artist through quality instruction and individualized attention while enriching the campus and community. As the arts center of Northwestern Oklahoma, the department serves to unite and enlighten students and communities through the visual and performing arts.
We welcome students who are interested in creating music, visual arts, and theatrical productions as a means of enriching their college experience. The department also offers major areas of study in Music and Speech & Theatre, as well as minors in the visual arts, theatre, music, and musical theatre.
Scholarships for Majors and Non-Majors
Scholarships in band, choir and voice, theatre, and/or visual arts are available by audition/portfolio review. In the event of conflicts, special audition times may be arranged. Contact Prof. Kimberly Weast (kkweast@nwosu.edu) with questions. The following two dates are for audition/portfolio review:
Freshmen Scholarship Audition/Portfolio Review Dates:
(For band, choir, theatre, and/or visual art scholarships, click below on the day you choose to sign up online.)
Contact:
Kimberly Weast, MFA
Professor of Theatre Arts
Chair, Department of Fine Arts
Fine Arts 330
Northwestern-Alva
(580) 327-8462
kkweast@nwosu.edu
---
Student Spotlight




Tori Hurley, Sheffield, Iowa, Senior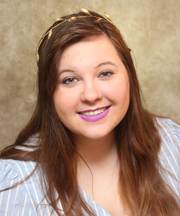 "A degree in Speech and Theatre prepares you for so much. I have been taught how to bring quality entertainment to the stage and how to be an effective speaker. Doors are opened with many possibilities in public speaking, acting, technical theatre, and more. It is a blessing to go to a school where you can learn it all! I know I wouldn't be able to do what I can today without Northwestern."
Music Degrees:
Bachelor of Arts in Music (B.A) degree provides a thorough grounding in music while allowing students to also pursue coursework in a secondary subject area such as social work, psychology, business, or many other areas.

Bachelor of Music (B.M.) degree prepares students to be performers, studio teachers, church musicians, and for music-related industry or graduate school. This degree does not lead to public school teaching certification.

Bachelor of Music Education (B.M.E.) degree in Vocal or Instrumental studies, prepares future educators for a career as a PK-12 teacher in Oklahoma and throughout the country. Although a music education major may select either a vocal or an instrumental option, the music faculty encourages all students to have experience in both vocal and instrumental music, and strongly suggests achieving state certification in both areas to increase marketability after graduation.
Speech & Theatre Degrees:
Bachelor of Arts in Speech and Theatre (B.A) degree prepares students for careers in judicial law, human resources, public relations, business, the media, the entertainment industry, professional theatre, community theatre, religious theatre and/or for graduate school.
Fine Arts Minors: Minors can accompany and enhance any bachelors degree at NWOSU.
Music Minor is a 21-credit minor that encourages musical involvement and offers flexibility with upper-level course offerings, so students can explore areas of their interest.

Musical Theatre Minor is a 21-credit minor that balances music and theatre classes while offering experience in both.

Theatre Minor is a 22-credit minor that allows students to explore theatre production, acting, scene design, makeup design, and lighting.

Visual Arts Minor is a 21-credit minor that engages students in the visual arts while pursing their major course of study. A minor in Visual Arts prepares students for advanced study in art and for entry into professional artistic employment.
For a detailed look at the course requirements and descriptions for these degrees, please see the Undergraduate Catalog.
Plans of Study
Music
Theatre
Visual Arts
Scholarship opportunities are available for students in this department.
All incoming freshmen or transfers are encouraged to fill out the Scholarship Application for Freshmen and Transfers, which should be submitted along with the Application for Admission to the University. The incoming freshman deadline is May 15, while the transfer student deadline is July 15.
Current students have until March 15 for academic scholarships using the Continuing Student Scholarship Application.
For departmental scholarships you will need to fill out a form provided by the department chair by February 15.
Departmental scholarships available in this area and more can be found at https://my.nwfoundation.com/scholarships, including numerous miscellaneous unspecified scholarships.
Students in this department also may qualify for participation scholarships of up to $2,000.
For more information, please visit Scholarships.