School of Arts & Sciences
Sociology
The Sociology major requires the satisfactory completion of 40 hours of coursework within the program. The Sociology minor requires completion of 20 hours of coursework within the program. Students are encouraged to enroll in Introduction to Sociology 1113 during the freshman year. Students are encouraged to enroll in Social Problems 2123 during the sophomore year. All other general education requirements should be completed before taking any upper division Sociology course. Introduction to Sociology and Social Problems are offered every fall and spring semesters.
Students are encouraged to tailor their elective coursework in the program to reflect their projected occupational interests. Students who plan to apply for graduate school admission are encouraged to meet with Dr. Kay Decker, Chair of the Department of Social Sciences as early in their undergraduate career as possible.
For a detailed look at the course requirements and descriptions for this degree, please see the Undergraduate Catalog.
Contact:
Name
Title
Building Office Number
Northwestern-Alva
(580) 327-
email@nwosu.edu
The Department of Social Sciences offers several scholarships to students who are majoring in the one of the programs within the department. Those students who have excelled academically are encouraged to complete the Social Sciences Scholarship Application by February 15 of each year. The form must be submitted before March 15 to be eligible for an Academic Scholarship.
Students also must complete the Continuing Student Scholarship Application.
For more information, please visit Scholarships.
The list of available scholarships includes:
Sabin C. & Pearl Ellen Percefull Scholarship for one of the Social Sciences
Donovan & Dorothy Reichenberger Scholarship for one of the Social Sciences
Dr. John C. Sheffield Scholarship for one of the Social Sciences
Jay Linder Scholarship for Pre-Law students
Glen Jenlink Scholarship for Law Enforcement majors and minors
G. W. Nichols Scholarship for Law Enforcement
Shafer Family Scholarship for Law Enforcement
R. B. Yadon Scholarship for Law Enforcement
Floyd S. Sibley Scholarshipfor Sociology
Ronald Reagan Scholarshipfor Political Science
Frank Wadley Scholarship for Political Science
John Slack Scholarship for Political Science
Cunningham Family Endowed Lectureship in Criminal Justice
Additionally, the Northwestern Foundation awards numerous other scholarships for transfer students, campus participation and miscellaneous unspecified scholarships. The Foundation is located in the Student Center Building on the Alva campus. Foundation personnel may be contacted by calling 580-327-8593 or via email to nwalumni@nwosu.edu.
Sociology Careers Include:
Teacher, Professor, National and State Park Interpreter, Cultural Resources Manager, Human Resources Manager, Advertising Executive, Policy Analyst, Researcher and Demographer, Juvenile Services Caseworker, Probation and Parole Officer... and many more.
Student Learning Outcomes
Sociology Student Learning Outcomes (SLOs) along with Curriculum Maps for each program.
Sociology graduates should be able to do the following:
SLO #1 Content Area Knowledge, Skills, and Abilities
Recognize and apply significant concepts and principles in the discipline of sociology.
Identify key elements in understanding human group life and behavior (i.e. social theory, political and social figures and events, cultural differences etc.).
Develop expertise in social theory and research methodologies.
SLO #2 Critical Thinking Skills
Critically analyze and evaluate sociological scholarship.
Evaluate and critically assess social research and data.
Recognize and interpret societal events and trends to explain change over time.
Produce plausible explanations about cause and effect of societal events.
Identify influence of values/norms/social change/social context on people, places, and things.
SLO #3 Communication Skills
Create written papers based on relevant social and behavorial research.
Discuss historical, social, economic and political issues and relationships in the United States.
Demonstrate competency in using APA documentation style.
Effectively communicate in written and verbal form.
SLO #4 Ethics and Leadership Abilities
Exercise academic and professional integrity in all forms.
Analyze and evaluate ethical issues which confront sociologists and sociological practice.
Demonstrate professional leadership in group contexts.

---
Curriculum Map Legend: I=Introduced; R=Reinforced; M=Mastered; A=Assessed
Curriculum Map for Sociology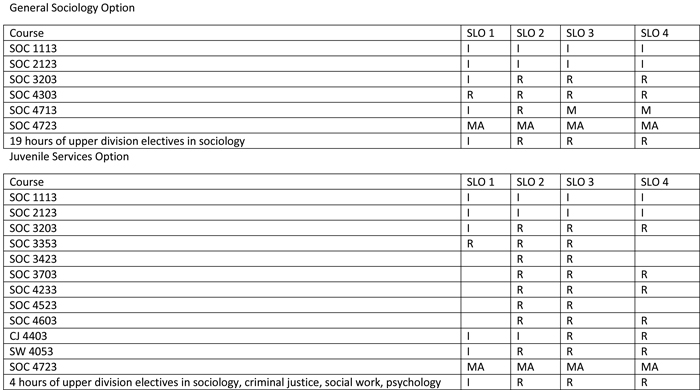 Assessment Plan for Sociology
| | | |
| --- | --- | --- |
| SLOS | METHODOLOGIES | MEASURE OF SUCCESS |
| SLO #1 - Student will demonstrate content area knowledge, skills, and abilities | SOC 3203 Term Paper | 75% of students will score at or above 75% of total possible points (100). |
| | SOC 3203 Final Exam | 75% of students will score at or above 75% of total possible points (100). |
| SLO #2 - Student will demonstrate critical thinking skills. | SOC 4723 Proposal | 75% of students will score at or above 75% of total possible points (200). |
| | SOC 3203 Final Exam | 75% of students will score at or above 75% of total possible points (100). |
| SLO #3 - Student will demonstrate quality communication skills in both written and verbal form. | SOC 4723 Proposal Presentation | 75% of students will score at or above 75% of total possible points (25). |
| | SOC 3203 Term Paper | 75% of students will score at or above 75% of total possible points (100). |
| SLO #4 - Student will demonstrate ethical decision-making and professional leadership | SOC 4723 Final Exam | 75% of students will score at or above 75% of total possible points (100). |
| | SOC 4723 Proposal | 75% of students will score at or above 75% of total possible points. |