School of Arts & Sciences
Mass Communication
The Bachelor of Science Program in Mass Communication enables students to reach their full potential through guidance, instruction and learning experiences in preparation for graduate studies and/or careers in communications and related fields. Our award-winning student media allows students to prepare for careers in, but not limited to, podcasting, television, newspaper, magazines, public relations, advertising, church media, corporate or government communication and politics.
Graduates of our program are able to gather information, process information and create accurate messages for mass audiences.

Graduates are currently employed in the areas of broadcasting, newspaper, public relations and marketing. In addition, graduates are currently employed as college instructors, student services professionals, public speakers, ministers, and in a variety of other careers.

Starting during the freshman year, students have the opportunity to gain hands-on experience through working with campus media.

Award-winning campus media includes Northwestern News, NWTV Channel 7, RangerPulse.com and Ranger Communication public relations agency.
Mass Communication Faculty Contacts:
Dr. Kaylene Armstrong
Northwestern News/RangerPulse.com Adviser
JDA 232
(580) 327-8481
kdarmstrong@nwosu.edu
Dr. Adriana Carneiro
Ranger Communication Adviser
JDA 234
(580) 327-8456
ajcarneiro@nwosu.edu
Dr. Jesse Schroeder
Assistant Professor of Communication
JDA 235
(580) 327-8465
jaschroeder@nwosu.edu
Ranger Communication

Oklahoma Collegiate Media Association
What Can I Do with a Mass Communication Degree?
Graphic Designer/Artist
Public Relations Specialist
Dubbing Editor
Advertising Director
Editorial Assistant
Magazine/Newspaper Editor
Digital Publishing Specialist
Media Relations Representative
Audio-Visual Specialist
Events Planner
Writer
Filmmaker/Documentarian
News Anchor
Book Editor
Freelance Reporter
Photojournalist/Photographer
Broadcast Supervisor/Technician
Camera Operator
News Editor
Government Relations Specialist
Print Production Manager
Public Information Officer
Multimedia Specialist
Blogger/Vlogger
Broadcast Talent
Circulation Manager
Publisher
Communications Specialist
Lobbyist
Copy Editor/Writer

Corporate Communication Specialist
Sportscaster
Investigative Reporter
Correspondent
Station manager
Critic or Reviewer
Campaign Manager
Press Secretary
Director– Film, Video, Television
Radio Host
Podcast Host
News Wire Editor
Video Editor
Webcaster
Advertising Account Manager
Influencer
Announcer
Producer
Feature Writer
Magazine Writer
Sports Reporter
Advertising Writer
Advertising Sales Person
News Reporter
Speech Writer
Media Creator
New Media Creator
Web Management
Video Marketer
Sideline Reporter
Departmental Program Highlights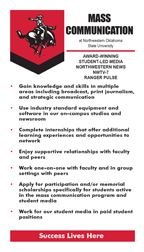 ​Gain knowledge and skills in multiple areas including broadcast, print journalism and strategic communication

Use industry standard equipment and software in our on-campus studios and newsroom

Complete internships that offer additional learning experiences and opportunities to network

Enjoy supportive relationships with faculty and peers

Work one-on-one with faculty and in group settings with peers

Apply for participation and/or memorial scholarships specifically for students active in the mass communication program and student media

Work for our student media in paid student positions
Student Learning Outcomes
The following are the Student Learning Outcomes (SLO) assessed for the mass communication program:
SLO 1: Students will follow professional media standards to create effective audio productions for publication or distribution.
SLO 2: Students will follow professional media standards to create effective video productions for publication or distribution.
SLO 3: Students will follow professional media standards to create media writing projects for publication or distribution.
SLO 4: Students will follow professional media standards to create effective visual design elements.
SLO 5: Students will follow professional media standards to create effective strategic communication projects.
SLO 6: Students will apply strategies for effective intercultural communication in an interconnected global society.
SLO 7: Students will apply skills for effective review and analysis of research pertaining to the discipline of mass communication.