Campus Cabinet
Come back often to see updates about the campus food pantry.
Four Food Drives are set!
Dec. 1, Percefull Fieldhouse, basketball doubleheader, games at 1 & 3 p.m. -- completed
Dec. 7, Runnymede Hotel, 6 - 8 p.m. during First Friday Artwalk downtown
Dec. 8, Holiday Gala, Herod Hall Auditorium, doors open at 6:30 p.m.
Dec. 15, Student Center, 10-2 during Holiday Store for Kids/Photos with Santa
We will happily accept non-perishable foods and monetary donations! Thank you!
If YOU would like to hold a food drive, see information "How Can You Help" below.
---
First-time Use Application
If you are new to the Campus Cabinet you will be asked to fill out a short survey on your first visit. The information provided on this form will only be seen by the staff responsible for the food pantry and used for internal reporting. Personal information will be kept confidential and only statistical information will be used. To save time, you may fill out this form online, which is submitted directly to the Food Pantry. By filling out this form online, it will save you time when you make your first visit to the pantry.
(form coming soon!)
---
Food Request Form
To help the volunteers in the Campus Cabinet Food Pantry know better how to serve you, please fill out this form. We'll make every attempt to fulfill your requests, but please know that we are limited by the types of food donated/purchased.
If you will submit this form a few days ahead of when we are open it will help us to prepare a bag of food prior to your visit.
(form coming soon!)
We've started a helpful list of the Alva churches and faith-based organizations that provide free meals to students including where and when.
This list also provides the location of the local Alva food pantry, other resources that could be helpful, the Teacher's Closet, Warmth for Winter and more. Please let us know if you have something that could be added to this list.
---
Contact Information
Angelia Case, Academic Projects Assistant/Media Specialist
NWOSU Art Society sponsor
(580) 327-8577
arcase@nwosu.edu

or
Calleb Mosburg, Dean of Student Affairs and Enrollment Management
(580) 327-8415
cnmosburg@nwosu.edu
---
Operating Hours:
TBD
---
Mission Statement:
The Northwestern Campus Cabinet food pantry mission is to provide supplemental food and other basic necessities to alleviate food insecurity and barriers to student and employee success.
---
Food Donations Needed! Examples of food to donate include "dorm friendly" and other non-perishable food items such as: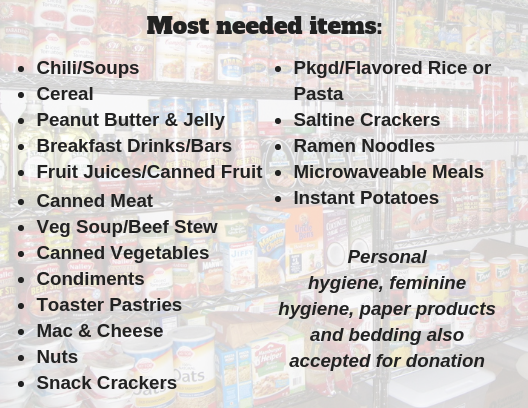 Monetary donations accepted as well!
See next tab for more info!
Monetary Donations Accepted
How can you help?
Tax deductible monetary donations may be made via the Northwestern Foundation. Please make checks payable to NWOSU Foundation, and list in the memo section "Campus Cabinet Food Pantry." Checks may be mailed to 709 Oklahoma Blvd., Alva, OK 73717, given to Angelia Case in Fine Arts 211 with the same memo, or provided at any food drive that is held.
Who may use the food pantry?
All students and employees with current Northwestern photo IDs. Students also may need to show proof of enrollment, and employees may need to provide a current pay stub to show employment at the university.
---
How will the Campus Cabinet determine need?
Students and employees at Northwestern will be served based on good faith. It will be assumed that individuals who utilize the Campus Cabinet are there because they need it and will not abuse it.
What is the cost to Northwestern students and employees?
Nothing. All items are free.
---
How often may a Northwestern student/employee visit the Campus Cabinet?
All students and employees must submit the First Time Use Application upon the first visit. A valid Northwestern photo ID also must be presented each time you come to the food pantry.
We are still determining how often the visits to the pantry may be and when the pantry will be open.
---
Forms you will need to fill out
We also have prepared a Food Request Form that you may fill outline and submit a few days prior to your visit so that we can prepare a bag of food for you according to the answers you've provided on the form.
By filling out these forms in advance, it will save you time in the long run on the day you visit the pantry. We will have paper forms available at the pantry if you aren't able to fill one out online.
---
How much food does an individual receive?
TBD
Volunteer!
Besides making tax deductible monetary donations, you can help us by sponsoring a food drive, donating non-perishable foods, and volunteering to help work in the food pantry.
If you would be interested in volunteering, we are accepting on- and off-campus individuals, organizations, community members, students, etc. Please fill out the form below:
---
Host a Food Drive!
If you are interested in holding a food drive, please feel free to download this generic
and enter in your date, location and sponsoring organization. Or, you can create a poster of your own to publicize your drive.
Let us know, and we can help you publicize your drive, too!
---
Accept Food/Monetary Donations where you are!
Please help us collect non-perishable food, personal hygiene items, monetary donations in your building, office, business, etc.! Here is a poster you can print out and use to tell people they can donate at your place. Let us know, and we can add you to a list of where people can donate.
In this area we hope to pass along news about the pantry and other noteworthy information.