Bank It awards $1,000 mini-grant to the Northwestern Campus Cabinet
November 16, 2020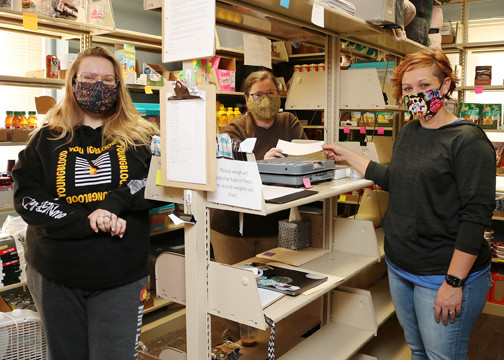 Megan Lehr (right), president of the Bank It: A Habit of Helping Foundation, presents a mini-grant of $1,000 to Northwestern Campus Cabinet coordinator Angelia Case (center) and student volunteer Shelby Porter, Cherokee sophomore majoring in social work.
The Northwestern Oklahoma State University Campus Cabinet food pantry received a $1,000 mini-grant from the Bank It Growth Fund recently.
The Campus Cabinet was created in early 2018 after members of the NWOSU Art Society with help from sponsors, Angelia and Valarie Case, noticed a need among the Northwestern students and employees. A survey was administered to all students and employees to gather information to see if a food pantry would be beneficial and utilized if implemented. The survey proved their thoughts to be true.
After much planning and researching, a pantry space was created and collection of funds and non-perishable items for the Campus Cabinet began.
Upon opening, it became apparent that many students living in university housing who have become Campus Cabinet clients are choosing the minimum eight-meal plan, which can leave students either skipping meals or fending for themselves for the remaining 13 regular meals each week. Off-campus students and employees also are utilizing the pantry.
Angelia Case, who is the coordinator for the pantry, explained that since the program began, the pantry has registered roughly 106 students/employees and averages five to seven participants per week.
To restock the pantry, several food drives are held each year, which are mostly conducted by Northwestern students. Grants also are sought from groups like Bank It to fill in the gaps.
"We have incredible support from our university family, and we have several community members who help out with donations from time to time, both monetarily and with non-perishable foods," Valarie Case said. "We are truly blessed to live in the area we do, where support is given freely and often."
Like many areas of life today, Covid-19 has influenced the needs of students as well as employees. When the pandemic first hit in the middle of the 2020 spring semester, the pantry saw a rapid decline in participants as all school functions were shut down with most students heading back home. However, a few students did remain in university housing or in town during the shutdown and utilized the pantry. From that time on, a mandatory by appointment only food pick-up policy was implemented. Since school started back up in August, the number of participants has grown again with students and employees needing more support.
Covid-19 also has affected the opportunity for on-campus volunteering. The Northwestern Campus Cabinet is small in square footage (but mighty in impact) and therefore only allows a limited number of volunteers to be working in the confined area at one time.
"We have been trying to work with several students this semester who are requesting service learning hours for their classes," Angelia Case said. "Knowing we aren't able to allow many in the pantry area at one time, we have suggested the students work toward non-perishable food, personal hygiene and bedding drives to get their hours. The groups have been collecting the items and doing the leg-work in the pantry to get the donations on the shelves. This seems to be working very well, and we appreciate their help."
Magen Lehr, President of Bank It, visited the Campus Cabinet to tour and talk about the inner workings and needs of the program. She reported being impressed by the level of organization and enthusiasm shown by the volunteers of the program.
"We are proud to have motivated community members like Angelia, Valarie and the countless other volunteers who work so hard to help people in need," Lehr said. "This mini-grant from Bank It was an easy one to approve, with all board members voting unanimously to grant them the funding they requested. Their goals align well with the mission of Bank It, and we are proud to support them."
Anyone wishing to support the Northwestern Campus Cabinet should contact Angelia Case at ARCase@nwosu.edu. The pantry accepts tax-deductible monetary donations (directed to the Northwestern Foundation), non-perishable food items as well as hygiene products, bedding and winter coats.
Lehr added that any organization in need that helps make Alva a better place should consider the helpful services of the program she leads. Bank It: a Habit of Helping Foundation is accepting applications to be a 2021 CommUNITY Vision. Mini-grants also are available year-round for organizations in need. Contact nwbankit@gmail.com for more information or visit their website at www.ahabitofhelping.com.
-NW-