Art Society
The NWOSU Art Society was officially welcomed to Northwestern in Spring 2004 after two freshmen students decided there needed to be an an-campus club to support the arts. The small group organized and produced its very first art show within only a few weeks of forming. The first art show took place April 16-25 in the J.W. Martin Library. Certificates were presented to the winners, and the Presidential Partners provided the prize money for the students. The club was first named Student Advocates for the Arts but was later changed to the NWOSU Art Society.
Our mission is to encourage, stimulate, and maintain an excellence in the field of art at Northwestern Oklahoma State University. Our goal is to heighten awareness both on campus and in the community of the many cultural backgrounds and talents of the students, through which all will foster a synthesis of the appreciation, knowledge, and awareness of art in all styles and mediums.
Some of our goals are:
To promote creativity, have fun, try different mediums, expand our knowledge, make friends, and serve our community.
For any questions or more information, contact sponsor Angelia Case at (580) 327-8577 or arcase@nwosu.edu or in Ryerson Hall 211.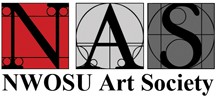 "A University without the Arts has no soul."

-- Dr. Janet Cunningham
---
2022-2023
Officers
President - Allison Huffmaster
Vice President - Archer Bohlen
Secretary - Jillian Bouse
Treasurer - Josiah Marshall
SGA Rep - Archer Bohlen
Social Media/Reporter -
---
---
Art Society Meetings
Location: JDA 324
Meeting Dates: Jan. 30, Feb. 13, Feb. 21 (Tuesday), March 6 (judge art show), April 3, April 17
Other dates to note:
March 1-3 – prepare to help accept/sort artwork in library during times of no class.
March 3 – prepare to help set up art show (meet at library at 5 p.m.)
March 26 – no meeting, but prepare to help take down Art Show at Library on Friday, March 31
April 6 – prepare to set up Winner's Art Show downtown at Runnymede, starting at 5 p.m.
April 7 – First Friday Winner's Art Show, 6-8 p.m., prepare to take down show and bring back to campus
---
Keep up with discussions in our Facebook group!
---
NWOSU Art Society Calendar
Accepting artwork in library, March 1-3 at the J.W. Martin Library.
Art Show - March 5-31, 2023, at the J.W. Martin Library. Setup of show is Friday, March 3, beginning at 5 p.m. Take down of show Friday, March 31, beginning at 5 p.m.
First Friday Winner's Show - Friday, April 7, 2023, (set-up, Thursday, April 7) at The Runnymede in downtown Alva.. Take down of show will happen at 8 p.m. on Friday, April 8.
Keep up with news about the annual spring semester art show on our Facebook Art Show Page.
---
Goodie Giveaway Fundraiser
NWOSU Art Society members have fundraisers throughout the year to help pay for our annual spring art show for all students, university employees, retired employees and Northwestern alumni.
Club members offer fans of Ranger basketball opportunities to win baked items at home ballgames. At every Goodie Giveaway, NAS members also will be accepting dorm-friendly non-perishable foods for the Campus Cabinet food pantry as well as monetary donations.
Dates for Goodie Giveaways
Any and all dates are TBD pending athletic scheduling
Set-up always occurs one hour before the first game begins, so that means noon for Saturday games and 4:30 p.m. for games during the week.
We need people to bring items and two people to work the table.
Timing of giveaways: 1) women's halftime, 2) between games, 3) men's halftime.
We try to have 21-30 items for each date because there are three drawings for a double-header game. For single games, we'll only need around 10 items.
Please let us know if anyone outside the club would like to volunteer to bring goodies for our fundraiser! We really appreciate it!
For our members without access to ovens, food items that can be created without needing an oven or burner...but maybe a microwave... can be found at Recipes for non-baked items for fundraisers. Pinterest is a great resource to find fun and easy no-bake items.
Holiday Gift Store for Kids & Photos with Santa event
The 2021 Event is Pending.
Each December members of the Art Society and other volunteers offer a Holiday Gift Store for Kids and Photos with Santa event. The event began in 2010 and has been held on the Saturday that follows the last day of finals in December.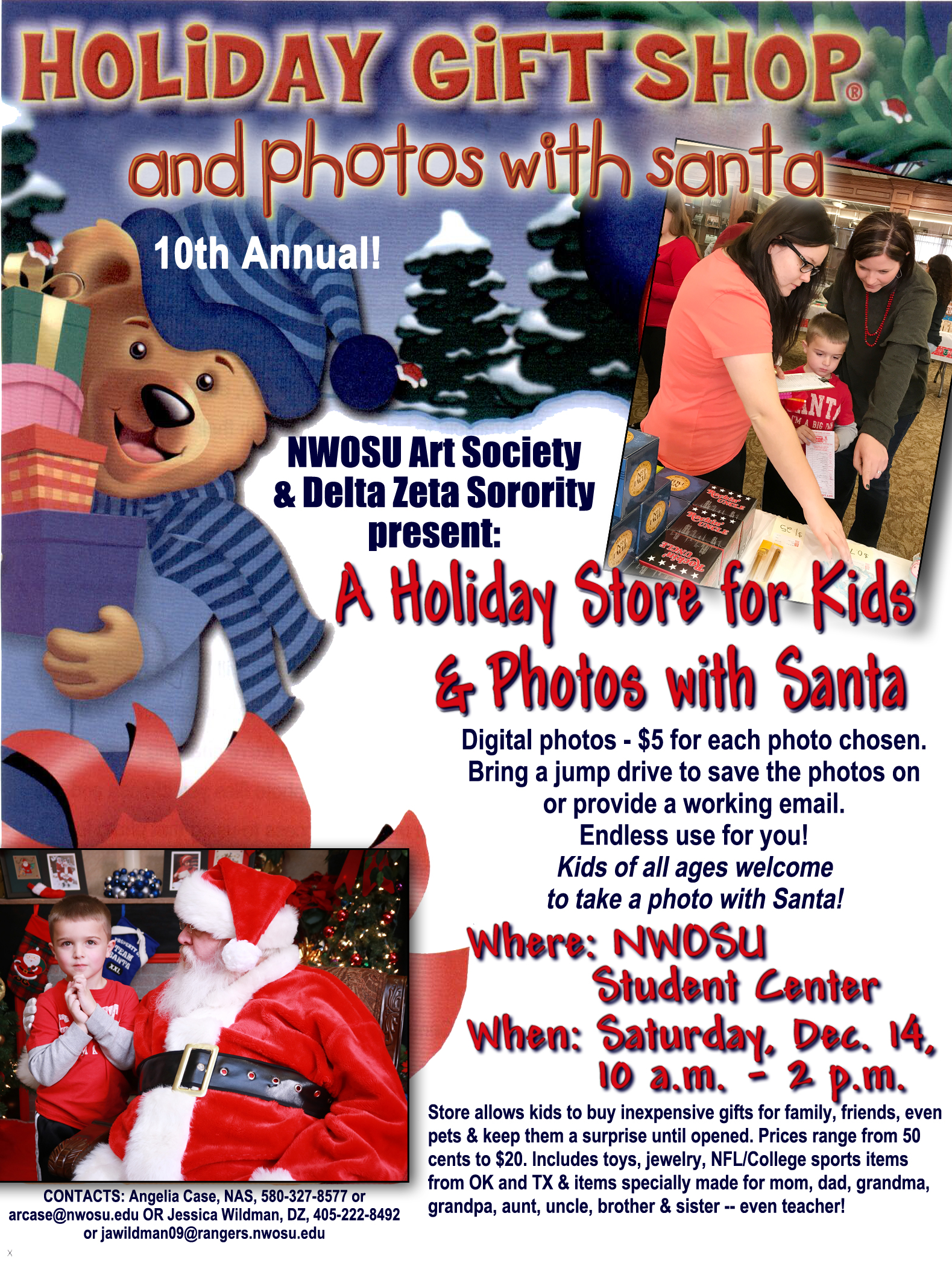 Information on the 2019 Holiday Store/Photos with Santa can be found at: