Enid
Welcome from the Dean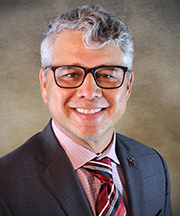 On behalf of the NWOSU Enid staff and faculty, I want to cordially welcome you to our campus. The NWOSU Enid Campus is a branch of Northwestern Oklahoma State University located in Alva, OK. The Enid campus is a beautiful and modern 80,000 square foot facility. We have all the amenities to ensure our students' success. We have student services, financial aid, business office, and registry services on site. For those who are on our campus for longer periods of time, we have a student resource room, student lounge, and wellness room. The Enid campus provides Junior and Senior level courses for bachelor's degree programs, master's degree programs, and a doctoral program in nursing. With many advisors on site to choose from, you have several degree options to explore and the guidance needed to help you succeed. Our campus has a family feel with many events and activities designed for our students and the community. The bridge program helps students seamlessly transition from Northern Oklahoma College to Northwestern Oklahoma State University. Our community partnerships and programs ensure quality experiences that allow for networking and immersion into the city of Enid. I invite you to come visit the campus for a tour and to discover what NWOSU can do for you.
Ride, Rangers, Ride!
Dr. Wayne McMillin
Enid Campus Dean
---
---
Meet the Front Office
The Enid Front Office performs many essential functions vital to your success at NWOSU. Students will go to the Front Office to apply to the university, enroll in courses, pay balances, and request transcripts, among other essential tasks. Georgina Herrera is a staff member located in the Front Office and is here to assist Enid students. Additionally, Georgina serves as the Enid Campus Coordinator. She organizes all of the student activities, sponsors the Single Parent Support Network, maintains the Enid Campus Cabinet, and serves as the Veteran's Affairs Coordinator for all of our campus locations. Feel free to stop by with any questions or concerns about campus life. The Front Office can also be reached by calling (580) 213-3102 or emailing enidcampus@nwosu.edu.
Contact Us:
Northwestern Oklahoma State University
2929 E. Randolph, Enid, OK 73701
Phone: (580) 213-3101
​enidcampus@nwosu.edu
More information about our Undergraduate Degree programs is available in the Undergraduate Catalog.
More information about our Graduate Degree programs is available in the Graduate Catalog.
Bachelor's Degree Programs
Accounting
Business Administration
Computer Science
Criminal Justice
Education
English
General Studies
History
Nursing
Organizational Leadership
Political Science
Psychology
Social Work
Sociology
Technical Management
Master's Degree Programs
Master of Arts in American Studies
Master of Counseling Psychology

Licensed Alcohol and Drug Counselor
Licensed Professional Counselor

Master of General Psychology
Master of Heritage Tourism & Conservation
Master of Education

Curriculum and Instruction
Educational Leadership
School Counseling
Reading Specialist
Adult Education Management & Administration (Non-certificate option)

Certificate Options

Elementary/Secondary Principal
Reading Specialist
School Counselor
Doctoral Degrees
Doctor of Nursing Practice (BSN to DNP Program)
Join us in being a part of the Bridge Program with Northern Oklahoma College where you can be jointly admitted to both institutions and eligible to enroll concurrently at both! This will eliminate barriers to attaining educational goals, improve academic program articulation, expand options for college services and provide seamless transfer from NOC to Northwestern. Scholarships available!
Campus Clubs & Organizations
Joining a club or organization on the Northwestern Oklahoma State University Enid Campus will open many opportunities for your educational career. There's no limit to the amount of clubs you can be a part of! Each club and organization offers you the chance to interact with other students as well as opportunities to get involved in an area where you feel comfortable. Join today and get involved to make your collegiate experience everything you've always dreamed of!
Enid Campus Clubs & Organizations
Conserving Our Ranger Environment (C.O.R.E.)
Enid Leadership Council
Enid Psychology Club
Social Workers Association of Tomorrow (SWAT)
Student Nurses Association (SNA)
Student Oklahoma Education Association (SOEA)
The following are faculty members located on the Enid Campus:
Braten-Hall, Dr. Mariann
Division of Education
Room 116
Phone: (580) 213-3135
mbraten-hall@nwosu.edu
Floyd, Denise
Instructor of Nursing
Division of Nursing
Room 102
Phone: (580) 213-3161
ddfloyd@nwosu.edu
Gillett, Crystal
Instructor of Nursing
Division of Nursing
Room 102
Phone: (580) 213-3101
csgillett@nwosu.edu
Gustafson, Dr. Jerry
Division of Business
Room 112
Phone: (580) 213-3184
jjgustafson@nwosu.edu
Harding, Codi
Department of Social Work
Room 110
Phone: (580) 213-3148
clharding@nwosu.edu
Herrera, Esmeralda
Instructor of Nursing
Division of Nursing
Room 102
Phone: (580) 213-3101
eherrera@nwosu.edu
Mackie, Dr. Steven
Division of Education
Room 116
Phone: (580) 213-3121
swmackie@nwosu.edu
Paul, Dr. Joseph
Division of Business
Room 112
Phone: (580) 213-3132
jspaul@nwosu.edu
Randolph, Taylor
Psychology Department
Room 114
Phone: (580) 213-3119
jtrandolph@nwosu.edu
Ritchie, Heidi
Division of Nursing
Room 119
Phone: (580) 213-3159
hrritchie@nwosu.edu
Stockmyer, Dr. John
Division of Business
Room 112
Phone: (580) 213-3183
jlstockmyer@nwosu.edu
Young, Dr. Martie
Division of Education
Room 118
Phone: (580) 213-3195
mlyoung@nwosu.edu