Woodward
Welcome from the Dean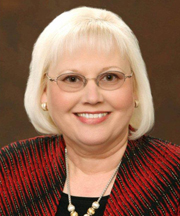 Welcome to the Woodward Campus! Northwestern Oklahoma State University's campus in Woodward was established in 1996. In 2005, Oklahoma's Congress passed a Higher Education Capital Bond Allowing for the construction of a permanent campus complex in Woodward. The campus opened its doors for the new facility in August 2008. Students are able to obtain all 45 hours of general education classes on the Woodward campus with additional course offerings at the undergraduate and graduate levels. The Woodward campus offers bachelor's degree programs and master's degree programs ranging from Nursing to Psychology to Social Work to Business. Our campus has many events and activities designed to provide opportunities to students. The Woodward Leadership Advisory Board is always working to ensure students are involved and engaged. There are other clubs and organizations available to students including the Social Workers Association of Tomorrow (SWAT), the Psychology Club, Student Nurses Association (SNA), the Student Oklahoma Education Association (SOEA) and the Math Club. The single story, state-of -the art facility houses eight ITV studios, traditional classrooms, a testing computer lab, a study lounge, a spacious commons area, a clinical nursing simulation lab, a science lab, and a community room. In addition, the Woodward campus houses administrative and business offices, faculty offices, a small conference room, a large ITV equipped conference room, and an outdoor patio area overlooking Experiment Lake. The campus is located at 2007 34th Street next to the Conference Center in Woodward. I invite you to come by and see for yourself what NWOSU has to offer!
Ride, Rangers, Ride!
Dr. Deena Fisher
Woodward Campus Dean
Contact Us:
Northwestern Oklahoma State University
2007 34th Street, Woodward, OK 73801
Phone: (580) 254-2500
More information about our Undergraduate Degree programs is available in the Undergraduate Catalog.
More information about our Graduate Degree programs is available in the Graduate Catalog.
Bachelor's Degree Programs
Accounting
Business Administration
Computer Science
Criminal Justice
Education
English
General Studies
History
Nursing
Organizational Leadership
Political Science
Psychology
Social Work
Sociology
Technical Management
Master's Degree Programs
Master of Arts in American Studies
Master of Counseling Psychology

Licensed Alcohol and Drug Counselor
Licensed Professional Counselor

Master of General Psychology
Master of Education

Elementary Education with options in:

Educational Leadership
Curriculum and Instruction

School Counseling
Reading Specialist
Secondary Education with options in:

Adult Education Management & Administration *
Curriculum and Instruction
Educational Leadership Sports Management

Certificate Options

Elementary/Secondary Principal
Reading Specialist
School Counselor
Doctoral Degrees
Doctor of Nursing Practice (BSN to DNP Program)
CAMPUS CLUBS & ORGANIZATIONS
Joining a club or organization on the Northwestern Oklahoma State University Woodward Campus will open many opportunities for your educational career. There's no limit to the amount of clubs you can be a part of! Each club and organization offers you the chance to interact with other students as well as opportunities to get involved in an area where you feel comfortable. Join today and get involved to make your collegiate experience everything you've always dreamed of!
Woodward Campus Clubs & Organizations
Woodward Leadership Advisory Board
Psychology Club
Social Workers Association of Tomorrow (SWAT)
Student Nurses Association (SNA)
Student Oklahoma Education Association (SOEA)
Math Club
The following are faculty members located on the Woodward Campus:
Fisher, Dr. Deena
Dean, Woodward Campus
Professor of History
Northwestern - Woodward
Phone: (580) 254-2501
dkfisher@nwosu.edu
Brune, Dr. Mary, RN, MS
Assistant Professor of Nursing
Division of Nursing
Northwestern - Woodward
Woodward Room 137
Phone: (580) 327-8498
mebrune@nwosu.edu
Rehder, Dr. Kylene, LCSW
Associate Professor of Social Work
Chair to Department of Social Work
Department of Social Work
Northwestern - Alva
Northwestern - Woodward 139
Phone: (580) 327-8135
kdrehder@nwosu.edu
Walker, Jana
Instructor of Business
Division of Business
Woodward Room 138
Northwestern - Woodward
Phone: (580) 254-2530
jawalker@nwosu.edu