Homecoming

HOMECOMING DATES: Oct. 4, 5 & 6, 2018!
At the heart of Northwestern traditions is the fall homecoming event. The Alva community, Northwestern alumni, current students, faculty and staff, as well as prospective students and bands from surrounding areas join in celebrating the Ranger family. Homecoming events such as the Miss Cinderella Pageant for high school senior females, the homecoming parade, band and parade float competitions, Ranger Royalty, and more are all funded strictly through the purchase of Northwestern's annual themed homecoming button.
Funds from the sale of Northwestern's Homecoming Buttons are the main source of income for Homecoming.
The button is only $10 and provides entrance to the Miss Cinderella Pageant competition and Talent Night, the football game, as well as discounts and other incentives from a list of Alva merchants during the week of homecoming; it's more than a $38 value! Each homecoming button is numbered and has a chance to win $500 in Alva Chamber Bucks. The winning button will be drawn during the homecoming football game, and the drawn number must be present to win.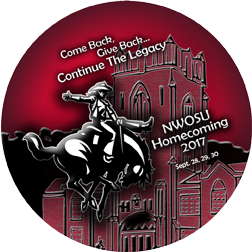 WHERE TO PURCHASE A HOMECOMING BUTTON
To purchase buttons contact Karen Koehn, button sales chair, (580) 327-7273 or kkoehn@nwtech.edu. Tiffany George, Enid administrative assistant, (580) 213-3101 is button sales representative for the Enid campus, while Milissa Sturgill, Woodward campus coordinator, can be contacted for buttons in Woodward at (580) 254-2503.
Anyone who wants to purchase buttons and is not contacted by one of the salespersons can buy them at the Alva Chamber of Commerce office located at 502 Oklahoma Blvd., (580) 327-1647; the Northwestern Foundation office in the Student Center, (580) 327-8593; or the Northwestern business office in Herod Hall, (580) 327-8536.
Buttons also will be available at Rialto, (580) 327-0535; Sights and Sounds/Radio Shack, (580) 327-0409; Daisy Village, (580) 327-3467; and Holder Drug, (580) 327-3332; Alva Vision, (580) 327-2393; Hair on the Square, (580) 327-0258; and La DEE Da's, (580) 327-0382.
---
MERCHANT INCENTIVES
Downloadable Merchant Incentive List
All patrons MUST be wearing a Homecoming button during the week of Homecoming to receive the discounts! For Homecoming, merchants from the area will offer the following discounts:

Participating Businesses with Discounts and Dates
All Things Fabulous = Draw for a Discount at the Store
Alva's Market = TAX FREE ONLY Friday & Saturday, Sept. 29 & 30
Alva's Sewing Center = Draw for a Discount at the Store
Bar S Outfitters = 20% off Red or Black Items
Brown's Shoe Fit = 10% off Regular Priced Item
Daisy Village = 10% off ONE Regular Priced Item
Dorothy's Flowers & Gifts = 10% off anything purchased for Homecoming
Exotic Heat Wave = $5 off Tanning Package and/or 10% off clothing
Fabrics and More, Etc. = Draw for a Discount at the Store
Floral Design & Gifts by Susie = 25% off (some exclusions apply)
Gambino's = 10% off button wearers' meal (buffet is included)
G&G Home Furnishings = 20% off any one item, IN-STORE ONLY!
Hair on the Square = Free eyebrow wax with purchase of haircut
Holder Drug = 20% off $25 purchase of merchandise
Integrity Imports = 10% off any imports
La Dee Da's = 20% off any ONE regular priced red or black item
Lyn's T-Shirt Factory = 10% off red and black apparel
Mark Ream Motor = $5.00 off oil change
Mary Kay = Call Karleen White (580) 327-2022 to receive 25% off Mary Kay
Merle Norman Cosmetics = 30% off ONE item
Merrifield's Office and School Supply, Inc. = 10% off non-sale merchandise
Misty J's Creations = TAX FREE Friday and Saturday, Sept. 29 & 30
Pizza Hut = (Dine In Only) Free single order breadsticks with purchase of large pizza, Saturday, Sept. 30 ONLY!
Radio Shack = 10% off (some exclusions apply)
Rialto = Buy one adult movie admission and get one free
Schumacher's Copper Penny = 30% discount off any ONE item
Shepherd Oil Convenience Store = Buy your button from here and be entered for a chance to win a $250 gift card
Spa Deco = 30% any ONE regular priced item
Subway = FREE COOKIE with purchase of a sandwich on Thursday, Friday and Saturday, Sept. 28-30
Sweet Harper & Co. = 10% off Storewide
Taco Village, Inc. = Free large drink with purchase of salad or combo plate Thursday, Friday, and Saturday, Sept. 28-30 ONLY!
The Menagerie = $1 off admission Saturday & Sunday, Sept. 30 & Oct. 1, ONLY!
The Other Place Restaurant (opening in Sept.) = Stop by for mystery discounts
The Vanilla Bean = Medium drink for the price of a small, Friday and Saturday, Sept 29 & 30 ONLY!
Washburn Motor Co. = $5.00 off oil change
Wickedly Rustic Home Decor & Boutique = 15% off ONE regular priced item
You Pick Restaurant = One free appetizer per table with purchase of a menu item
Since its inception, the Miss Cinderella Pageant has provided a means by which outstanding high school seniors can compete in a worthwhile pageant for both honors and awards of scholarship. This scholarship pageant takes place on Thursday and Friday of Homecoming week, followed by the parade on Saturday at 10 a.m. in Alva's downtown square. The pageant has grown in size and significance in northwest Oklahoma, and towns along the Kansas and Texas borders.
The winner of the Miss Cinderella title receives eight semesters of tuition and a one-year room waiver at Northwestern-Alva. The first and second runners-up receive six and four semesters of tuition, respectively. The winners of the talent and congeniality titles each receive a one-year room waiver in addition to the one-year tuition scholarship that each contestant receives.
Recent winners, pageant history, and former Miss Cinderella
A contestant must be a true high school senior female, single, and at least 16 years of age by September 1, 2017. She must never have previously entered the Miss Cinderella Pageant. For a full list of requirements download the entry forms, rules and guidelines below.
MISS CINDERELLA ENTRY FORMS
Float Entry Forms & Rules
Every year the Alva community and merchants, as well as many of Northwestern's alumni, academic departments and student clubs create theme-centered floats to be featured in the Homecoming parade. If you are interested in participating with a float please fill out an entry form, download and read the float rules for your category and the float building workshop. Float categories are broken down into: campus clubs and organizations; off-campus commercial business; and off-campus non-profit organization.
Deadline for float entry forms is Wednesday, September 27, 2017
Below you will find the online float entry form OR a fillable PDF document that can be emailed or printed and sent to Dr. Richmond Adams. You are required to download float rules below which disclose information on where floats can be built, float specs and more.
Float Rules per category are found below:
Annual Ranger Run & 1-Mile Fun Run
Online Registration Form for 5K Ranger Run and 1 Mile Fun Run
The Northwestern Alumni Association sponsors the annual Ranger Run, which is held on Saturday morning of Homecoming. The 5K Run and 1 Mile Fun Run begin promptly at 8 a.m. in front of the Rialto Theater on the downtown square in Alva. Registration begins at 7:15 a.m., and Homecoming T-shirts are given to each paid entry.
Medals and Wellness Center gift certificates go to the top three finishers in each division. Trophies, Alva Chamber Bucks and certificates go to the first overall male and female runners. Alva Chamber Bucks also go to the overall first alumni male and female runners. Awards go to the top three in each division of the fun run.
All entrants receive an official Homecoming t-shirt with paid entry. 5K medals are awarded in all categories of the Ranger Run. Course maps may be obtained from the Alumni Office at (580) 327-8593.
For more information or to receive a registration sheet, please contact the Northwestern Alumni Association office at (580) 327-8593 or at nwalumni@nwosu.edu. Participants also may choose to register and pay entry fee by going to the J.R. Holder Wellness Center and speaking with Richard Burdick, director.
For more information download the Ranger Run Flyer.
The annual Homecoming Celebration for Northwestern Oklahoma State University in Alva brings alumni and visitors to town each fall during football season. Personnel from Northwestern and leaders in the community join forces to plan the celebration months in advance.
Each year's homecoming seeks to honor the traditions of the past and the heritage of northwest Oklahoma, offering entertainment features that are continued from year to year, but seeking to make each year's schedule unique. Many of those working on homecoming have been involved in its production for several years; others are newcomers to the project this year. All work together to make it a success and a source of pride to everyone in this part of the state.
A scholarship pageant for high school seniors to represent their communities takes place on Thursday and Friday of the week, university students take part in special events on campus all week, and marching bands, floats and other attractions liven up Alva's downtown square for the annual parade on Saturday. The traditional Ranger football game and queen coronation takes place in the afternoon.
Every year there are on-campus contests and competitions. Entry information for contests and webpages can be found below:
For more information on the homecoming contests, sponsored by Student Government Association, contact Kaylyn Hansen at klhansen@nwosu.edu or 580-327-8439.
Northwestern Oklahoma State University plays host to the Homecoming parade at 10 a.m. on Saturday of Homecoming weekend. The NWOSU Homecoming Association invites bands to participate in this parade, referred to as the "Massed Bands." Awards first and second place trophies in six classes of competition, as well as offering an open class for bands not interested in competing.
First place winners in each class will receive a $150 award and second place will receive a $100 award. In addition, each band participating in the parade will receive a donation of $75 to help defray expenses. Classifications are as follows:
Class AAA - High School ADM of 246 or above (OSSAA class AAA or above)

Class AA - High School ADM of 114-245 (OSSAA class AA)

Class A - High School ADM of 61-113 (OSSAA class A with 61 or above ADM)

Class B - High School ADM of 60 or less (OSSAA class A with 60 or less ADM)

Jr. High Class B - Junior High/Middle School band from OSSAA class 7-A, 8-A, 9-A Jr. High Class A - All other

Junior High/Middle School bands

Open - Any band participating on a non-competition basis.
We also invite bands to participate in activities on the square in downtown Alva by performing a 15-minute "mini-concert" at the courthouse bandstand immediately following the parade.
All band members and chaperons are invited to attend the homecoming football game. In addition, we hope your band will perform in the massed band this year. The massed band rehearsal will begin around 12:15 p.m. Lunch will be provided for those playing in the massed band at 1:00 p.m.
For more information contact Dr. Marc Decker, assistant professor of Fine Arts and director of bands, at (580) 327-8191 or mddecker@nwosu.edu.
If it's time for Homecoming, it's time for alumni to dust off their instruments and join the alumni band. We're ready to welcome you back on Saturday, Sept. 30! Josh Faulkner, '15, will serve as this year's alumni band director.
Rehearsal will start at 2 p.m. in the band room on the third floor of the Fine Arts Building, Alva campus. Game time is set for 4 p.m.
Want to be involved in the Alumni Band? Fill out the form below! Please complete the information and submit by Wednesday, Sept. 21, in order to reserve a T-shirt in the correct size. More information will follow.
Alumni Baseball & Softball
Dear Ranger Baseball and Softball Alumni,
Fall is around the corner and so is Northwestern Oklahoma State University's homecoming. We will have our alumni baseball activities the weekend of homecoming, September 29th and 30th.
This year we are planning something special for the Alumni activities. Instead of having the normal Baseball Alumni game, we are inviting all Ranger Softball Alumni back as well, for the first ever, Ranger Baseball and Softball Alumni co-ed softball game to be held Friday evening under the lights on Glass Family Field, at Myers Stadium.
On Friday, September 29th, at 6:30 P.M., the alumni game will begin with batting practice and warm-ups, followed by the game starting at 7:30 P.M. Dinner will be served for players, family, and fans.
The Ranger baseball and softball facilities will be open and everyone is encouraged to look around. If you would like a tour of Glass Field and Myers Stadium, we would be more than happy to offer one to you, your family, or anyone else. The facility has undergone major renovations over the past few years and you will find new upgrades, including the clubhouse, playing surface, press box area, and the new addition of the "Jim Dunning Performance Center."
Whether you can play, don't want to play, or just want to come visit, feel free to bring your family and friends to Alva for the Homecoming weekend festivities. This event will be a great time for you to get acquainted with first-year head coaches, Ryan Bowen of the baseball team, and Jill Webb of the softball team.
On Saturday, September 30th, at 2 P.M., Northwestern will be hosting the dedication of the 'Jim Dunning Performance Center'. Details for this event are still unfolding and we will get the information to you as soon as possible. After the dedication ceremony, we hope all of you will head over to the homecoming football game at 4 P.M., at Ranger Field to support the football team as the Rangers host Southeastern Oklahoma State University. The Dugout Club will have a few spots reserved on the tiers, for baseball and softball alumni, and their families.
The future is bright for the baseball and softball programs, so please, come be a part of it! We look forward to seeing all of you in Alva on the weekend of September 29th. Please register online through the online form below, Questions or concerns? Contact:
The Northwestern Foundation Office will provide a homecoming t-shirt to baseball/softball alumni that show up for the alumni game (whether you played or not) as long as you are pre-registered. Please fill out the form below for your contact information and shirt size, and as always, Ride, Rangers, Ride!
Sincerely,
Matthew Stratton, Megan Stratton, & Ryan Hintergardt
Following the parade at noon at the Alumni Association tent on the downtown square, a $6 barbeque lunch will be provided by the Northwestern Alumni Association and prepared by the Rowdy Rangers. All members of the President's Association will eat for free. A reception for the parade marshal takes place at the Alumni Tent.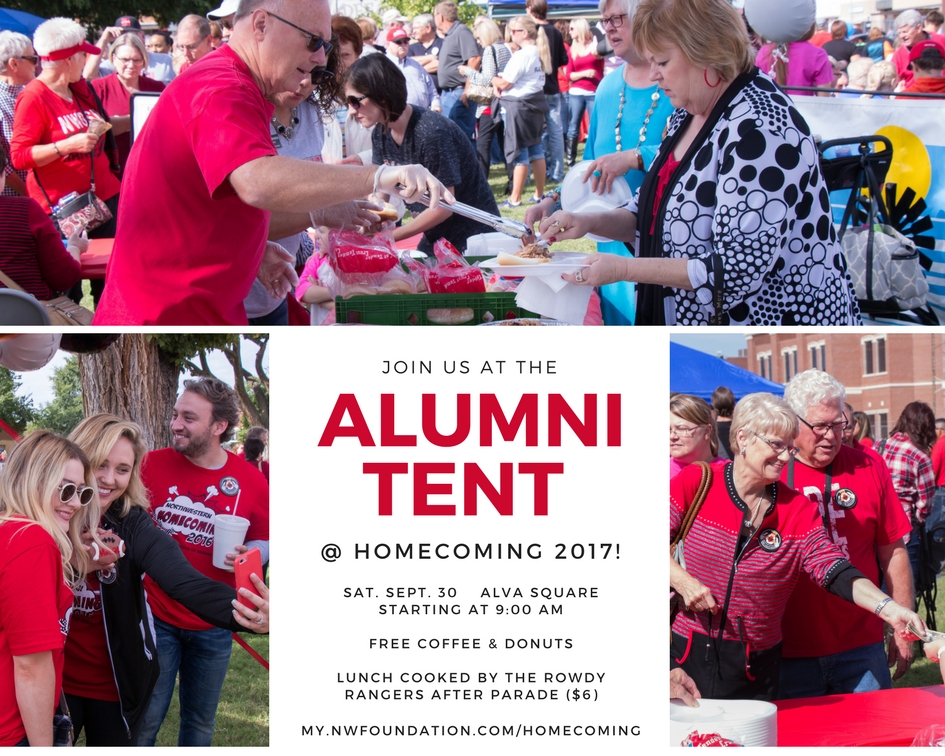 Homecoming Discounts at Area Motels
Motels in the area are offering discounts for Northwestern's Homecoming 2017, set for September 28-30. Reservations must be made by Sept. 22 to get the discount. Be sure and ask for the "Northwestern Homecoming Discount Rate".
Day's Inn
$60 plus tax, both single and double
1332 East Oklahoma Blvd.
Alva, OK
580-327-4000
Holiday Inn Express & Suites
$128.99 plus tax, both single and double
1230 East Oklahoma Blvd.
Alva, OK
580-327-1400
Ranger Inn
$49 plus tax, single/$59 plus tax, double
420 East Oklahoma Blvd.
Alva, OK
580-327-1981
Schedule of Events
Thursday, Sept. 28, 2017
Miss Cinderella Talent Show
7:30 p.m., Herod Hall Auditorium
Friday, Sept. 29, 2017
Rally 'Round the Ranger
Noon (12 p.m.), Alva Campus, Ranger Statue

Lady Rangers Volleyball VS Southeastern
6:30 p.m., Percefull Fieldhouse

Miss Cinderella Pageant
8 p.m., Herod Hall Auditorium
Saturday, Sept. 30, 2017
Ranger Run (5K and 1-Mile Fun Run)
8 a.m., Alva's Downtown Square, north side

Homecoming Parade
10 a.m., Alva's Downtown Square

Alumni Lunch ($6/person)
Immediately following the parade, Alumni Tent on the Courthouse Lawn

Band and Parade Award Ceremonies
Immediately following the parade, in the downtown Square next to the Alumni Tent

Lady Rangers Soccer VS Harding
11 a.m., Alva Rec Complex

Alumni Band Rehearsal
2 p.m., Alva Campus, Fine Arts Building, third floor

Dunning Performance Center Dedication
2 p.m., Dunning Performance Center

Massed Bands Performance
Before the start of the football game, Ranger Field

Northwestern VS Southeastern Football Game
4 p.m. Ranger Field



Download: Main Activities Poster

Download: Student Activities Poster