Offices to close for holiday break Dec. 23-Jan. 4; In-person instruction to resume for spring semester Jan. 11
December 18, 2020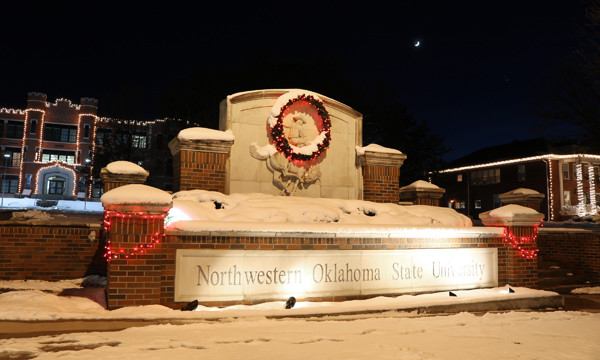 The Northwestern Oklahoma State University-Alva campus is festive with lights for the holidays. Campuses will be closed from Dec. 23-Jan. 4. Classes will resume Jan. 11, 2021.
Northwestern Oklahoma State University will close for the holiday break beginning Wednesday, Dec. 23. All Northwestern locations and offices will reopen Monday, Jan. 4, 2021.
Northwestern's 16-week spring semester classes will begin on Monday, Jan. 11, 2021.
Northwestern is planning to resume in-person instruction in January. Spring break will be observed as planned from March 15-19, 2021.
"We will be returning for the spring semester as planned with face-to-face courses," said Dr. Janet Cunningham, president. "We will continue contact tracing through the dean of student affairs and enrollment management office throughout the semester while maintaining current policies that require face coverings and social distancing in campus buildings. We are excited for the new semester and understand that things can change quickly in regard to the coronavirus."
Northwestern's policies regarding coronavirus and positive COVID-19 cases can be found at www.nwosu.edu/coronavirus.
Enrollment for spring courses is open, and new and returning students are encouraged to enroll as soon as possible to ensure course availability. The spring semester schedule of courses is available online at www.nwosu.edu/course-schedules. The last day to enroll is Wednesday, Jan. 20, 2021.
Departmental scholarship applications are due Feb. 15, 2021. For more information on departmental scholarships contact the respective department chair. For academic scholarships, students must fill out a continuing student scholarship application available online at http://bit.ly/cont-student by March 15, 2021.
Students can still fill out the FAFSA form for financial aid for the spring 2021 semester but are always encouraged to fill out the form as soon as possible after Oct. 1 each year. The form is available at https://studentaid.gov. Other helpful information about financial aid, scholarships and costs at Northwestern can be found at www.nwosu.edu/paying-for-college.
-NW-