Northwestern News, Staffers Win 15 Awards in Oklahoma Press Association Contest
June 14, 2022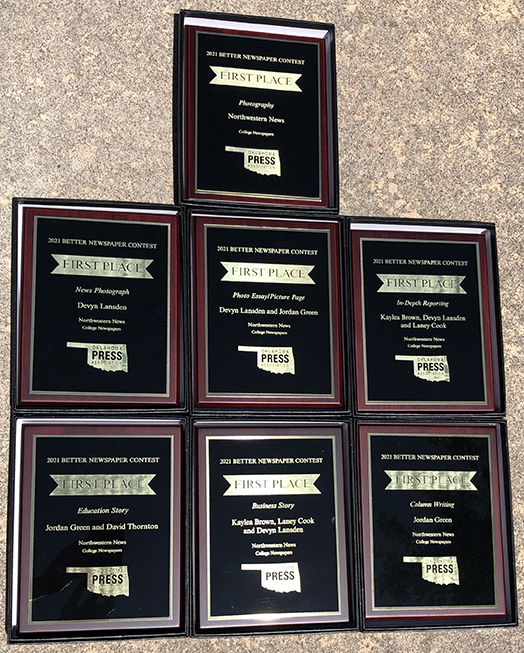 Northwestern's campus newspaper Northwestern News brought home 15 awards, including six first-place plaques, from the recent Oklahoma Press Association's Better Newspaper Contest. Jordan Green, editor-in-chief of the News, attended the event and picked up the publication's awards.
Students in Northwestern Oklahoma State University's mass communication program picked up several honors during the awards portion of the Oklahoma Press Association's 2022 Better Newspaper Contest June 11 in Oklahoma City. The Northwestern News and its staffers won 15 awards, placing second in the competition to be the state's best collegiate newspaper.
The Northwestern News won first place overall in photography and had six individual first-place awards including the following:
Photo Editor Devyn Lansden, a 2022 mass communication graduate from Beaver, Best News Photograph
Editor-in-Chief Jordan Green, a mass communication junior from Blackwell, and Lansden, Best Photo Essay/Picture Page
Kaylea Brown, a 2022 mass communication graduate from Terlton; Laney Cook, a 2022 mass communication graduate from Marshall; and Lansden, Best In-Depth Reporting and Best Business Story
David Thornton, a May 2021 graduate, and Green, Best Education Story
Green won first place for Best Column Writing
The News placed second overall in sports coverage and editorial writing, and the paper placed third overall in news content and layout/design.
Second place individual awards include:
Sports Editor Cade Kennedy, a mass communication sophomore from Alva, Sports Story
Green, Feature Photograph
Lansden, Sports Photograph and Photo Essay/Picture Page
The award-winning pieces were published in 2021, per contest guidelines, and competed against other collegiate newspapers from across the state. The News scored 360 points overall, just 20 points shy of winning the Sequoyah Award, one of the highest honors in Oklahoma journalism. It went to the Collegian at Cameron University. The O'Colly at Oklahoma State University came in third with 240 points.
The OPA wins come just weeks after the campus newspaper was named the Best Overall Newspaper in its division during the Oklahoma Collegiate Media Association's annual awards competition, where the News took home more than 20 awards.
"I am incredibly proud of the outstanding work this team does," Green said. "Time and time again, we've shown the Ranger community just how important this newspaper is, and we continue to serve our university with the highest caliber of responsible, powerful, meaningful journalism. We don't put out a newspaper to win awards, but having our hard work recognized means a lot.
"This team includes some of Northwestern's best and brightest students, and to call them my friends and fellow journalists is an honor and a blessing. We look forward to honing our skills more and more, and serving our community better and better, as we go into the next year. We always have room to grow, and we will."
Dr. Kaylene Armstrong, the Northwestern News adviser, said the students have continued to produce high-quality journalism, as reflected by this year's winnings.
"It's great that the Oklahoma Press Association recognized the incredible work of the Northwestern News staff this year," Armstrong said. "I have been most fortunate to work with these fine students."
To learn more about the Northwestern News or the mass communication program, visit https://www.nwosu.edu/school-of-arts-and-sciences/communication/mass-communication.
-NW-