Burlington, Lawton Academy Qualify for Regional BEST Robotics Contest in Denver
November 9, 2022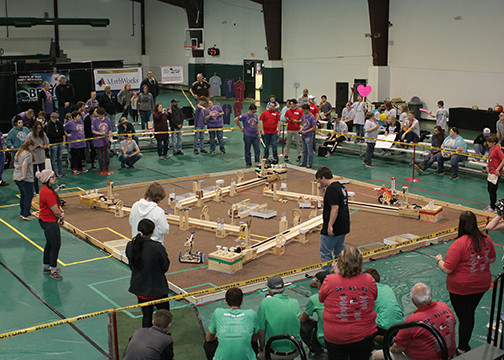 Students from six schools took part in Northwestern's Heartland BEST Robotics Game Day recently at the Alva Recreation Complex. Burlington High School and Lawton Academy of Arts & Science move on to the regional contest in Denver, Colorado, on Dec. 3-4.
Students from Burlington High School and Lawton Academy of Arts & Science have advanced to the Regional BEST Robotics competition in Denver, Colorado, on Dec. 3-4 after placing first and second, respectfully, in Northwestern Oklahoma State University's Heartland BEST 2022 "Made2Order" contest in Alva recently.
These students will compete against other teams from Colorado, Kansas, Ohio, Pennsylvania and South Dakota.
Placing third in the BEST overall competition was Alva Robotics.
"The competition went very well, and there was a lot of energy throughout the day," Dr. Tim Maharry, professor of mathematics and co-director of Heartland BEST, said. "Approximately 150 students, coaches, mentors, judges and spectators attended the event in the Alva Recreation Complex."
Maharry noted that Burlington won both the BEST and Game Awards for the second straight year.
Others placing in the Game Award category were Leedey High School, second place; Waynoka High School, third place; and Lawton Academy, fourth.
Special awards went to the following:
Most Elegant Robot – Pratt (Kansas) High School
Most Photogenic Robot – Lawton Academy
Most Robust Robot – Waynoka
Founders Award for Creative Design – Burlington
Coach of the Year – Heath Sharp, Pratt High School
To learn more about the Heartland BEST Robotics competition at Northwestern, contact Maharry at (580) 327-8583 or tjmaharry@nwosu.edu, or co-directors Dr. Mary Riegel, associate professor of mathematics, at (580) 327-8437 or mriegel@nwosu.edu and Dr. Jenny Sattler, associate professor of physics and chair of the department of natural science, at (580) 327-8568 or jasattler@nwosu.edu. Information also may be found at https://www.nwosu.edu/school-of-arts-and-sciences/natural-science/heartland-best.
-NW-