16th annual NWOSU Art Society Art Show March 3-29 in Alva campus library
March 1, 2019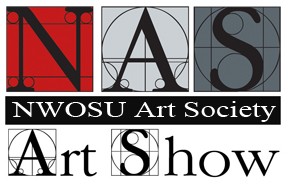 The 16th annual NWOSU Art Society Art Show is March 3-29 in the J.W. Martin Library on the Alva campus. The show is free and open to the public.
The entries are in and the artwork has been submitted – it's time for the 16th annual Northwestern Oklahoma State University Art Society Art Show. The show will take place March 3-29 in the J.W. Martin Library on the Alva campus and will be open during the library's regular business hours.
The library will be closed during Spring Break March 18-20. It will be open that week from 8 a.m. to 5 p.m. on March 21-22 and will open again for regular hours at 1 p.m. on March 23.
A wide variety of art will be on display from current students and employees, retired employees and alumni including paintings and drawings depicting abstracts to realism to theatrical art. There also are wood carvings and a number of photographs.
"I'm excited that past art society president Kristy San Soucie has mailed in paintings to show all the way from Washington state," Angelia Case, art society sponsor, said. "We are always excited when art society alums participate."
Case also noted that Kristy Benson, who was an art minor and speech/theatre major at Northwestern, will be displaying a few very large pieces of art including a 6x8 foot "full-scale scenic drop" created as part of her work as the resident scenic designer in the University of Central Oklahoma theatre department.
Connie Moore, a Waynoka artist, businesswoman and Northwestern alumna, also has submitted four paintings for the show, and students in the mass communication and visual arts programs have submitted work.
"Our students have entries in almost every category in the painting and works on paper area," Case said.
All artwork that earns an award in this show will be moved to the Winners' Show that will take place in downtown Alva during the First Friday Art Walk April 5 from 6 to 8 p.m. at the Runnymede Hotel.
Non-winning art from the campus show may be picked up at the library on Monday, April 1, by 5:30 p.m. Artwork from the Winners' Show at the Runnymede may be picked up at the end of that show at 8 p.m. or from Fine Arts 211 on Monday, April 8, by 5:30 p.m.
"The Art Society doesn't have many members, but the group works hard on fundraising throughout the year with our Photos with Santa event and Goodie Giveaways at basketball games so we can provide this opportunity for our Ranger family to showcase their talents," Case said. "We also appreciate the support of the Student Government Association for its co-sponsorship of the show."
For additional information about the art show or the art society, visit the NAS website at www.nwosu.edu/art, join the club's Facebook group or fan page or contact Case at arcase@nwosu.edu or (580) 327-8577. For more information on classes within the Visual Arts program, please contact Kyle Larson, assistant professor of art, at (580) 327-8108 or krlarson@nwosu.edu.
-NW-