Woodward High Schools students visit Northwestern for 'Teach Oklahoma' course
December 8, 2017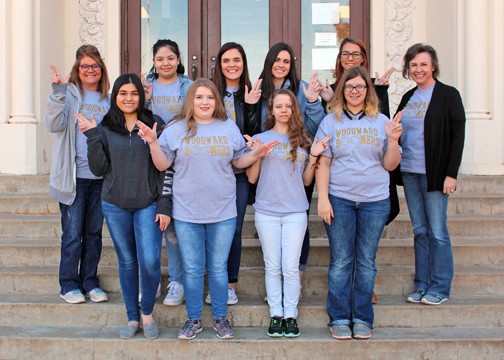 WHS students visiting NWOSU-Alva were (front row, L-R) Patricia Lira, Makenize Williams, Cassey Collins, Caitlyn Allen, (back row, L-R) sponsor Michelle McDonald, Mariela Castillo, Brittany Berry, Chloee Murphy, Caitlyn Crawford and sponsor JoLynn Love.
---
Northwestern Oklahoma State University played host to eight Woodward High School students recently for the high school's "Teach Oklahoma" course.
Teach Oklahoma was designed to mentor high school students about teaching and provide a fundamental knowledge about the teaching profession in Oklahoma. The course is supported through the Oklahoma State Regents for Higher Education.
While visiting Northwestern the students participated in teacher preparation classes for subjects such as reading, intermediate language arts and more. They were able to have an open dialogue about the teacher preparation program and participate in prepping courses such as intermediate math methods and elementary school programs. Amber Donaldson, director of secondary language arts from the Oklahoma State Department of Education, was also at Northwestern-Alva as a guest speaker.
Woodward High School's students were able to see the types of work Northwestern's teacher candidates create in their programs, like the course requirement of Northwestern teacher candidates needing to video-record their own lessons to use as a reference. The students were able to watch some examples of videos to show the length of preparation that goes into creating and sharing a lesson plan.
The eight high school students also took a tour of Northwestern-Alva. Those students included Caitlyn Allen, Brittany Berry, Mariela Castillo, Cassey Collins, Caitlyn Crawford, Patricia Lira, Chloee Murphy, Makenize Williams, and sponsors JoLynn Love and Michelle McDonald.
Dr. Christee Jenlink, professor of education, chair to the Division of Education and associate dean of the School of Education, understands and believes in the importance of students actively learning and getting hands-on experience especially in the teaching field.
"The Teach Oklahoma program is more critical than ever in light of the teacher shortage not only in Oklahoma but across the nation," Jenlink said. "The program provides immersive experiences for high school students who are considering a career in teaching. With Northwestern's history of excellence in teacher preparation, having the Woodward students visit the campus to experience the program complements the work that is occurring in the Teach Oklahoma course at Woodward High School."
Northwestern's teacher education program, which is housed in the Division of Education, is accredited by the National Council for the Accreditation of Teacher Education (NCATE) and approved by the Commission for Educational Quality and Accountability (CEOA).
For more information about Northwestern's teaching programs contact Jenlink at (580) 327-8450 or cljenlink@nwosu.edu.
-NW-
CONTACT FOR RELEASE
Ali Gavitt, University Relations Specialist
apgavitt@nwosu.edu 580-327-8480