Winning artwork from NWOSU Art Society Art Show at Runnymede Friday
March 30, 2021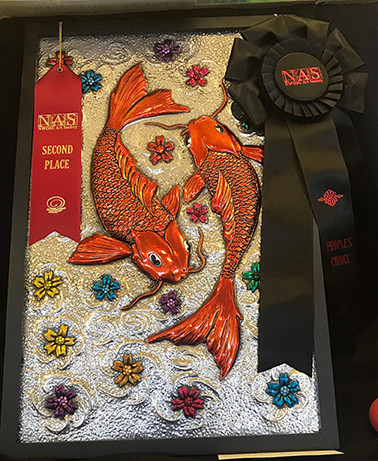 The People's Choice award winner "Kois en Flores," an aluminum art piece created by Northwestern custodian Victoriano Muniz Mendoza, will be among more than 100 pieces of artwork to be displayed Friday, 6-8 p.m. , Runnymede Hotel in downtown Alva.
More than 100 pieces of artwork deemed winners at the annual Northwestern Oklahoma State University Art Society Art Show in March will be on display during the First Friday Artwalk from 6 to 8 p.m. April 2 at the Runnymede in downtown Alva. The event is free and open to the public.
Among the items on display will be the Best of Show winners and the People's Choice winner from the campus show.
"Kois en Flores," an aluminum art piece created by Northwestern custodian Victoriano Muniz Mendoza, was voted as the People's Choice winner this year.
"A Gathering," an oil painting by Whitney Buxton, Woodward junior majoring in biology with a natural history option, was the Best of Show winner in the student division while "Sid Penner," a colored pencil drawing by alumnus Warren Little of Alva, won in the non-student division that is open to all Northwestern alumni and current/retired employees.
Also on display will be quilts created by retired Northwestern employee Joanne Prewett and current employee Cheryl Ellis, human resources director.
Non-student artwork placing will include work from current employees Mickey Jordan, director of technical theatre, and Angelia Case, academic projects assistant/media specialist, and alumna Barbara Faulkner with fiber arts pieces by current employees Dr. Jenny Sattler, associate professor of physics, and Dr. Mary Riegel, associate professor of mathematics, and alumna Leah Burchfiel.
Winning photographs will be displayed by Northwestern alumni Catherine Davis, Brenen Hankins, Amanda Metcalf, Megan Moore, Cynthia Nighswonger and Little. Current employees with winning photos include Valarie Case, university relations specialist, Tiffany Misak, Enid campus coordinator/VA coordinator, Angelia Case and Jordan.
Student artwork will include pieces from Brianna Berryman, Guthrie senior, biology/health science; Aliyah Bidwell, Greenfield sophomore, mass communication; Archer Bohlen, Ringwood freshman, computer science; Alexandria Divelbiss, Alva sophomore, psychology; Angela Egger, Williamsville, Illinois, junior, early childhood education; Sydney Endsley, Meno junior, speech/theatre; Beatriz Penaflor, Shattuck sophomore, chemistry; Emily Pray, Caldwell, Kansas, freshman, undecided major; Jessica Reeves, Cleveland, Oklahoma, senior, general studies; Michael Sion, Vinton, Louisiana, senior, health and sports science education; Shelby Thomas, Elk City sophomore, undecided; and Noreen Wagner, Alva post-graduate, music.
Winning student photographs will be displayed by Christopher Chauncey, Cordell senior, math; Nick Dill, The Colony, Texas, junior, mass communication; Jake Lee, Ponca City senior, business administration; Dana Morrow, Vici seniors, psychology; Ethan Sacket, Aline senior, business administration; Bohlen and Berryman.
To see a complete list of winners from this year's show, visit www.nwosu.edu/art/nas-art-show.
At the close of the Winners' Only Show, artists may pick up their work from the Runnymede. Winning artists are highly encouraged to attend to visit with the public about their artwork.
All artwork that has not been picked up may be retrieved from Ryerson Hall 211. on April 5 by 5:30 p.m.
Questions should be directed to Angelia Case, NAS sponsor, at (580) 327-8577 or arcase@nwosu.edu
-NW-