Upward Bound Virtual Summer Camp Recap at Northwestern
August 14, 2020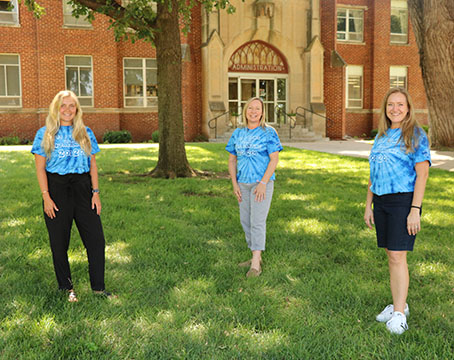 This summer's Upward Bound staff members at Northwestern-Alva wrapped up their 13th annual summer camp, first all-virtual camp, on July 10, with an additional program this year ending on July 31.
(Left to Right) Kennedy Jewell; Jaunita Dotson; and Lee Ann Reutlinger.
---
Northwestern Oklahoma State University's Upward Bound and Upward Bound Math & Science students began their annual academic summer camp on June 1. This is the 13th year for the program and the first all-virtual camp.
The six-week component of camp ended on July 10. The 70 students from Alva, Aline-Cleo, Burlington, Cherokee, Fairview, Ringwood, Timberlake and Waynoka attended classes online throughout the week. The classes were math, science, Spanish, English and the language arts. These students will all be 9th through 12th graders in the fall.
This year, the Upward Bound students were given the chance to become involved in the Learn and Earn Apprentice Program, which took place June 1 through July 31. Students took part in several assignments that would help them to become more focused on their personality type and the career areas they may be interested in. Each participant joined in with Jaunita Dotson, Upward Bound director, Justin Aldridge, motivational speaker/author, and Taylor Wilson, Northwestern director of counseling and career services, through the Google Classroom platform.
Upon the successful completion of the assignments through the summer LEAP program, each student had the opportunity to earn a stipend of $600 for their hard work and dedication.
The Upward Bound staff delivered backpacks of camp supplies and needed items for the various class members to be able to make projects from home. Some of the class projects for science and math included: a plant-from-seed growing project; making a roller coaster with foam pool noodles; a myth busters project; and others. The students were introduced to various technology platforms for attending classes online, turning in their class assignments and attending group meetings.
Teachers this year included:
Math – Aaron Randall of Vici and Dakota Buckhaults of Alva
English – Dr. Roxie James of Alva
Language Arts – Tanya Phillips of Alva
Science – Danielle Barnett and Kasey Adair of Alva
Spanish – Dana Manning of Alva
This year's staff included Darla Adams, project administrative assistant; Dotson; LeeAnn Reutlinger, past Upward Bound Math & Science academic coordinator; and Kennedy Jewell, Upward Bound academic coordinator.
The program offers free one-on-one tutoring, ACT prep, academic advising, college tours and cultural field trips.
For more information on Northwestern's Upward Bound program, please contact Dotson at jrdotson@nwosu.edu or (580) 327-8113.
-NW-