Upward Bound Summer Camp begins at Northwestern
June 5, 2018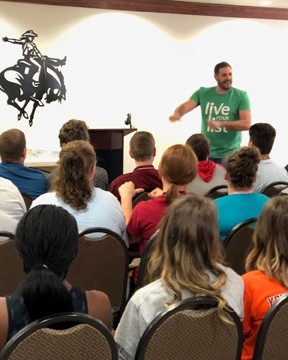 Motivational speaker Ryan Eller from Paradigm Shift and author of "Live Your List" speaks to this summer's Upward Bound campers at Northwestern-Alva.
Northwestern Oklahoma State University's Upward Bound and Upward Bound Science and Math students began their annual academic summer camp on the Alva campus May 27. This is the 11th year for the program.
This five-week camp will finish on June 28; however, all students will return on July 8 to head to Colorado on the morning of July 9 for a cultural field trip to explore the Air Force Academy, National Park – Garden of the Gods, Royal Gorge River Rafting and Cheyenne Mountain Zoo.
The 70 students from Alva, Burlington, Cherokee, Aline-Cleo, Fairview, Ringwood, Timberlake and Waynoka attend classes Monday through Thursday in math, science, Spanish, English and language arts. These students will all be 9th through 12th graders in the fall.
"We are centering our English/literature curriculum for summer camp on Ryan Eller's book 'Live Your List,'" Jaunita Dotson, Upward Bound director, said. "Each student received their own copy of this amazing new book to use during classes and to take home. Ryan is a dynamic individual who travels across the nation and out of the country in order to motivate young people and help them prepare for college."
Dotson said Eller used to work with the TRIO-Talent Search program at Northeastern State University for several years and also served with her on the Oklahoma Division of Student Assistance board. She added that she has utilized his team for the last few years because they have a strong understanding on what it takes to get high school students excited about reaching goals and going to college.
During the first week of camp, the students' afternoons and evenings were spent getting to know their fellow campers and camp counselors through fun games and activities.
Serving as counselors this year are Brandon Green, 2018 graduate from Houston, Texas; Kevin Cosper, Aline-Cleo senior; Jason Barlett, Burlington, Ontario, Canada, graduate student; Olivia Brock, London, Ontario, Canada, senior; Sara Houchin, Ardmore freshman; and Oakleigh Nickel, Helena junior.
Teachers this year include:
Math -- Aaron Randall of Vici and Dakota Buckhaults, Alva
English – Tanya Phillips, Alva
Language Arts – Cindy Leiter, Alva
Science – Danielle Barnett and Brenna Heaton of Alva
Spanish – Dana Manning
The students are staying in university housing while on campus and are eating their meals in Coronado Café.
For more information on Northwestern's Upward Bound program, please contact Dotson at jrdotson@nwosu.edu or (580) 327-8113.
-NW-