University Choirs to present 'Made in the USA' concert at Alva First Baptist Church Oct. 15
October 9, 2019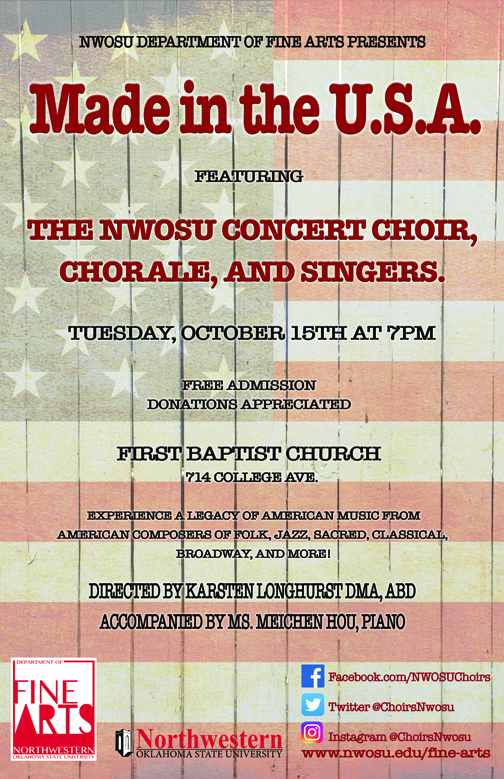 The University Singers, the Chorale and the Community Concert choir of Northwestern Oklahoma State University's Fine Arts Department will perform a variety of American music in their upcoming concert "Made in the USA" on Oct. 15 at 7 p.m. at the First Baptist Church in Alva.
Admission to the concert is free, and open to all who would like to listen to famous and less-well-known songs of American heritage. Donations will be accepted, however, to help fund the choirs and their multiple concerts and events.
Karsten Longhurst, instructor of music and director of choral studies at Northwestern, said the idea for the American-themed concert came from looking through some of the many often-overlooked American pieces in their 3,000-title library and deciding it would be a fun idea to highlight some of the songs and their composers into one Americana concert.
Such a project was not easy, however, with so many songs to choose from and options in variety. Longhurst said that although one could create a whole concert with songs of one genre alone and only scratch the surface, for this concert they have selected American songs with diverse genres from a variety of composers and ages in American history.
Classical, pop, jazz, musical theater, sacred music, folk and secular are only a few of the genres that were mentioned to be performed at the concert. Titles include popular music such as "Home on the Range," Gospel-infused "Shenandoah," folk song "Going to Boston" and a plethora of other songs that originated in the United States or have become centrally American.
Longhurst said that although some of the music that has been selected may be more difficult to perform either due to complexity or simplicity, the choir members have really enjoyed their experience with learning each of the 16-18 selected songs and adding variations or alterations to popular American tunes to be enjoyed by the public.
For more information about the "Made in the USA" concert or the choral programs, contact Longhurst at (580) 327-8692 or krlonghurst@nwosu.edu.
-NW-