Two Northwestern Faculty Receive Awards at Board of Visitors Social Work Hall of Fame Ceremony
June 21, 2018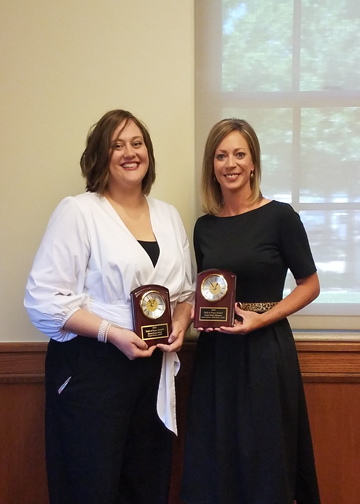 Northwestern faculty members, Raquel Razien (left) and Dr. Kylene Rehder (right), are 2018 honorees who received awards June 15 at the annual Board of Visitors Social Work Hall of Fame ceremony.
Northwestern Oklahoma State University faculty members Dr. Kylene Rehder and Raquel Razien recently received awards at the annual Board of Visitors Social Work Hall of Fame luncheon and ceremony.
Rehder, an associate professor, director of the Social Work Program and chair of the Department of Social Work at Northwestern, has been named the 2018 Social Work Educator honoree. Razien, who has served as an adjunct instructor in social work at Northwestern-Woodward, has been named the 2018 Rural Social Work honoree.
Rehder and Razien received their awards Friday, June 15, at the JJ Rhyne Community Room in Zarrow Hall at the University of Oklahoma in Norman.
Nominations for these awards are sought by social workers in Oklahoma and then selected by the awards committee of the Anne and Henry Zarrow School of Social Work's Board of Visitors. Each year several Hall of Fame awards are given to those who have made important contributions to social work in Oklahoma.
"For me this award signifies the incredible success of the social work program and its graduates," Rehder said. "Only in my wildest dreams did I envision the advancements social work services could make in Northwest Oklahoma. The transformation is in large part due to the support of Northwestern's administration allowing the program, faculty and students to flourish."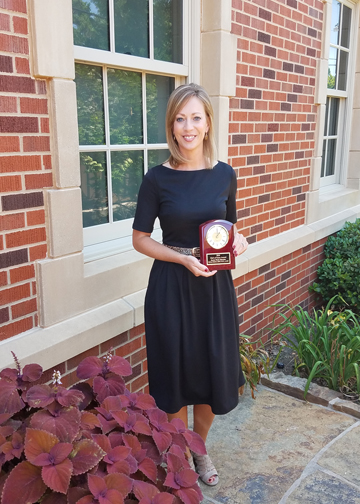 Dr. Kylene Rehder
Rehder has worked at Northwestern since 2005 and is credited with leading the social work program to external accreditation by the Council on Social Work Education (CSWE). Northwestern's social work program is only one of five CSWE accredited universities in the state and is the only one in western Oklahoma. With the development of a social work program in the region, the landscape of social services in Northwest Oklahoma has been transformed.
Rehder has been honored within the university and her profession for her contributions to social work numerous times. She is the Jake and Jayne Lindsay Endowed Chair in Social Work at Northwestern, the university's 2012 Distinguished Service Award recipient, the John Barton Distinguished Teaching and Service Award recipient in 2013 and the John Sheffield Teacher of the Year Award recipient in 2018. In 2017, Rehder was recognized as an honoree during the 100th anniversary celebration of the Anne and Henry Zarrow School of Social Work, and the Oklahoma Chapter of the National Association of Social Workers presented her with the Social Worker of the Year Award in 2018.
Rehder earned a bachelor's degree in social work from Northwestern (2001) and a Master of Social Work from the University of Oklahoma (2003). In 2013, she completed a doctorate degree from North Central University, where her dissertation research focused on the use of technology in social work education and practice. Rehder is a licensed clinical social worker and a board approved clinical supervisor by the Oklahoma State Board of Licensed Social Workers. She has a rich history of involvement in the NASW-OK, holding key roles such as Northwest Branch Chair, Chapter Committee on Nominations and Leadership Identity (CCNLI), and the steering committee for the Social Work Public Education Campaign.
Her research efforts on licensure laws, titles and requirements provided the necessary foundation for legislative changes, bringing Oklahoma's Social Work Practice Act in alignment with other jurisdictions and the Social Work National Model Act. In 2015, Rehder was appointed by the governor to serve on the State Board of Licensed Social Workers and currently is the board's secretary. She is an advisory board member for the Child Welfare Professional Enhancement Program (CWPEP), which focuses on strengthening child welfare services in Oklahoma. In addition, she is a board member of Freedom West Community Development Corporation, a non-profit development entity in Northwest Oklahoma that works to revitalize rural communities to increase community sustainability through proactive social and economic change efforts.
Rehder serves as a clinical consultant to many Northwest Oklahoma agencies and is a member of the Oklahoma Medical Reserve Corps (OKMRC), where she serves as a disaster mental health responder.
Razien, a 2015 graduate of Northwestern's social program, also is thankful for this recognition.
"I feel so privileged to be able to wake up every day and do work that I truly love and am passionate about," Razien said. "I am thankful to the social work department at Northwestern for starting me off on my social work journey and for continuing to contribute to my ability to impact rural social work through providing me an opportunity to adjunct and provide practicum opportunities to social work students."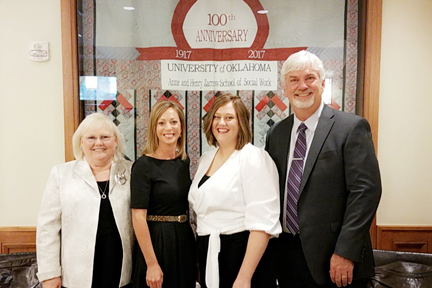 Dr. Deena Fisher (far left), dean of Northwestern-Woodward, and Dr. James Bell (far right), associate vice president for academics and dean of faculty at Northwestern-Alva joined Dr. Kylene Rehder and Raquel Razien at the ceremony.
Razien earned a Master of Social Work from the University of Oklahoma (2016) and received her Licensed Master of Social Work credential in 2016. She currently is a family specialist for United Methodist Circle of Care. Razien received credit for opening in 2016 the Oklahoma United Methodist Circle of Care office in Woodward. She actively recruits people to be foster parents in Northwest Oklahoma. Since opening, she has signed up 15 new families to provide safe homes for children in need. With her drive to provide better services in Northwest Oklahoma, her two-person agency now provides services to more than 25 children.
Razien also serves as the Chair for the Woodward Area Coalition. This position allows her to advance community health and well-being by increasing collaboration among several social service agencies in Northwest Oklahoma. Razien also serves on the Social Work Advisory Board for Northwestern to enhance and support the profession of social work in rural Oklahoma. As an instructor, her teaching competencies include courses in child abuse and neglect and domestic violence. She provides practicum opportunities as a field instructor for social work students and mentors them.
Other 2018 honorees who received awards at the ceremony include Dolores Subia Bigfoot, Social Welfare Leader; Rita Hart, Professional Development Leader for the State of Oklahoma; Edwina Luker, Outstanding Service to Veterans and their Families; Jim Rosenthal, Lifetime Achievement Award; and Pam Stark, Social Work Practice Professional.
To learn more about Northwestern's Department of Social Work, please contact Rehder at (580) 327-8135 or kdrehder@nwosu.edu.
-NW-
CONTACT FOR RELEASE
Erin Davis, University Relations Specialist
eedavis@nwosu.edu; (580) 327-8480