'Teacher's Closet' provides professional wardrobe help to students
September 13, 2017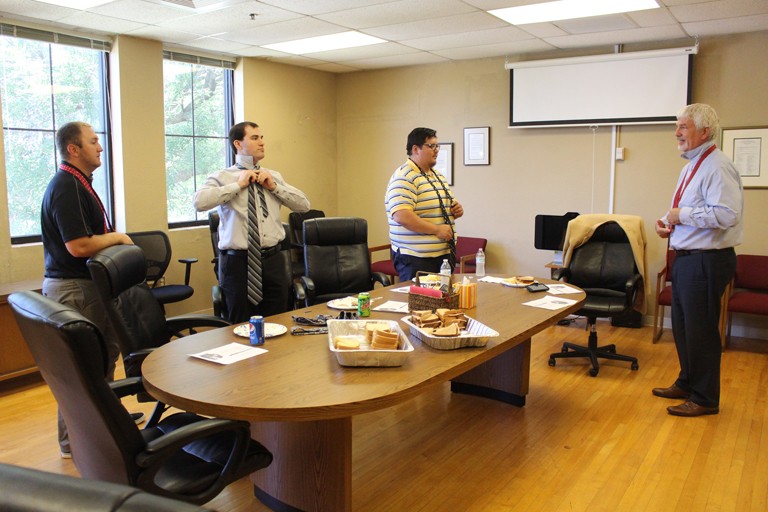 Northwestern seniors (left to right) Kale Dice, Blackwell; Matthew Thomas, Alva; Matthew Cowart, Holdenville; learning how to tie a tie with guest speaker Dr. James Bell (far right).
---
Students entering the professional workforce have the skills for a career but sometimes lack the professional wardrobe when first starting out. But thanks to a pair of professors at Northwestern Oklahoma State University, and the generous donation of clothing from the public, students now have access to professional clothing.
Dr. Jen Oswald, assistant professor of education, and Dr. Jennifer Page, assistant professor of English, developed the Teacher's Closet for students who needed a little extra help getting ready for life after graduation.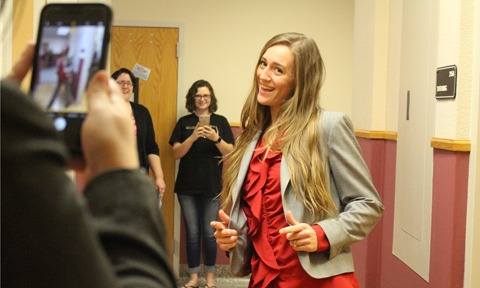 (PICTURED ABOVE) Dr. Jennifer Oswald (left) takes a picture of Connie Bryant (right), Cherokee senior, trying on a new addition to her professional wardrobe while Dr. Jennifer Page (back left) and Taylor Johnson (back right), Alva senior, help others pick out clothes.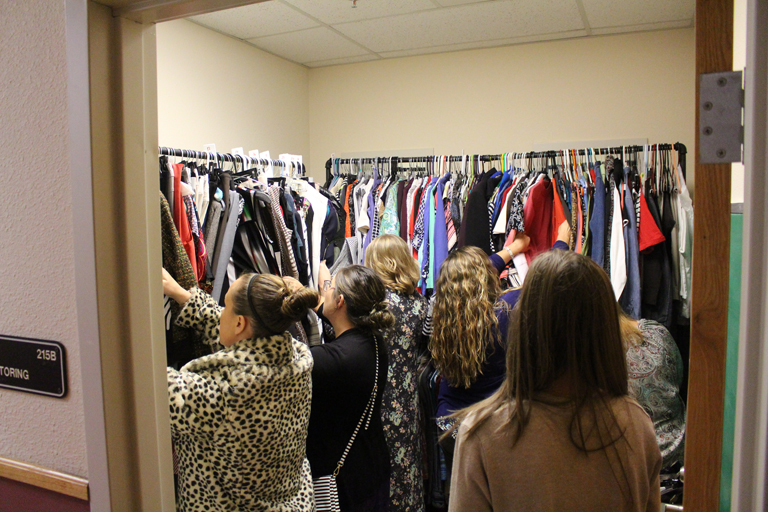 (PICTURED ABOVE) Northwestern seniors Hilda Craig, Enid; Shelby Bennett, Beaver; Jessica Morton, Mooreland; Jennifer Heitman, Ponca City; Beth Baker, Woodward; and Sarah Van Drew, Jacksonville, Arkansas; start picking clothing items for their new professional dress.
Oswald and Page explained that transitioning from a student's casual clothing to a teacher candidate's professional wardrobe can be quite challenging. The financial investment required to purchase new clothing often presents an obstacle for an education major's budget as these students also must spend significant portions of their limited discretionary income on background checks and required testing.
Thanks to the clothing donations from several individuals, organizations at Northwestern Oklahoma State University have created the "Teacher's Closet" to benefit students who need a little help with clothing for student teaching, career fairs, interviews and other professional circumstances.
The Teacher's Closet currently consists of separate men's and women's clothing rooms, with four racks for clothes in each room along with multiple shelves for shoes, ties and other accessories. Page and Oswald have plans to expand to a third "closet" room as the program progresses.
"The Closet can be opened for individual needs as needed throughout the semester," Oswald said. "Students can be referred by their professors or come to either of us. While we are the Teacher's Closet, we are really here to meet any need across campus or community. We may have a business student needing clothes for interviews, a professional in the community needing to replace a wardrobe lost in a house fire, or any number of needs that may come up in the future. I foresee this project meeting a lot of different needs simply because we have been provided the resources by this amazing community."
The Teacher's Closet held its premiere event during a Student Oklahoma Education Association (SOEA) professionalization luncheon for education majors who are teacher candidates this fall. Guest speakers Dr. Bo Hannaford, vice president for academic affairs, and Dr. James Bell, associate vice president for academics and dean of faculty, spoke with the male students on topics of how to tie a dress tie, suit cuts and overall men's professional dress standards. Guest speaker Shannon Leaper, research and instructional services librarian, spoke with the female teacher candidates about interview tips, ways to find new ideas to repurpose their current wardrobe, women's professional standard dress and more.
The teacher candidates were able to leave with up to three full outfits to use for interviews and student teaching. More than half of the students invited to the event left with new additions to their wardrobes. As the semester continues members within the Division of Education plan to make sure that number increases so all of the teacher candidates may receive a new outfit for professional dress.
"The first students to shop the closet were overcome with gratitude for their 'new' clothing, certainly, but also for the acknowledgment and validation that the closet symbolizes," Page said. "Each donation in the closet was a quiet but heartfelt reminder that Northwestern and its surrounding community value, respect, and support future teachers—that we appreciate their commitment to making the world a better place, one student at a time."
Hannaford believes the Teacher's Closet not only helps students entering the workforce but brings the community together with the university.
"The Teacher's Closet is another wonderful example of our faculty and community commitment to our student's here at Northwestern," he said. "I applaud Dr. Oswald and Dr. Page in their efforts, and I believe this is the type of project that directly impacts our students and helps them toward fulfilling their goal of entering the work force."
The Teacher's Closet will continue to accept donations of new and gently-used professional clothing from area individuals and businesses for all sizes of men and women's styles, shoes and accessories. The organizers said there is a specific need for men's clothing, sizes XXL and up.
For more information or to donate contact Oswald at (580) 327-8582 or jdoswald@nwosu.edu or Page at (580) 327-8473 or jkpage@nwosu.edu. Find "The Teacher's Closet" on Facebook for updates.
-NW-
CONTACT FOR RELEASE
Ali Gavitt, University Relations Specialist
apgavitt@nwosu.edu, 580-327-8480