Summer Choral Camp Returns to Northwestern June 19-29
May 30, 2023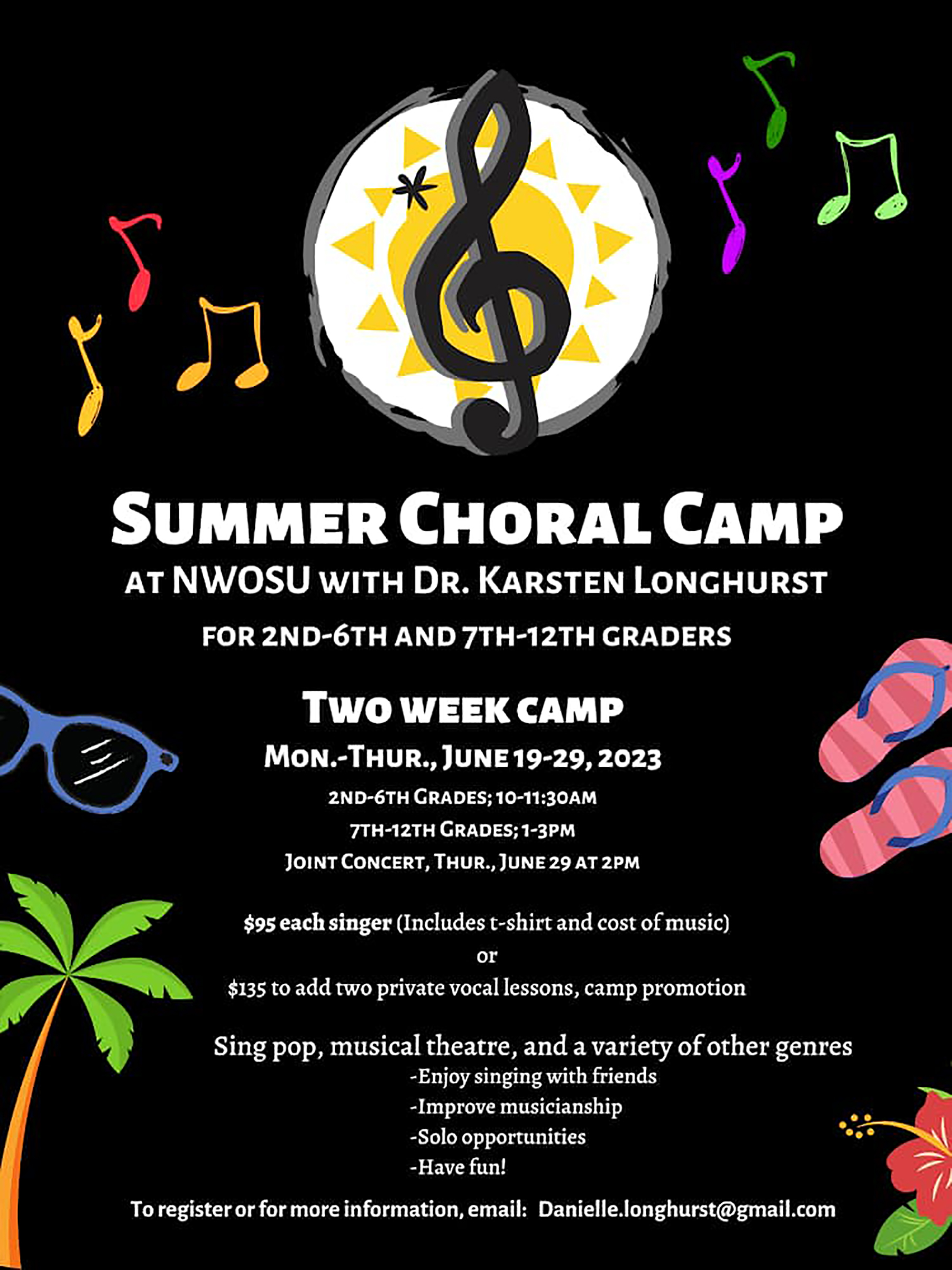 Northwestern Oklahoma State University will play host to a summer choral camp for students in grades second through 12th interested in singing with Dr. Karsten Longhurst, assistant professor of music and director of choral music on the Alva campus.
The two-week summer camp will be held at the Northwestern campus in Alva June 19-29. Students in second through sixth grade will rehearse from 10-11:30 a.m. and students in seventh through 12th grade will rehearse from 1-3 p.m. in Ryerson Hall 200 and the J.W. Martin Library annex.
The campers will rehearse Monday through Thursday where singers will perform, learn musical knowledge and develop musical skills to sing in many genres including pop, musical theatre and more. At the end of the two-week camp, the students will perform a mini-concert planned for June 29 at 2 p.m. in the J.W. Martin Library annex, open to the public.
Longhurst said the students will be able to improve their singing, performing and musicianship by attending this camp. He also noted there will be solo opportunities at the culminating concert.
The cost for the camp is $95 for each singer to attend or $135 to attend the camp plus receive two extra private vocal lessons from Longhurst. The attendees will also receive a T-shirt.
Interested individuals may register at https://forms.gle/YMiuHytHHRgQ8aZg8 and/or by emailing danielle.longhurst@gmail.com for more information. The deadline to register is June 5, but arrangements can be made if necessary.
-NW-
CONTACT FOR RELEASE
Erin Davis, University Relations Specialist
eedavis@nwosu.edu; 580-327-8480