Students to compete in Heartland BEST Robotics Game Day in Alva Nov. 2
October 25, 2019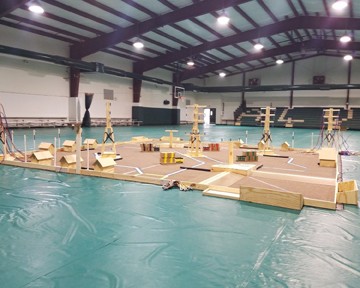 Here's a sneak peek of the field setup created by Northwestern's Heartland BEST robotics committee, which is ready to go for all the robotics teams heading to the annual contest at the Alva Recreation Center on Nov. 2 at 10:30 a.m.
Alva High School student Elisabeth Ridgway and her mom/robotics coach April Ridgway show off the robot they plan to use at the annual Northwestern Heartland BEST robotics competition at the Alva Recreation Center on Nov. 2 at 10:30 a.m.
High school and middle school students from throughout Oklahoma and Kansas will compete in the Northwestern Oklahoma State University-sponsored Heartland BEST (Boosting Engineering, Science and Technology) robotics game day competition on Nov. 2 at 10:30 a.m. at the Alva Recreation Center. The event is free to the public and welcome for all to attend.
Founded in 1993 by two engineers who were employed at Texas Instruments, BEST is a national program that encourages middle and high school students to create a robot as a team and compete against different teams around the region and country in a themed obstacle course.
Northwestern has played host to the BEST robotics competition for the past 18 years in Alva, said Dr. Timothy Maharry, Heartland BEST steering committee member and chair of the mathematics and computer science department at Northwestern. BEST is scheduled to be an all-day event, beginning at 8:30 a.m. and lasting until the 4 p.m. awards ceremony concludes.
Maharry said approximately 250-300 people attend the event, including a merged middle school and high school team from Alva that consists of approximately 20 members. Other schools competing in the event include Burlington High School, Deer Creek High School, Lawton Academy of Arts and Sciences High School, Leedey High School, Pratt [Kansas] High School, Shattuck High School, Wynona High School and Wynona Junior High.
The competition consists of eight rounds with four robots competing at the same time on an obstacle pre-determined by the BEST organization. This year's theme, "Off the Grid," creates a city with power lines destroyed by natural disaster and needing robots to fix them. The students are given minutes to perform the task quickly and effectively, and the most efficient robot is then promoted to the next round. Once the ultimate winner from the Heartland BEST competition is selected, the team is taken on to regionals, which take place in Denver, Colorado, the beginning of December.
Northwestern faculty and Alva community members are involved to make the event a success. Members of the Heartland BEST Steering committee who host the event include Northwestern faculty Dr. Steve Maier, chair of the natural science department and professor of physics, who serves as the Hub Director; Dr. Mary Riegel, associate professor of mathematics, who serves as the Game Committee Chair; Dr. Jenny Sattler, associate professor of physics, who serves as the Kit Committee Chair; Maharry, who serves as the Sponsorship and Finance/BEST Award Chair; as well as Keenan Meeker, instructor of mathematics; Dr. Jason Wickham, professor of chemistry; Dr. Roxie James, assistant professor of English; and community members Tom Boren and Amber Maier.
For more information about the event contact Maharry at (580) 327-8583 or tjmaharry@nwosu.edu.
-NW-