Staats Receives National VIP Citation by the FFA Organization
November 15, 2021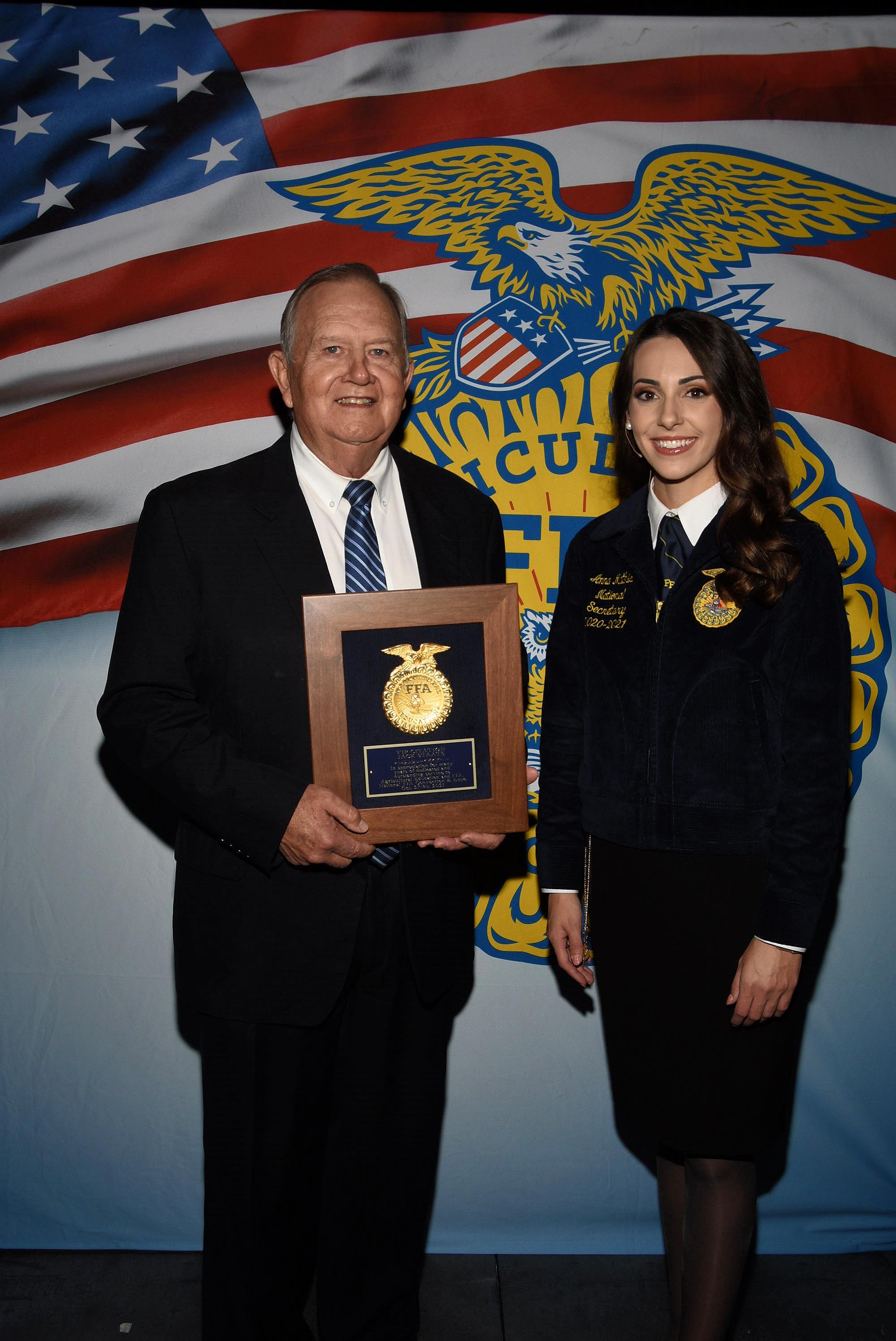 National FFA 2020-21 Secretary, Anna Mathis of Arkansas, congratulates Jack Staats, Northwestern Oklahoma State University instructor of agriculture, on his recent VIP Citation award.
---
Jack Staats, instructor of agriculture at Northwestern Oklahoma State University, was honored with a VIP Citation during the National FFA Convention & Expo, held in Indianapolis recently.
The VIP Citation recognizes individuals' significant contributions to FFA and agricultural education.
"I am very humbled and very appreciative of this award," Staats said. "I am fortunate to be married to a great lady, blessed with a great family, and surrounded by great people that have actually encouraged and supported me to do more than what I am capable of alone. I am so appreciative of the opportunities that agricultural education has given to me, and I hope in some small way that I have helped others in finding their opportunities in the agriculture profession."
Staats taught agricultural education at Freedom High school from 1973-1976, Buffalo High School from 1976-1977 and Alva High School from 1977-2007. He went on to serve as the program manager and Oklahoma FFA adviser for Oklahoma's Department of Career and Technology Education from 2008 until the spring of 2020. He began teaching at Northwestern in the fall of 2020.
Ten other recipients receiving this distinction are Scott Bormann of Stilwell, Kansas; Leon Busdieker of Hawk Point, Missouri; Dr. Robert Flores of San Luis Obispo, California; Lyle Orwig of Chaska, Minnesota; Terry Riekman of Salem, South Dakota; Ronnie Simmons of Gainesville, Florida; Dr. Michael Spiess of Montague, California; and David Wyrick of Bryon, Michigan. Additionally, Robert Hays of Indianapolis, Indiana, and Jeffrey Hicken of Waupan, Wisconsin, are being awarded the VIP posthumously.
"It is exciting to see Jack receive this award in recognition of his hard work, dedication, and passion for agricultural education," Dr. Dean Scarbrough, professor of agriculture and agriculture department chair, said. "Without such strong and outstanding commitment from people like Jack and others being honored this year, the FFA organization would not be able to help build such strong character in its members, who in turn become strong leaders in their families, communities and businesses."
The VIP Citation honors the dedicated individuals who contribute to the FFA mission of student success through their hard work and cooperation. The National FFA Organization is a school-based national youth leadership development organization of more than 735,000 student members as part of 8,817 local FFA chapters in all 50 states and Puerto Rico.
-NW-
CONTACT FOR RELEASE
Erin Davis, University Relations Specialist
eedavis@nwosu.edu, 580-327-8480