Sixth Annual 'Compassion in Action Dignity Drive' Underway
November 1, 2021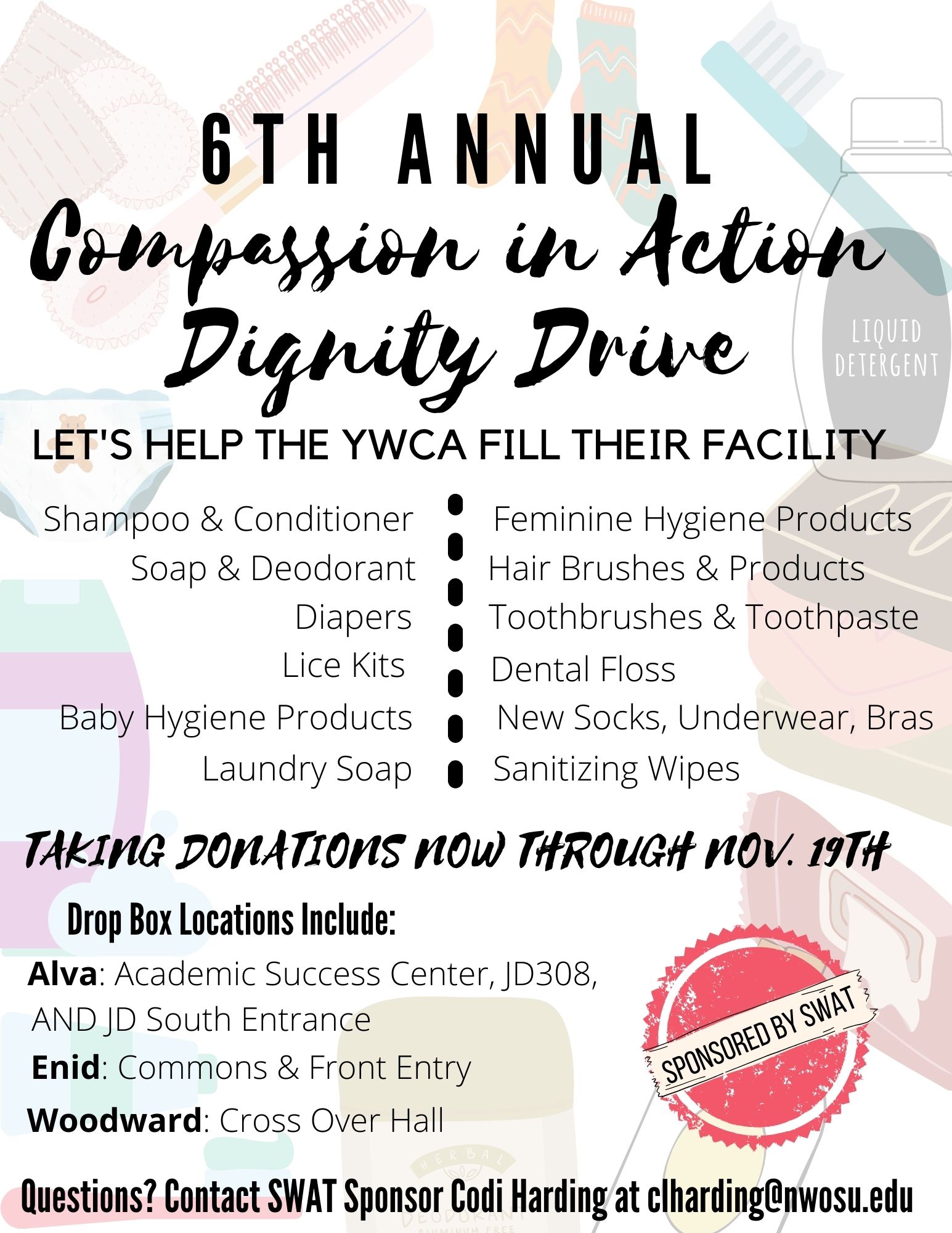 The Northwestern Oklahoma State University chapter of the Social Workers Association of Tomorrow (SWAT) organization is accepting donations for personal hygiene products as part of the "Compassion in Action Dignity Drive" at all Northwestern locations until Nov. 19.
"SWAT has participated in the Dignity Drive for the past few years," Barbara McPherson, social work senior and SWAT president for the Enid campus, said. "The Dignity Drive is one way we can give to those that are in need. I am proud to be a part of reaching our goal and helping the community."
This year SWAT will be gathering donations for the YWCA located in Enid. The YWCA provides emergency crisis intervention services for victims of domestic violence and sexual assault. These services also include an emergency shelter for survivors of domestic violence.
Items needed are shampoo, conditioner, soap, deodorant, feminine hygiene products, diapers, baby hygiene products, lice kits, body lotion, toothbrushes, toothpaste, dental floss and other personal care items. Donated items can be dropped off at the Northwestern-Enid Commons Area and front entryway; the Northwestern-Alva Academic Success Center, Jesse Dunn 308 and Jesse Dunn south entrance; and the Northwestern-Woodward Commons Area. Contributors will also be entered to win a Northwestern Swag Bag of items.
For more information concerning the Compassion in Action Dignity Drive, contact Codi Harding, assistant professor of social work and director of field experience, in Enid at (580) 213-3148 or clharding@nwosu.edu.
-NW-
CONTACT FOR RELEASE
Erin Davis, University Relations Specialist
eedavis@nwosu.edu, 580-327-8480