Sharon Batchelder selected as Campus Kudos winner for spring 2018
August 7, 2018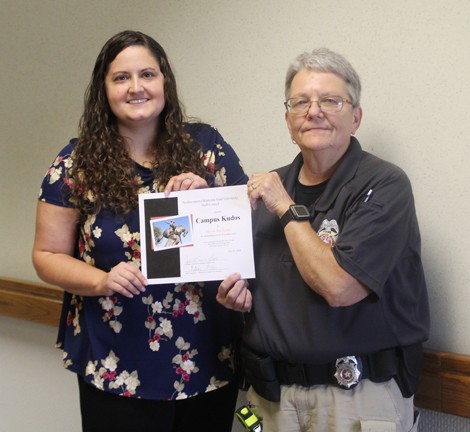 Tiffany Misak (left) presents Sharon Batchelder (right) with a spring Campus Kudos Award
Sharon Batchelder, police officer for the Enid campus at Northwestern Oklahoma State University, has been selected by the Staff Council as the recipient of the 2018 spring semester Campus Kudos Award.
Tiffany Misak, administrative assistant at the Enid campus and Staff Council Enid representative, presented Batchelder with the Campus Kudos award.
The person nominating Batchelder for this award said, "Sharon is such a team player. Here at the Enid campus, she is always willing to help with campus community activities, while still making us feel safe. She is always friendly and walks around campus frequently to ensure everything is okay. I've been on this campus for 10+ years and I've never seen another officer who pitches in like Sharon does. She goes above and beyond her typical job duties to make events successful and make sure the students are prioritized. Sharon makes me proud to be a Ranger and proud to work on this amazing campus."
Campus Kudos is a public acknowledgement created by the Northwestern Staff Council that applauds the efforts of eligible staff members who have displayed an act of kindness above their job responsibilities. This award is presented each semester, including the summer term.
"I was very surprised to be chosen for this award," Batchelder said about receiving her award. "I feel that I did nothing anyone else would not have done so it was greatly appreciated and a very large honor."
-NW-
CONTACT FOR RELEASE
Erin Davis, University Relations Specialist
eedavis@nwosu.edu, 580-327-8480