School Supply Drive Underway
November 4, 2021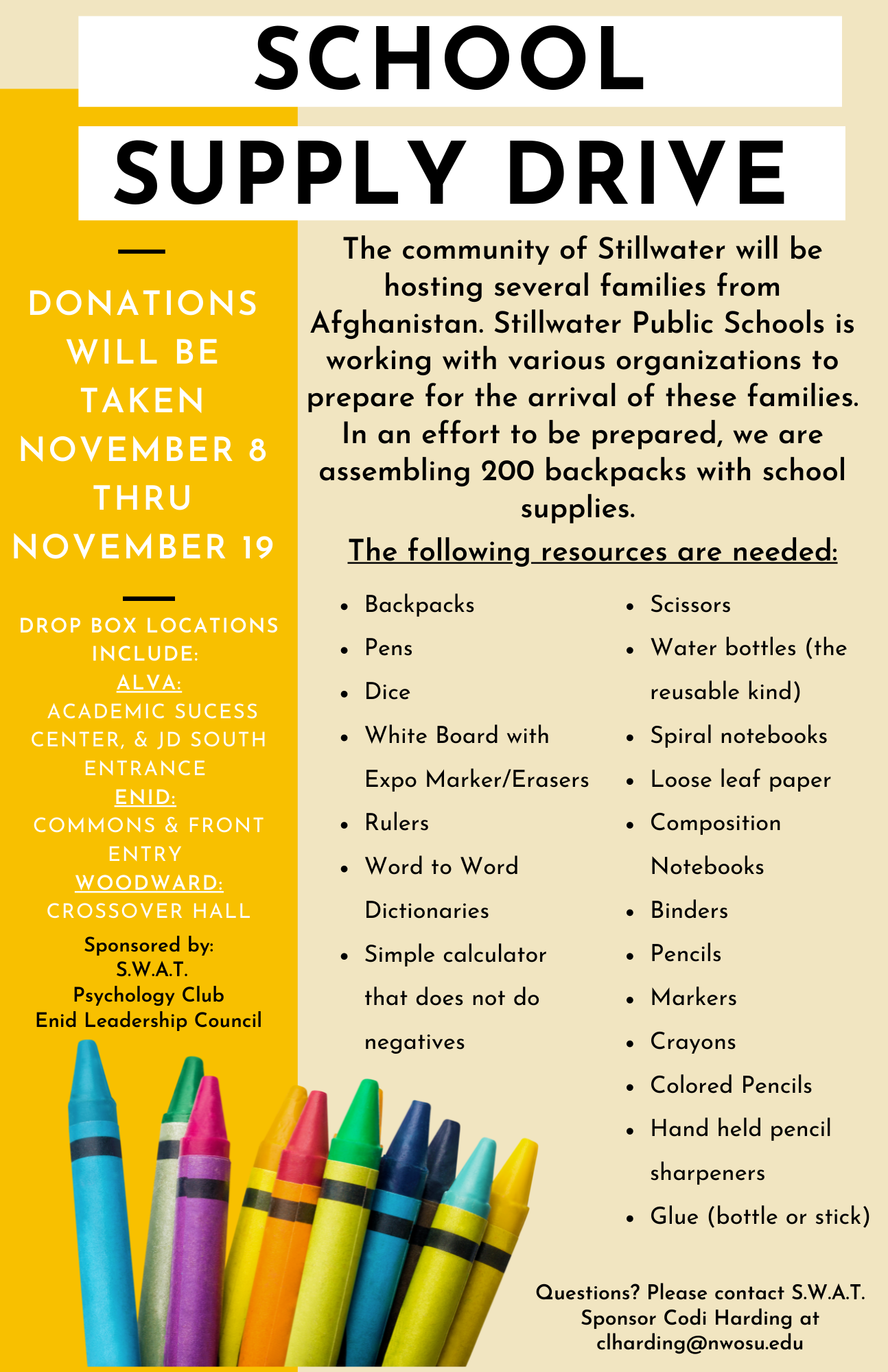 The Northwestern Oklahoma State University chapter of the Social Workers Association of Tomorrow (SWAT) organization has partnered with the Psychology Club and Enid Leadership Council to gather school supplies donations at all Northwestern locations until Nov. 19.
The Social Work department was approached by Northwestern social work alumna Diana Nolan to partner with Stillwater Public Schools in her role as the district social worker.
The School Supply Drive will benefit the community of Stillwater, which will be hosting several families from Afghanistan. In preparations for the arrival of these families, 200 backpacks with school supplies are being assembled.
"SWAT, Psychology Club and Enid Leadership Council are all working hard to collect as many donations as possible to assist a community and public school system in need," Codi Harding, SWAT sponsor, said.
Donations needed include basic school supplies along with backpacks, dice, whiteboard with expo marker/erasers, word-to-word dictionaries, water bottles (the reusable kind), binders, handheld pencil sharpeners and simple calculators.
"One of our duties as psychology majors and as members of the Psychology Club is to serve our communities in any way that we can," Chambrea Cook, Drummond senior psychology club president, said. "It is a pleasure to help serve a neighboring community in need."
Donated items can be dropped off at the Northwestern-Enid Commons Area and front entryway; the Northwestern-Alva Academic Success Center and Jesse Dunn south entrance; and the Northwestern-Woodward Commons Area.
"This school supply drive is an opportunity to display the true Oklahoma and Northwestern spirit of caring," Julie Mayer, Enid senior SWAT vice president, said.
For more information concerning the school supply drive, contact Harding in Enid at (580) 213-3148 or clharding@nwosu.edu. For more information on Northwestern's social work degree program visit https://www.nwosu.edu/school-of-arts-and-sciences/social-work.
-NW-
CONTACT FOR RELEASE
Erin Davis, University Relations Specialist
eedavis@nwosu.edu, 580-327-8480