Santa photos, Holiday Gift Store for kids offered Dec. 16 at Northwestern-Alva
December 11, 2017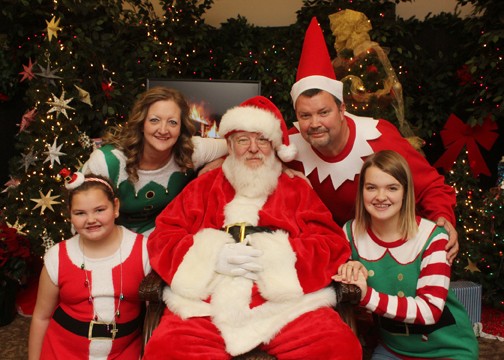 Decked out in their best holiday attire, including the ever famous "Elf on the Shelf," are Nicole and Ric Towns with their daughters Aubrey and Bethany.
…Santa Claus is coming to town – specifically to the Northwestern Oklahoma State University Student Center in Alva Saturday, Dec. 16, from 10 a.m. to 2 p.m.
This will be the eighth year that members of the NWOSU Art Society (NAS) have welcomed Santa to campus to visit and pose for photos with children of all ages. It's part of the annual festivities that accompany the Holiday Gift Store for Kids that takes place next door to Santa Land.
Nicole and Ric Towns of Alva have been bringing their daughters Bethany and Aubrey to see Santa since the art club began the event in 2010. It's something Nicole said they look forward to every year.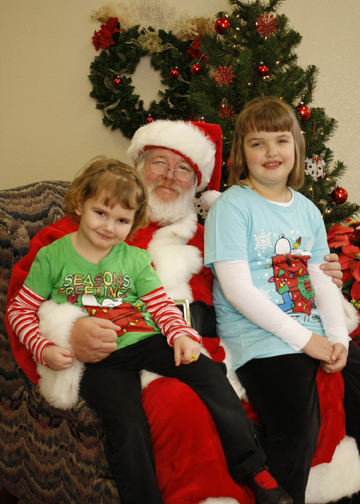 Aubrey and
Bethany
Towns have been coming to see Santa during the NWOSU Art Society's Photos with Santa and Holiday Gift Store for Kids event since it began in 2010. The girls and the background have changed a little since then.
"My girls start asking in November if I know when the Santa store event is," Nicole said. "It's definitely been a fun and positive event for us. We always have fun taking pictures, and they always turn out really good. In fact, I have two of the photos on my desk at work. People have asked me where we got them taken, and the price is very reasonable."
Santa will talk with the children asking them what they'd like to have for Christmas and will make conversation about other things the children like. While they are visiting, several photos will be taken.
NAS will have three photo-selection stations set up to help speed up the process. Each digital image chosen is $5. Families are encouraged to bring a jump drive with them so that the images may be saved to it before they leave. For those not providing a jump drive, the images will be emailed to them early the next week. If interested, the Santa photo can be turned into a holiday card using the designs provided by NAS for an additional $5 each.
The photo sessions with Santa are open to kids of all ages. Last year, the Towns took advantage of that and made their trip into a family affair with everyone dressing in holiday attire. Ric even dressed as a life-sized "Elf on the Shelf."
"Ric has a friend in Texas that started dressing as 'Elf on the Shelf' two or three years ago," Nicole said. "Ric saw how much fun it was, so he decided to do it himself."
She added that she and the girls saw dresses and sweaters at the local discount store and decided to join in on the fun.
"Having the Towns family come to the store and Santa Land last year all dressed up just made the event even more fun," Angelia Case, NAS sponsor, said. "We always look forward to our repeat customers to see how the children have changed over the years. I can't wait to see what happens this year."
Nicole said her daughters also have had a great time shopping for family presents in the Holiday Gift Store for Kids.
"The girls enjoy shopping for family, and it's very nice to have the gifts wrapped and ready to put under the tree when they leave the store," Nicole said.
Art Society members and other volunteers will assist each child while they shop to help them make their selections and stay within their budget.
"I think it's been good for my girls to think about what other people might like and put some thought into what gifts they pick out; not just buying something. We've never actually put a budget amount on the girls' money envelopes, but I have heard other parents comment that their kids have learned something about budgeting their money."
Case said that there will be a little wait time for the kids so coloring activities will be available, and for the adults, Starbucks drinks and snacks will available for purchase in the Ranger Market.
"We want to make each child's experience the best it can be, so only a few children will be allowed in the store at one time causing a little bit of a wait," Case said. "Santa also likes to make each child feel special during the photo sessions, so wait times should be expected for Santa Land as well.
"We also want to thank the Ranger Market for opening up and being available to serve our customers during our event," Case said.
For more information about Photos with Santa, the Holiday Store, NAS in general, or to learn about volunteer opportunities to help in the store or with activities outside the store while children are waiting, please contact Case at (580) 327-8577 or arcase@nwosu.edu.
-NW-
CONTACT FOR RELEASE
Ali Gavitt, University Relations Specialist
apgavitt@nwosu.edu, 580-327-8480