'Rose' voted People's Choice winner at NWOSU Art Society Winners' Show Friday
April 5, 2021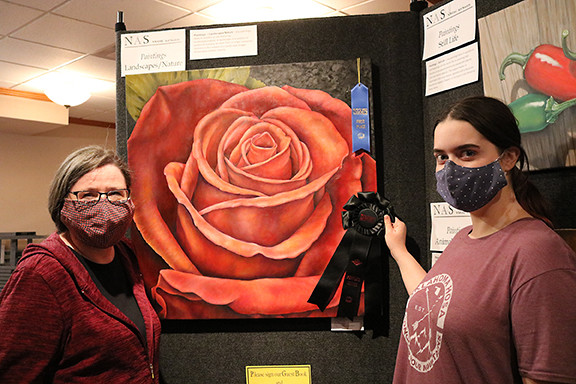 Angelia Case (left) won the People's Choice ribbon for "Rose" at the NWOSU Art Society's annual Winners' Show at the Runnymede in downtown Alva. Allison Huffmaster (right), Enid junior majoring in nursing & NAS vice president, made the presentation.
A painting titled "Rose" by Angelia Case, academic projects assistant/media specialist and Northwestern Oklahoma State University Art Society sponsor, was voted as the People's Choice winner by those attending the Art Society's annual Winners' Show Friday, April 2. More than 100 pieces of artwork were on display at the Runnymede for the First Friday Artwalk.
A list of all winning artwork is available at www.nwosu.edu/art/nas-art-show, as well as photos of more than 250 pieces of art that were on display during the campus show.
For more information about the art show or the art society, contact Case at (580) 327-8577 or arcase@nwosu.edu.
If interested in learning more about Northwestern's visual arts program, contact Kyle Larson, assistant professor of art, at (580) 327-8108 or krlarson@nwosu.edu.
-NW-