Ranger BBQ Sauce Hits the Market
May 23, 2018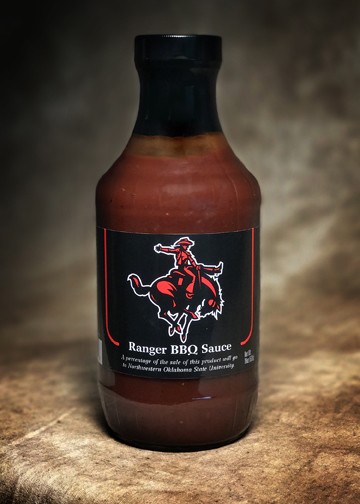 Ranger BBQ Sauce
With the barbeque season in full swing, Northwestern Oklahoma State University is unveiling its own private label sauce in partnership with the producers of the popular JR Okie Smokie.
Ranger BBQ Sauce is now being sold at retailers in Alva with hopes of expanding to other retailers in northwest Oklahoma. Northwestern receives a royalty on every bottle produced.
"Northwestern looks to align with brands that meet our standards for quality and will represent the university in a positive manner," said Steve Valencia, associate vice president for university relations and manager of the school's licensing program. "We hit a home run with Ranger BBQ Sauce. Not only is it a great product, but it has an alumni connection."
In 1997, the father and son combination of Tom Ross and Jeremy Ross of Ponca City came up with a secret recipe for some great barbecue sauce. The sauce gained in popularity but was only available in recycled ketchup bottles with the fancy name wrote with a Sharpie on the outside.
Nearly two decades later, a friend of the family, Northwestern alumnus Ryan Hintergardt, got the idea to manufacture and sell the sauce along with Jeremy. The two partnered up early in 2015 and began production.
The name of JR Okie Smokie was settled on, using the J from Jeremy's name and the R from Ryan's name.
Both individuals currently work in the oil and gas industry, with Ryan residing in Oklahoma City and Jeremy in Fairfield, Calif.
"I would like to thank Northwestern for the opportunity to sell our Ranger BBQ sauce," Hintergardt said. "We are anxious to share our sauce with the Ranger Nation and also support the university."
The sauce is becoming recognized as one of the best. At the 2018 World Series of BBQ Sauce in Kansas City. JR Okie Smokie finished 10th among 134 entries in the mild tomato category and 40th out of 388 in the "Best Sauce on the Planet."
Ranger BBQ Sauce currently is available at Whittet's, Alva's Market and Wickedly Rustic in Alva. The Ranger Market located in the Student Center in Alva also will have the sauce available when it reopens in August. Customers also may order the sauce by emailing info@jrokiesmokie.com.
-NW-
CONTACT FOR RELEASE:
Steve Valencia, Associate Vice President for University Relations
sjvalencia@nwosu.edu, 580-327-8478