'Primp for Prom' Providing Free Formals to High School Students; Donations of Dresses, Shoes, Accessories Still Being Accepted
February 27, 2023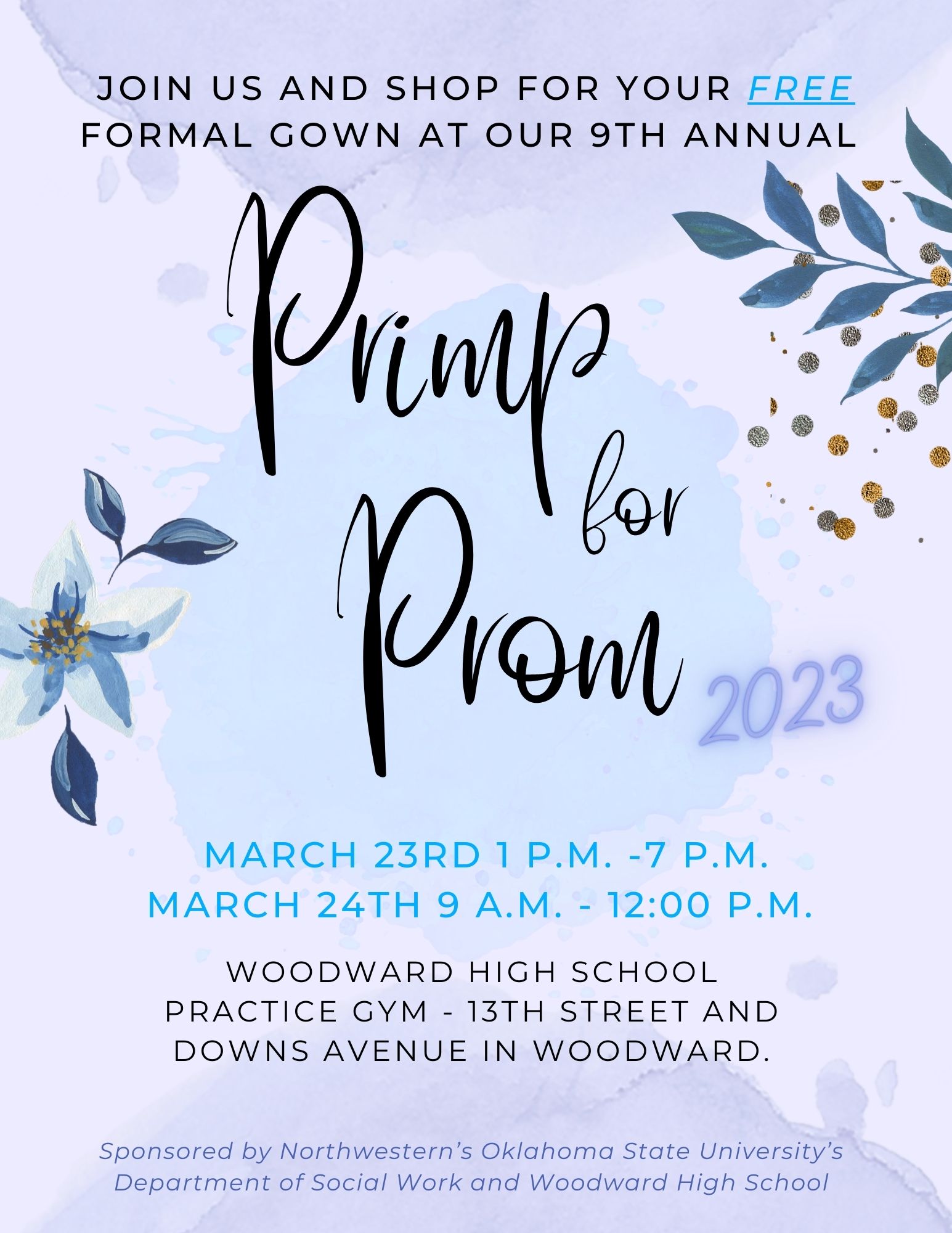 Northwestern Oklahoma State University's Department of Social Work and Woodward High School are co-sponsoring the ninth annual "Primp for Prom" event on Thursday, March 23, from 1 to 7 p.m. and Friday, March 24, from 9 a.m. to noon inside the Woodward High School practice gym, 13th Street and Downs Avenue in Woodward.
Primp for Prom is an annual spring event held in Woodward for area high school students to pick out a formal dress and accessories at no charge. More than 300 formal dresses in all sizes, styles and colors will be waiting for high school students from the northwest tristate area.
"Please invite any high school student to come shop with us," said Dr. Kylene Rehder, professor of social work and chair of the department of social work. "It's a fun-filled event that teaches us all something about kindness and community."
This event is set up like a department store with volunteers ready to assist shoppers with finding the perfect dress and accessories. Fitting rooms will be available at this event for trying on dresses.
Although the event dates are set, the sponsors are still actively seeking formal dresses, shoes and jewelry donations.
Donations of formal attire and accessories may be dropped off at Woodward High School at 13th and Downs Avenue in Woodward or at Northwestern's Woodward campus at 2007 34th Street.
In Alva, donations may be delivered to Northwestern's Wellness Center or in Enid to the campus location at 2929 E. Randolph. Questions should be directed to Rehder at kdrehder@nwosu.edu or Woodward High School staff member Stefanie Alexander at (580) 256-2858.
-NW-
CONTACT FOR RELEASE
Erin Davis, University Relations Specialist
eedavis@nwosu.edu, 580-327-8480