Primp for Prom event set for March 8-9 in Woodward; Donations still accepted
February 12, 2018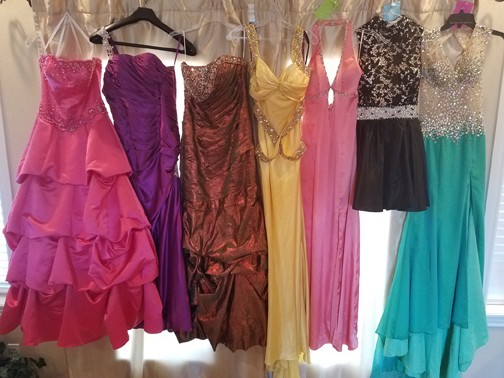 Young ladies from the northwest tri-state area will have these and hundreds of other formal dresses to choose from during the 2018 Primp for Prom event set for March 8-9 in Woodward.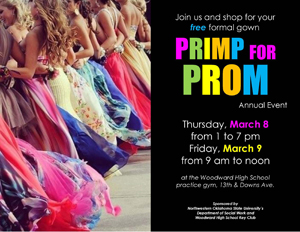 Click image for print quality poster.
Northwestern Oklahoma State University's Department of Social Work and Woodward High School Key Club are sponsoring "Primp for Prom" events Thursday, March 8, from 1 to 7 p.m. and Friday, March 9, from 9 a.m. to noon at the Woodward High School practice gym, 13th Street and Downs Avenue in Woodward.
Primp for Prom is an annual spring event held in Woodward for northwest tri-state area high school students to pick out a formal dress and accessories at no charge.
"Please invite any high school students to come shop with us," said Dr. Kylene Rehder, associate professor of social work and chair to the department of social work
This event is set up like a department store with volunteers ready to assist shoppers with finding the perfect dress. This year shoppers will be able to select from more than 300 dresses in all sizes, styles and colors. Fitting rooms also are available at this event for trying on dresses.
"We would like to acknowledge the Woodward High School Key Club student organization, Northwestern's Social Workers Association of Tomorrow (SWAT) campus organization, and the National Association of Social Workers, Oklahoma Chapter (NASW-OK) for their contributions that allowed for the purchase of shirts for our volunteers," Rehder said. "A special thank you goes to LJ Creations for making our volunteer t-shirts this year."
Although the event dates are set, the sponsors are still actively seeking formal dresses, shoes and jewelry donations.
To donate in the Woodward area, please contact Rehder at kdrehder@nwosu.edu or Anjanette Laverty at (580) 256-2858. Dresses also may be dropped off at Woodward High School at 13th and Downs Avenue in Woodward. To donate in Alva, please contact Janet Valencia, social work department secretary, at jivalencia@nwosu.edu; and to donate in Enid, please contact Jennifer Pribble, assistant professor of social work, at jlpribble@nwosu.edu.
-NW-