President's Leadership Class begins year-long adventure
August 3, 2017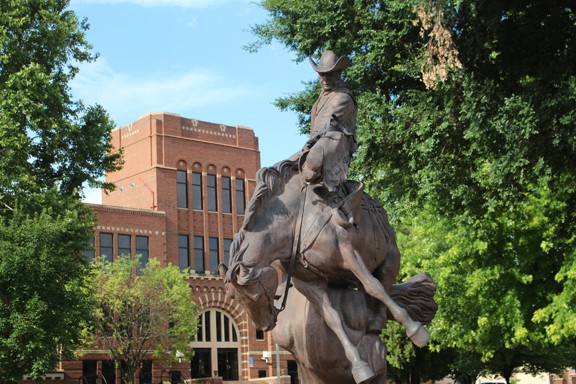 The Ranger Statue
Fifteen incoming freshmen at Northwestern Oklahoma State University will begin their year-long adventure as members of the President's Leadership Class (PLC) by heading to Boston, Mass., for their annual outing to "The Cradle of Liberty."
PLC is a leadership development program led by Dr. Janet Cunningham, university president. The program seeks to develop leadership skills in students who have compiled exemplary records of academic success and participation in high school activities. Graduates of the program are expected to assume leadership roles on campus during their time at Northwestern.
"The trip to Boston provides a once-in-a-lifetime experience to learn more about the events and persons who played a role in our independence," Cunningham said. "It also provide time for the class to bond and begin working together as a group."
Activities during the four-day trip that begins Aug. 5 include walking the Freedom Trail, a trip to the theatre, and of course, a Boston Red Sox game at historic Fenway Park.
Students selected for this year's President's Leadership Class include:
Kassidy Batt – Carnegie, Okla.

Tyler Berryhill – Venus, Texas

Duncan Brown – Gate, Okla.

Katelyn Butler – Oak Grove, Mo.

Sean Doherty – Branson, Colo.

Wacey Dorenkamp – Bristol, Colo.

Aleysa Franz – Alva, Okla.

Bailie Gooch – Stroud, Okla.

Kailey Hamilton– Douglass, Kan.

Samuel Meek – Waynoka, Okla.

Ben Ryerson – Alva, Okla.

Ethan Sacket – Aline, Okla.

Lexie Shafer – Alva, Okla.

Jaxon Spady – Las Animas, Colo.

Kayla Wilson – Quincy, Ill.
Selection to the PLC is through a competitive process including applications, letters of recommendation and an on-campus interview.
The PLC program was established in 2001 with assistance from the President's Association, an annual giving program that includes alumni and other donors.
Class members participate in leadership activities and assist the president and her staff in hosting dignitaries on campus and in selected recruitment activities.
-NW-
CONTACT FOR RELEASE
Steve Valencia, Associate Vice President for University Relations
sjvalencia@nwosu.edu, 580-327-8478