Phi Alpha Theta honor society inducts two Northwestern students
May 3, 2017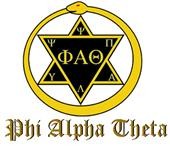 Phi Alpha Theta
Two Northwestern Oklahoma State University students have been inducted into the Phi Alpha Theta, Mu-Lambda chapter, honor society.
History majors inducted are Jeran Jones, Enid senior, and Brittany Westervelt, Ponca City junior.
The purpose of Phi Alpha Theta is to promote the study of history through the encouragement of research, good teaching, publication and the exchange of learning and ideas.
Dr. Roger Hardaway, professor of history, has been the adviser to Northwestern's Phi Alpha Theta chapter since 2004.
Hardaway explained that membership is open to only a few students each year.
"Members do not have to be history majors, but they do have to take several courses in the discipline and also have excellent grades," Hardaway said. "By being selective in its membership, Phi Alpha Theta ensures that being inducted into the organization is truly an honor."
Phi Alpha Theta was organized in 1921 at the University of Arkansas and has more than 850 chapters throughout the United States. Currently, more than 900,000 people, including several Northwestern professors, are members.
"These two students are to be commended for maintaining good grades and for upholding the lofty goals of Phi Alpha Theta," Hardaway said.
The Society's membership requirements are that undergraduate students must have a 3.0 overall grade point average, at least a 3.1 average in their history courses and have completed 12 credits of history classes. Graduate students need to have a 3.5 grade point average in their graduate courses. Students enrolled at an online university are not eligible for membership. Students need not major in history, but must have taken at least four history courses at the university level. Specific universities may develop higher qualifications as well at their discretion.
All new members will: 1) receive a membership certificate and a one-year subscription to the Society's quarterly historical journal, "The Historian"; and 2) have their names published in the publication approximately six months after becoming a member.
This journal has more than 12,500 individual subscribers and 1,000 library subscribers. The society's national headquarters and the journal's editorial offices are located at the University of South Florida. "The Historian" splits the space in its quarterly issues between articles and book reviews. The book review section of the journal has been based at Ohio Wesleyan University since 1994.
For more information on the Phi Alpha Theta organization contact Hardaway at (580) 327-8520 or rdhardaway@nwosu.edu. To learn more about Northwestern's Social Sciences programs contact Dr. Kay Decker, professor of sociology and chair of Northwestern's Department of Social Sciences, at (580) 327-8521 or kldecker@nwosu.edu.
-NW-