Northwestern's Teacher's Closet looking for volunteers to help expand to new room, organize donations on Nov. 9
November 7, 2017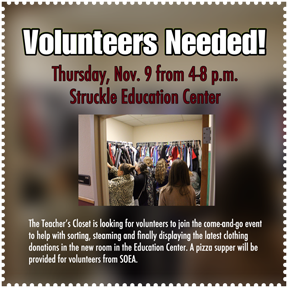 Volunteers are needed for the Teacher's Closet on Thursday, Nov. 9 between 4 p .m. until 8 p.m.
---
The Teacher's Closet, a new preparation aid for graduating students entering the professional world that was started this year, has grown through many donations and is looking to expand into more rooms. Northwestern Oklahoma State University's Division of Education and Student Oklahoma Education Association (SOEA) is asking for volunteers to help organize the closet and donations through a come-and-go event on Thursday, Nov. 9, from 4 to 8 p.m. on the second floor of the Struckle Education Center in Alva.
Volunteers will be asked to help with sorting, steaming and finally displaying the latest clothing donations in the new room in the Education Center. SOEA will provide pizza for supper for volunteers.
Dr. Jen Oswald, assistant professor of education, and Dr. Jennifer Page, assistant professor of English, developed the Teacher's Closet for students who needed a little extra help getting ready for life after graduation.
Oswald and Page explained that transitioning from a student's casual clothing to a teacher candidate's professional wardrobe can be quite challenging. The financial investment required to purchase new clothing often presents an obstacle for an education major's budget as these students also must spend significant portions of their limited discretionary income on background checks and required testing.
The groups plan to have two volunteer sessions for the Teacher's Closet every semester to help with donation organization and general maintenance.
For more information contact Oswald at (580) 327-8451 or jdoswald@nwosu.edu.
-NW-
CONTACT FOR RELEASE
Ali Gavitt, University Relations Specialist
apgavitt@nwosu.edu, 580-327-8480