Northwestern's SOEA partnering with two organizations looking for shoes, other non-perishable items for donation
October 6, 2017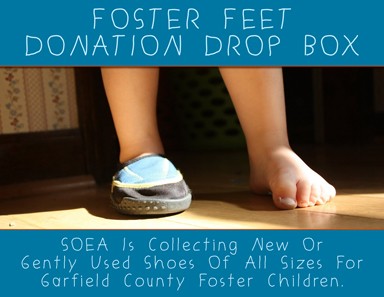 "Foster Feet" to collect new or gently used shoes of all sizes for Garfield County foster children.
---
Northwestern Oklahoma State University's Student Oklahoma Education Association from Alva is looking for shoe and other non-perishable donations by Oct. 12.
The organization is partnering with "Foster Feet" to collect new or gently used shoes of all sizes for Garfield County foster children.
Dr. Jen Oswald, assistant professor of education at Northwestern's Division of Education, is spearheading the donation process.
"'Foster Feet' is a nonprofit started by one of our [SOEA] VP's sister when she noticed a girl at school didn't have shoes that fit," Dr. Oswald said.
SOEA is also partnering with the Ronald McDonald House (RMH) organization to gather non-perishable items.
"RMH is one of our favorite charities as they run solely on donations. Families who have children with cancer can stay at RMH free of charge," Oswald said. "Meals and all amenities are provided free of charge. They ease the burden of these families tremendously. Some families arrive with only the clothes on their backs, and RMH takes care of everything for them. We visit once a year to take our current officers on a tour, and they always leave absolutely amazed by what they see. Every donation is needed and truly makes a difference."
The wish list from Ronald McDonald House Donation includes:
30 and 13 gallon trash bags
Bleach
Disinfecting spray and wipes
Powdered laundry detergent
Dish soap
Dishwasher soap / detergent
Snack and sandwich bags
Paper towels
Aluminum foil
Bathroom cleaner
Copy paper
Non-perishable food items such as canned meat, soup, etc.
Drinks such as Capri Sun, juice, bottled water, and drink mixes
Gift cards
Donation boxes are in Education Center and Oswald will collect until Thursday, Oct. 12. She also has a bucket for pop can tabs outside of her office located in the Education Center at room 105 where anyone can drop their pop tabs to be taken to RMH each semester.
For questions about donations and how to donate, contact Oswald at (580) 327-8451 or jdoswald@nwosu.edu.
-NW-
CONTACT FOR RELEASE
Ali Gavitt, University Relations Specialist
apgavitt@nwosu.edu; 580-327-8480