Northwestern's nursing program is tops in Oklahoma, ranked No. 18 of 754 nursing schools in central U.S.
November 8, 2017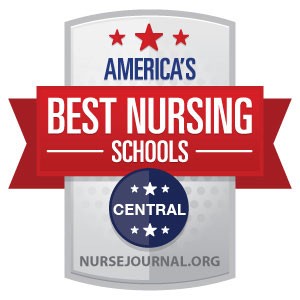 Nursejournal.org seal for America's Best Nursing Schools
---
Northwestern Oklahoma State University's nursing program has been named the 18th best in the country out of 754 nursing schools in the central United States by Nursejournal.org. Criteria used for the ranking included quality, affordability, convenience, satisfaction and value.
Northwestern is the top ranked Oklahoma nursing school in this listing.
"Anytime Northwestern nursing is recognized regionally or nationally, it acknowledges the hard work of our students and the devotion of our faculty to the profession of nursing," Dr. Shelly Wells, professor of nursing and chair of the Division of Nursing, said. "The Division of Nursing has worked tirelessly to address the health care needs of the citizens of Northwest Oklahoma and the surrounding areas. It is our hope that this recognition will attract more men and women to the nursing program at Northwestern."
Northwestern's nursing program currently has 59 students in the Bachelor of Science in Nursing program and the online RN-to-BSN degree program. The first official semester of the BSN-to-DNP program has 19 students pursuing a doctorate as a nurse practitioner.
The nursing program is among the top in the state with the national RN licensing examination (NCLEX) pass rates. The BSN program is accredited by the Accreditation Commission for Education in Nursing, Inc. (ACEN) and is approved by the Oklahoma Board of Nursing (OBN). The BSN-to-DNP program for Family Nurse Practitioners has received provisional approval from the Oklahoma Board of Nursing.
For more information on Northwestern's nursing degree programs visit www.nwosu.edu/school-of-professional-studies/nursing or contact Wells at (580) 327-8489 or scwells@nwosu.edu.
-NW-
CONTACT FOR RELEASE
Ali Gavitt, University Relations Specialist
apgavitt@nwosu.edu, 580-327-8480