Northwestern's Fall Commencement Ceremony to be Held Dec. 5
November 29, 2021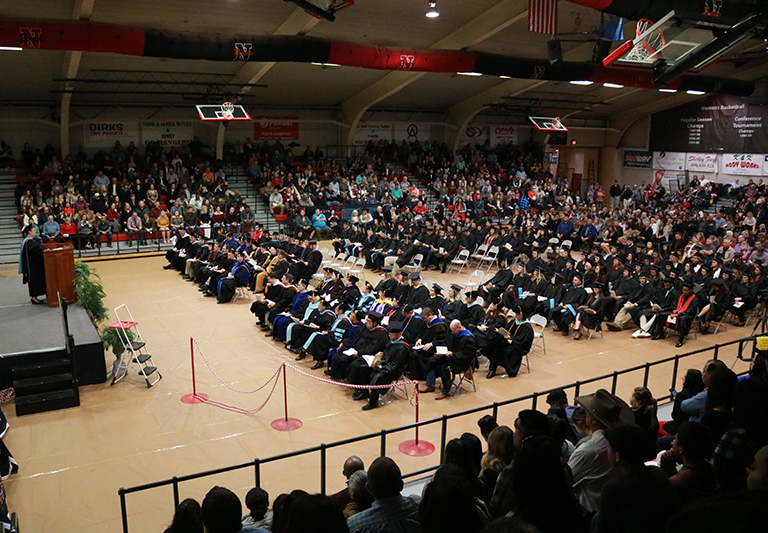 Fall commencement at Northwestern Oklahoma State University will be held at 3:30 p.m. on Sunday, Dec. 5, in Percefull Fieldhouse.
Emulate Therapeutics, Inc. Chief Executive Officer (CEO) and chairman Chris Rivera, a 1983 graduate of Northwestern Oklahoma State University, will deliver the commencement address.
A native of Albuquerque, New Mexico, he graduated from Northwestern with a bachelor's degree in business administration. While at Northwestern, Rivera played on the men's basketball team (1979-1983).
He later earned a master's degree at the University of Oklahoma Health Sciences Center and studied marketing and management at the Albers Graduate School of Business and Economics at Seattle University.
Music will be provided by the Ranger symphonic band under the direction of Dr. Michael Black, assistant professor of music and director of bands.
A reception honoring the graduates will immediately follow the ceremony and be held in the Student Center Ballroom.
A live stream of the fall commencement can be found at: www.YouTube.com/NWOSURangers
Seventy-six students are candidates to receive bachelor's degrees. Seventeen candidates will receive master degrees–13 will receive Master of Education degrees and four will receive Master of Counseling Psychology degrees.
Fifteen students receiving bachelor's degrees will graduate with honors. Students with cumulative grade point averages between 3.70 and 3.79 are designated cum laude, those with GPAs between 3.80-3.89 are magna cum laude and those above 3.90 are summa cum laude.
Those honor graduates, their degrees and their hometowns are as follows:
SUMMA CUM LAUDE
OKLAHOMA
ELGIN – Emily Poindexter, Bachelor of Science in Education in health and sports science education
MENO – Caleb Decker, Bachelor of Science in agriculture
ARIZONA
VAIL – Mikayla Edris, Bachelor of Science in Education in early childhood education
KANSAS
BUCKLIN – Rylie Pegelow, Bachelor of Science in agriculture
GODDARD – Tarra Parks, Bachelor of Business Administration
KINSLEY – Scout Frame, Bachelor of Arts in history
MAGNA CUM LAUDE
OKLAHOMA
ALVA – Nicholas Davis, Bachelor of Science in computer science
ENID – Josey Belair, Bachelor of Science in Education in early childhood education
MARLOW – Wyatt Bergner, Bachelor of Science in health and sports science education
TEXAS
THE COLONY – Nicholas Dill, Bachelor of Science in mass communication
CUM LAUDE
OKLAHOMA
CLEVELAND – Tristan Harzman, Bachelor of Arts in history
ENID – Elizabeth Perez, Bachelor of Science in criminal justice with a law enforcement option
FORT COBB – Hannah Nickel, Bachelor of Science in Education in elementary education
MADILL – Lesli Dugan, Bachelor of Science in Nursing
MISSISSIPPI
PEARL – Peyton McDonald, Bachelor of Business Administration in accounting
Master's graduates, their degrees and their hometowns are as follows:
MASTER OF COUNSELING PSYCHOLOGY
OKLAHOMA
ALVA – Karolyn Cole
ENID – Lauren Keller
PONCA CITY – Krystal Lawson
CALIFORNIA
LOS ANGELES – Brianna Minjares
MASTER OF EDUCATION
OKLAHOMA
COLLINSVILLE – Hollie Pankake, adult education management and administration
EDMOND – Catherine Anderson, curriculum and instruction
ENID – Shannon Warnock, school counseling
PONCA CITY – Laura Caid Glowacki, educational leadership; Ann Neilson, educational leadership
WOODWARD – Wendy Neel Oates, school counseling
CALIFORNIA
CHOWCHILLA – Sebastian Escalante, adult education management and administration
HEMET – Calvonis Prentice, adult education management and administration
MARTINEZ – Josh Evans, adult education management and administration
KANSAS
ALMENA – Kortney Cunningham, adult education management and administration
BURDEN – Joshua Koppelmann, adult education management and administration
WICHITA – Joseph Frangenberg, adult education management and administration
WRIGHT – Rachel Trombley, school counseling
Bachelor's graduates, their degrees and their hometowns are as follows:
BACHELOR OF ARTS
OKLAHOMA
ALVA – Dalton Manning, general studies
BEAVER – Shehab Lotfy, history
CHEROKEE – Joshua Atchley, history
PONCA CITY – Denise Amaya Villalobos, general studies
SAPULPA – Jonathan Dunn, general studies
WOODWARD – Emma-Leigh Pool, general studies
CALIFORNIA
OAKLAND – Devond Blair Jr., general studies
NEW MEXICO
PORTALES – Emilio Lovato, sociology
TEXAS
WACO – Jesse Furlong, general studies
SLOVAKIA
BRATISLAVA – Matej Drgon, general studies
BACHELOR OF ARTS EDUCATION
OKLAHOMA
ALVA – Maya Stewart, special education
TALOGA – Jenna Brooks, social science
BACHELOR OF BUSINESS ADMINISTRATION
OKLAHOMA
BEAVER – Gabe Osborn, accounting
ENID – Matthew Wedel, accounting
NOWATA – Shea Cardwell, accounting
PONCA CITY – Jennifer Staggs
SAND SPRINGS – Allison Sellers
WOODWARD – Rilee Murray, accounting
BACHELOR OF SCIENCE
OKLAHOMA
ALVA – Natalie Seevers, biology with a health science option; Steffanie Nichols, psychology
BARTLESVILLE – Shelbie Roberson, biology with a health science option
BEAVER – Hadley Skaggs, health and sports science education
BOISE CITY – Tyler Giner, criminal justice with a law enforcement option
CORDELL – Christopher Chauncey, mathematics
ENID – Jeffrey Brooks, organizational leadership
GUTHRIE – Lindsey Ball, biology with a health science option
JET – Cheyenne Gaff, agriculture
NEWKIRK – Tracy Hernandez, psychology
OKEENE – Sharon Boeckman, mathematics
RINGWOOD – David Clemente, health and sports science education; Yosbelli Lora, psychology
TULSA – Anthony Cochrane II, agriculture
WOODWARD – Jocelyn Fraire, biology with a health science option; Kelsey Swindle, health and sports science education; Avery Raney, psychology
ARIZONA
TUCSON – Reilly Marks, psychology
COLORADO
LOVELAND – Dylan Norsen, health and sports science education
FLORIDA
PENSACOLA – George Rutherford, health and sports science education
GEORGIA
BUCKHEAD – McKayla Alliston, criminal justice with a law enforcement option
IOWA
DES MOINES – Sunday Deng, health and sports science education
OGDEN – Jayden Muench, agriculture
KANSAS
EUREKA – Hannah Zimmers, biology with a health science option
MEADE – Cade Carr, agriculture
MISSOURI
MARYVILLE – Brody Snow, agriculture
TENNESSEE
MEMPHIS – Frank Nelson, psychology
TEXAS
FORT WORTH – Brian Gonzalez, criminal justice with a law enforcement option
GARLAND – Adrelan Brown, health and sports science education; Nehemiah Lewis, health and sports science education
MARQUEZ – Kaydee Honeycutt, biology with a health science option
MESQUITE – Grant French, health and sports science education
TEMPLE – Alejandro Aaron, health and sports science education
WACO – Brian Holiday, health and sports science education
NEPAL
KATHMANDU – Salina Ghimire, computer science
BACHELOR OF SCIENCE EDUCATION
OKLAHOMA
ENID – Ashley Alegria, elementary education; Jack Buckles II, elementary education; April Burrow, early childhood education
FAIRVIEW – Davin DeVilbiss, early childhood education; Baylee Sharp, early childhood education
MORRISON – Matthew Fuller, health and sports science education
OKEENE – Cydnee Wray, elementary education
BACHELOR OF SCIENCE IN NURSING
OKLAHOMA
GEARY – Niki Golden
-NW-
FOR IMMEDIATE RELEASE
Erin Davis, University Relations Specialist
eedavis@nwosu.edu 580-327-8480