Northwestern's Fall Commencement Ceremony to be Held Dec. 4
November 29, 2022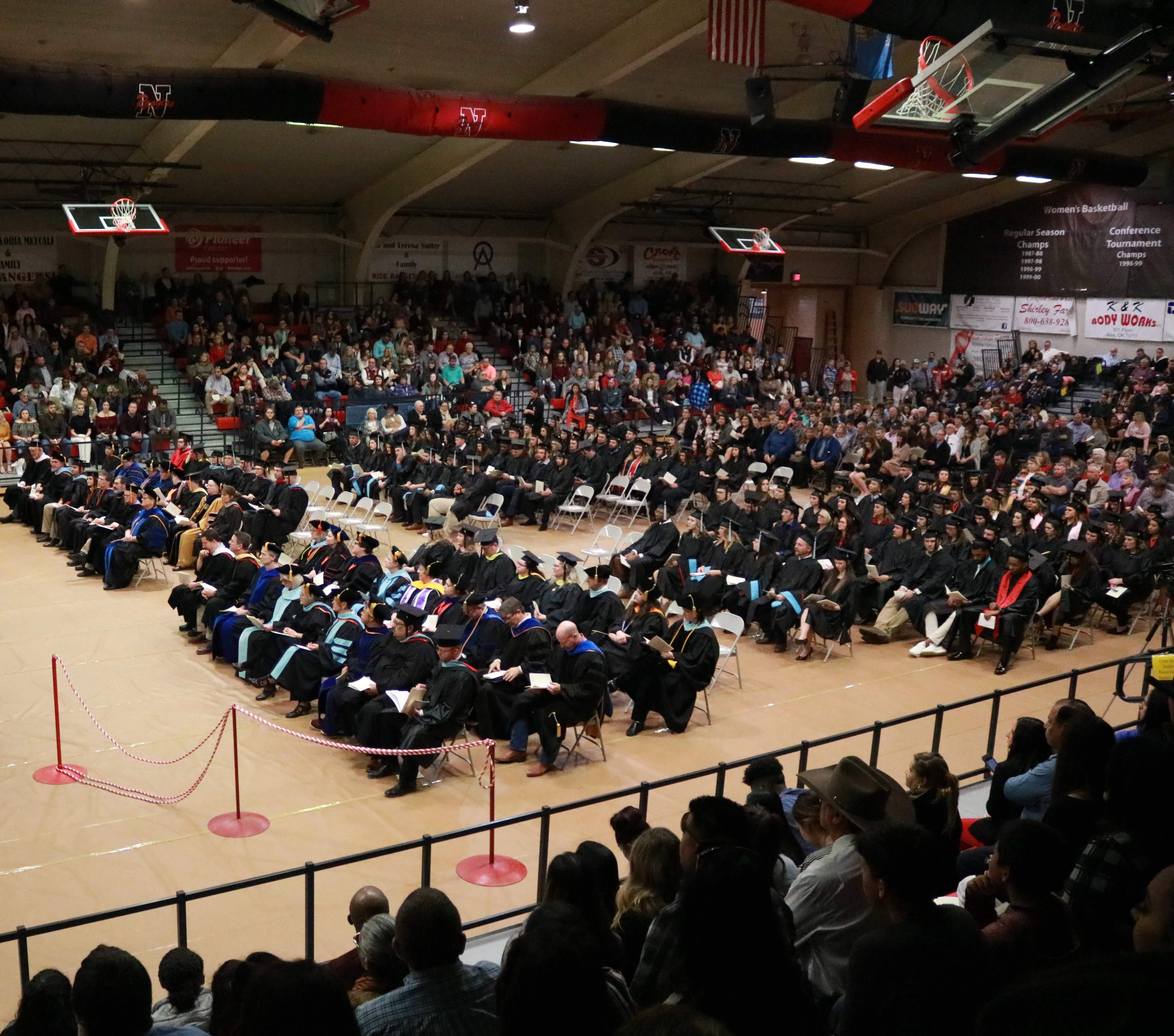 Fall commencement at Northwestern Oklahoma State University will be held at 3:30 p.m. on Sunday, Dec. 4, in Percefull Fieldhouse.
Northwestern Oklahoma State University alumni Dr. Randy Smith will deliver the commencement address. Smith had a career at Northwestern for over 25 years (1979-2005) starting as the assistant dean of students and leaving as the dean of student services and enrollment management.
A native of Oklahoma City, he graduated from Northwestern with a bachelor's degree in education. He later earned a master's degree in secondary education at Northwestern and went on to Oklahoma State University for his doctoral degree in educational administration.
Music will be provided by the Northwestern brass quintet under the direction of Dr. Michael Black, assistant professor of music and director of bands.
A reception honoring the graduates will immediately follow the ceremony and be held in the Student Center Ballroom.
A live stream of the fall commencement can be found at: www.YouTube.com/NWOSURangers
Seventy-seven students are candidates to receive bachelor's degrees. Twenty-three candidates will receive master degrees–one will receive a Master of Arts in American Studies degree, one will receive a Master of Arts in Heritage Tourism and Conservation degree, nine will receive Master of Counseling Psychology degrees, 11 will receive Master of Education degrees and one will receive a Master of Science in General Psychology degree.
Seventeen students receiving bachelor's degrees will graduate with honors. Students with cumulative grade point averages between 3.70 and 3.79 are designated cum laude, those with GPAs between 3.80-3.89 are magna cum laude and those above 3.90 are summa cum laude.
Those honor graduates, their degrees and their hometowns are as follows:
SUMMA CUM LAUDE
OKLAHOMA
ALVA – Braeden Cook, Bachelor of Arts in political science
BEAVER – Alejandria Kasparie, Bachelor of Science in biology
EDMOND – Braden Reichert, Bachelor of Science in health and sports science education
HELENA – Camdon Frech, Bachelor of Business Administration
NEWKIRK – Beret Watters, Bachelor of Science in Education in elementary education
ILLINOIS
WILLIAMSVILLE – Angela Egger, Bachelor of Science in Education in early childhood education
MISSOURI
PLATTE CITY – Tanner Clarkson, Bachelor of Science in Education in health and sports science education
MAGNA CUM LAUDE
OKLAHOMA
BEAVER – Hannah Mosburg, Bachelor of Science in Education in elementary education
GLENPOOL – Braxton Kearns, Bachelor of Science in criminal justice
JET – Jayden Dillon, Bachelor of Arts in Education in English
PONCA CITY – Paytan Hodgson, Bachelor of Science in Education in elementary education
CUM LAUDE
OKLAHOMA
WOODWARD – Branson Brewer, Bachelor of Business Administration; Nicholas Navratil, Bachelor of Science in computer science
IOWA
MADRID – Alexandria Jacobs, Bachelor of Science in agriculture
KANSAS
COLWICH – Morgan Bullinger, Bachelor of Science in agriculture
MINNESOTA
BRAINERD – Courtney Russell, Bachelor of Science in health and sports science education
MISSISSIPPI
PEARL – Peyton McDonald, Bachelor of Business Administration
Master's graduates, their degrees and their hometowns are as follows:
MASTER OF ARTS IN AMERICAN STUDIES
OKLAHOMA
WOODWARD – Anja Harrison
MASTER OF ARTS IN HERITAGE TOURISM AND CONSERVATION
NEBRASKA
HASTINGS – Kelsey Ripperger
MASTER OF COUNSELING PSYCHOLOGY
OKLAHOMA
DOVER – Rafaela Avila
ENID – Shannon Stout
MOORELAND – Jessi Seiger-Ross
PONCA CITY – Ashley Adams, Relo Adams, Alicia Cummings, Ashley Wickens
RINGWOOD – Tammy Bivings
KANSAS
CONWAY SPRINGS – Leslie Willson
MASTER OF EDUCATION
OKLAHOMA
ENID – Tanya Gordon, reading specialist
TURPIN – Trista Lansden, educational leadership
WAYNOKA – Emily Kennedy, school counseling
MICHIGAN
FLINT – Robert Vest, curriculum and instruction
NEVADA
GARDNERVILLE – Caitlyn Bidart, adult education management and administration
NEW YORK
BRONX – Chavarr Warren, adult education management and administration
NORTH CAROLINA
GREENSBORO – Brian Free, adult education management and administration
TEXAS
CARROLLTON – Brannon Robinson, reading specialist
LUCAS – Dakota Michaels, adult education management and administration
PAMPA – Brycen McClendon, adult education management and administration
SCOTLAND
MOTHERWELL, GLASGOW – Stephen McCluskey, adult education management and administration
MASTER OF SCIENCE IN GENERAL PSYCHOLOGY
OKLAHOMA
RINGWOOD – Kimberly Wheeler
Bachelor's graduates, their degrees and their hometowns are as follows:
BACHELOR OF ARTS
OKLAHOMA
BLACKWELL – David Hazard, political science
CANTON – Brendan Lang, history
CHEROKEE – Brendan Lohrding, Spanish
CLEO SPRINGS – Casey Edwards, general studies
ENID – Madison Chapman, general studies; Crystal Fiala, general studies
HENNESSEY – Taylor McKay, general studies
PONCA CITY – Zachary Hutson, political science
PRYOR – Coleman Proctor, general studies
ARIZONA
TUCSON – Chloe Kunnemann, general studies
BACHELOR OF ARTS IN EDUCATION
OKLAHOMA
BARTLESVILLE – Camille Soderstrom, English
ENID – Tyler Callaway, English
MENO – Lacey Navarro, English
BACHELOR OF BUSINESS ADMINISTRATION
OKLAHOMA
CLINTON – Cynthia Forrest
ENID – Sadie Black, accounting; Rylee Moritz
OKEENE – Kylie Hicks
PONCA CITY – Colton Bowker; Bryce Thilsted, accounting
TONKAWA – Trinity Walker
TYRONE – Javier Vega
TEXAS
GREENVILLE – Weston Jarvis
BACHELOR OF SCIENCE
OKLAHOMA
ALEX – Shawnace Melendez, psychology
ALINE – Blake Miller, computer science
ALVA – Caleb Chapman, agriculture; Zeth Warren, health and sports science education; Dylan Whitely, mass communication
DRUMMOND – Brianna Kaupke, mathematics
ENID – Marquez Baker, biology
FREDERICK – Daniel Contreras, criminal justice
GATE – Lindee Carson, agriculture
LAWTON – Destiny Chew, criminal justice
MANGUM – Deshaun Edmonds-Frazier, health and sports science education
MEDFORD – Claire Blubaugh, agriculture
NASH – Erica Hildinger, biology
OKLAHOMA CITY – Chloe Rogers, criminal justice
OWASSO – Cynthia Armas, criminal justice
PERRY – Gina Wilson, health and sports science education
PONCA CITY – Calista Rocha, psychology
SAPULPA – Jaeden Coon, health and sports science education
TULSA – Marcus Brent, computer science
WAYNOKA – Thomas Treece, health and sports science education
CALIFORNIA
LOS ANGELES – Steven Shin, computer science
COLORADO
AURORA – Ravyn Burns, health and sports science education
KANSAS
GEUDA SPRINGS – Joshua Butler, agriculture
TEXAS
DALLAS – Dwight Walker, health and sports science education
FORT WORTH – Matthew O'Neal, health and sports science education
GARLAND – Jordan Norris, criminal justice
NEPAL
TEHRATHUM – Heman Chongbang Limbu, computer science
TANZANIA
DAR ES SALAAM – Kevin Collins Felix, computer science
BACHELOR OF SCIENCE IN EDUCATION
OKLAHOMA
ALVA – Susannah Welty, elementary education
BLACKWELL – Simeon Shepherd, health and sports science education
ENID – Jean Dodds, health and sports science education
NEWALLA – Sarah Averill, elementary education
PONCA CITY – Erin Lewis, early childhood education
YUKON – Mackena Tennyson, agriculture education
COLORADO
WESTMINSTER – Allie Hufford, elementary education
TEXAS
GONZALES – Juan Licea, mathematics
BACHELOR OF SCIENCE IN NURSING
OKLAHOMA
MCLOUD – Kindra Wilcox
WOODWARD – Devan Brannock
-NW-