Northwestern's Choirs to Present 'Soundscapes V' Concert May 1
April 20, 2021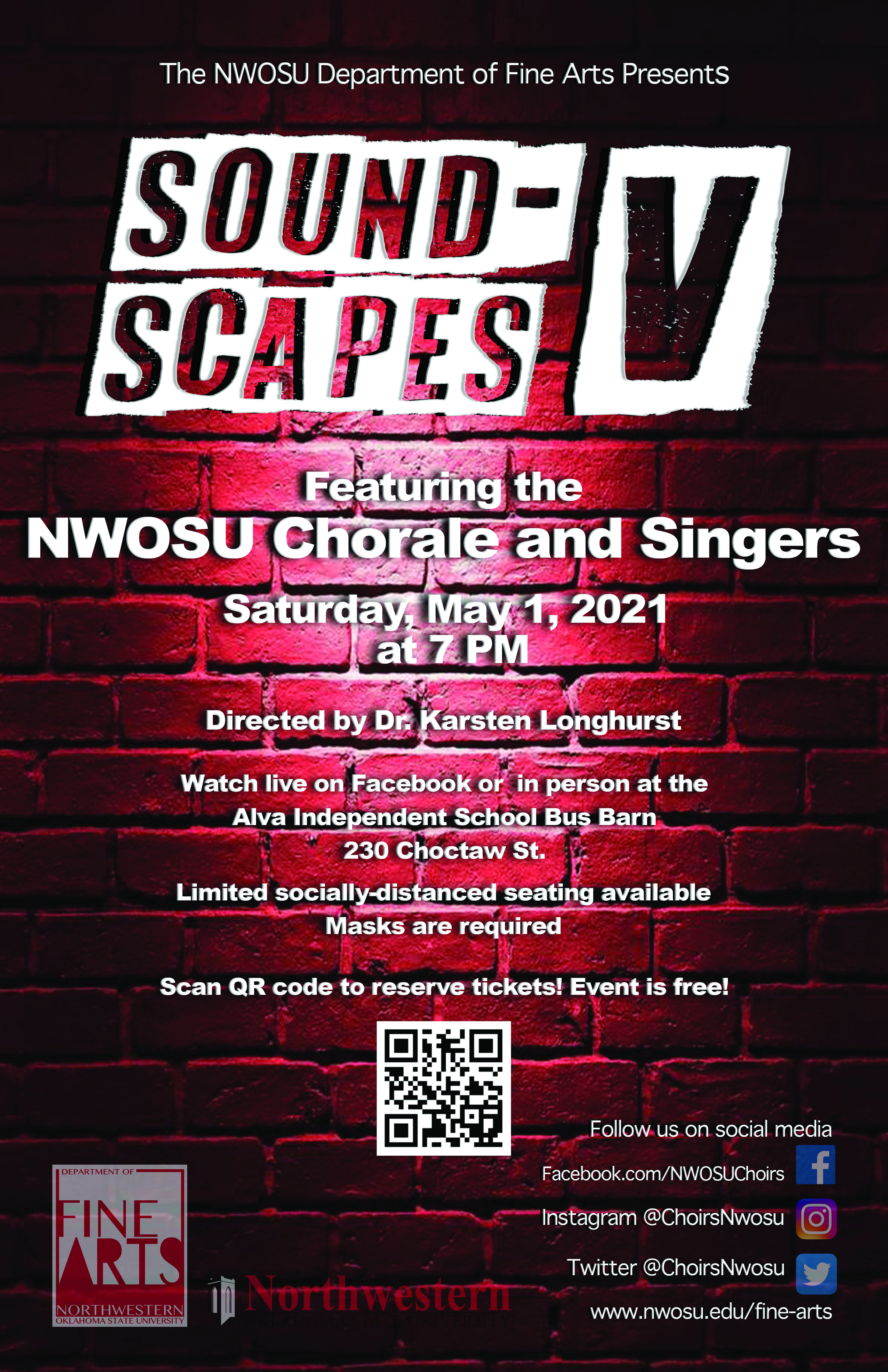 Northwestern Oklahoma State University's choirs, which consist of the University Singers and the University Chorale, will be performing "Soundscapes V" at 7 p.m. Saturday, May 1, at the Alva Independent School Bus Barn, 230 Choctaw.
The concert will be live-streamed via the university choir's Facebook page at https://www.facebook.com/NWOSU.Choirs.
Tickets are free, but due to COVID-19 safety regulations, limited seating is available. Tickets can be reserved online at https://www.eventbrite.com/e/soundscapes-v-tickets-151202614089.
This is the fifth year the choirs have chosen this unique location because of its great acoustics, historic setting, and public interest for a concert. Soundscapes is free and open to the public, but donations are encouraged.
Dr. Karsten Longhurst, director of choral studies and assistant professor of music, says the choir students have been working hard after not being able to have a Soundscapes concert experience last spring due to the COVID-19 shutdown.
Longhurst said the choirs will be singing Renaissance works by Spanish composer Tomas Luis de Victoria and Italian composer Giovanni Pierluigi da Palestrina; vocal jazz works like "It Don't Mean a Thing," "Smile" and "Water Fountain" by tUnE-yArDs, and other contemporary choral works by Eric Whitacre, Jake Runestad, Jean Berger and Stacey V. Gibbs.
"We are really excited to perform in front of a crowd even though we have to cap the attendance at 150 seats due to social distancing and COVID precautions," Longhurst said. "Most of the music will be a cappella but will represent an amazing span of compositional periods and styles."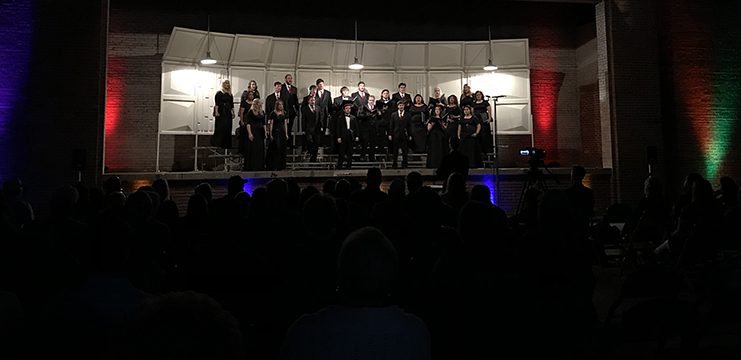 Northwestern choir members entertain the audience in the Alva Independent School Bus Barn during their spring 2019 Soundscapes concert. Soundscapes V will take place Saturday, May 1, at 7 p.m. in the same location.
Mikayla Carpenter, senior vocal music performance major from Alva, is excited about the upcoming concert.
"I love singing in this space," Carpenter said. "The building produces amazing acoustics. I'm looking forward to bringing these songs to life with my choir family for the audience to experience."
For more information about Northwestern's choir, upcoming concerts or fundraising efforts, contact Longhurst and krlonghurst@nwosu.edu or (580) 327-8692.
-NW-
CONTACT FOR RELEASE
Erin Davis, University Relations Specialist
eedavis@nwosu.edu, 580-327-8480