Northwestern's Annual Children's Theatre Production Nov. 17-19
November 15, 2022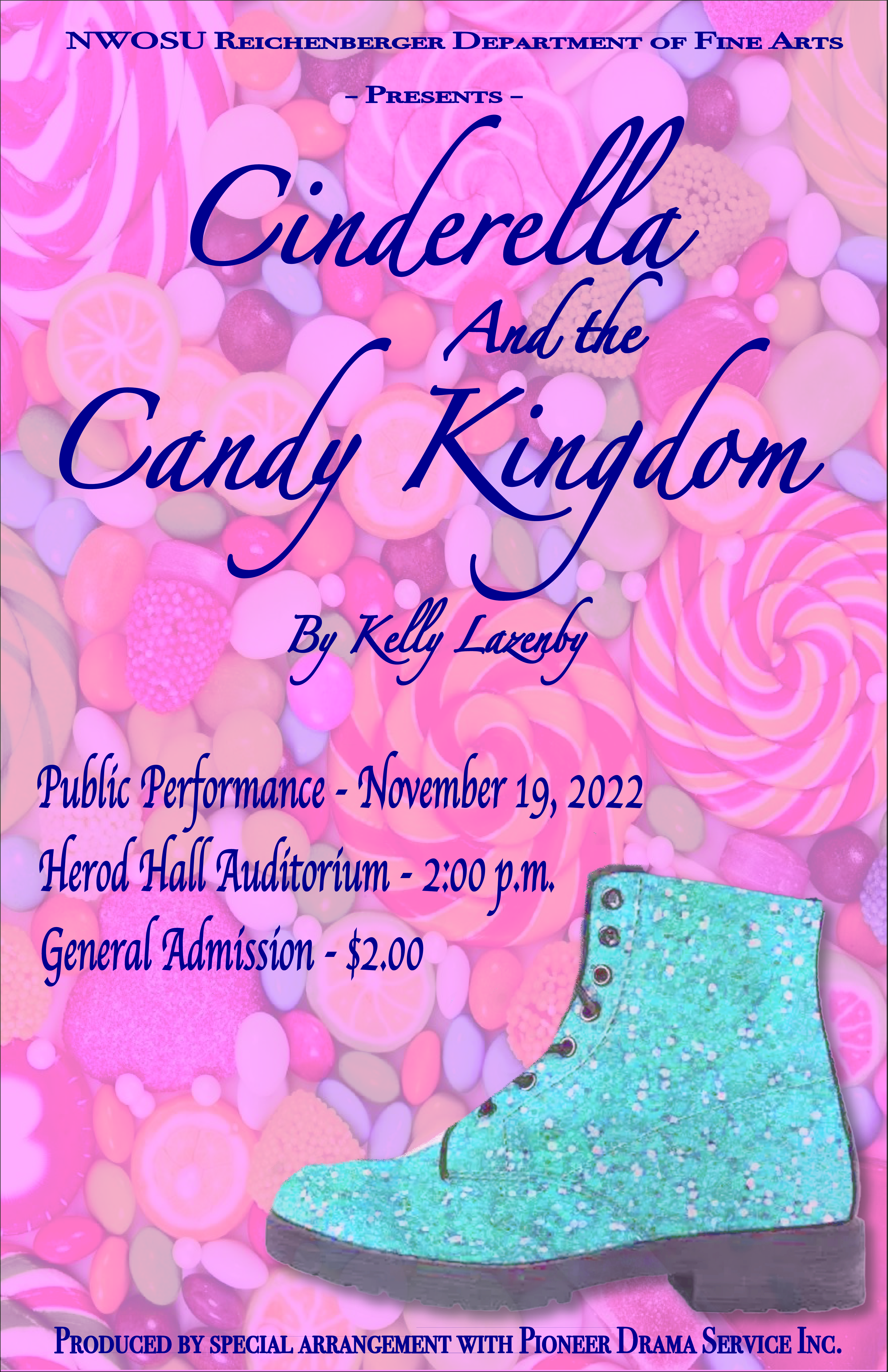 Northwestern Oklahoma State University students will be on the stage in Herod Hall Auditorium for the annual children's theatre production of "Cinderella and the Candy Kingdom" for a public performance on Nov. 19 at 2 p.m.
Admission is $2, and tickets will be sold at the door.
The show also will be performed for students from 11 elementary schools, including Alva-Lincoln, Alva-Longfellow, Alva-Washington, Burlington, Cherokee, Freedom, Medford, Mooreland, Okeene, South Barber and Waynoka on Nov. 17-18.
Everyone in the Candy Kingdom has a sweet tooth, except for one poor, country girl: Cinderella. She is neglected by her father, a dentist who is too busy with house calls; overworked by her bitter stepmother; and teased and tormented by her two sticky stepsisters. Meanwhile, Queen Caramel, the queen of Candy Kingdom, is throwing a "Gum Ball" for her son, Prince Reese, to find him a bride. Alas, the prince is sour on the idea and is counting on his best friend, Hershey, to get him out of it! With the whole kingdom a-twizzle, Cinderella's tooth fairy godmother shows up with her magical helpers, the Peeps, and arranges for Cinderella to attend the ball. If Cinderella can go to the ball, maybe she will find a charming prince who doesn't like sweets! The queen thinks Marsha Mallow will be a great match for her son, but he is not interested. After the ball, the queen's guards, M and M, join the prince and Hershey in the search for the foot that fits the shoe.
Here is the sweetest (and most clever) retelling of the Cinderella tale you've ever heard! Filled with candy puns, colorful characters, and comedy, "Cinderella and the Candy Kingdom" is fun for all ages.
Kimberly Weast, professor of theatre and chair of the Department of Fine Arts, is the director.
Cast members for this production include the following:
Aliyah Bidwell, junior mass communication major from Geary; Archer Bohlen, junior computer science major from Ringwood; Gabriel Bussinger, freshman speech and theatre major from Woodward; Jade Campbell, freshman music-instrumental major from Woodward; Ashland Crites, freshman English major from Hennessey; Chancie Davidson, freshman instrumental music major from Alva; Lilith Ferrero, junior speech and theatre major from Alva; Alan Garcia, sophomore biology health science major from Beaver; Sam Grinder, junior vocal music education major from Sayre; Itzy Gutierrez, junior early childhood education major from Guymon; Jameson Hale, sophomore vocal music education major from Elk City; Erika Hernandez, senior elementary education major from Laverne; Kevin Jaquez, freshman vocal music education major from Enid; Madeline Long, freshman early childhood education major from Gate; Fernando Nunez, sophomore psychology major from Laverne; Sadrie Overall, senior biology major from Iola, Kansas; Emily Smith, junior vocal music education major from Holdenville; Bethany Towns, sophomore psychology major from Alva; Rosa Vargas, freshman social science education major from Lahoma; Jerilynn Wilkins, junior vocal performance major from Pima, Arizona; and Emily Wright, freshman speech and theatre and mass communication major from Cheyenne.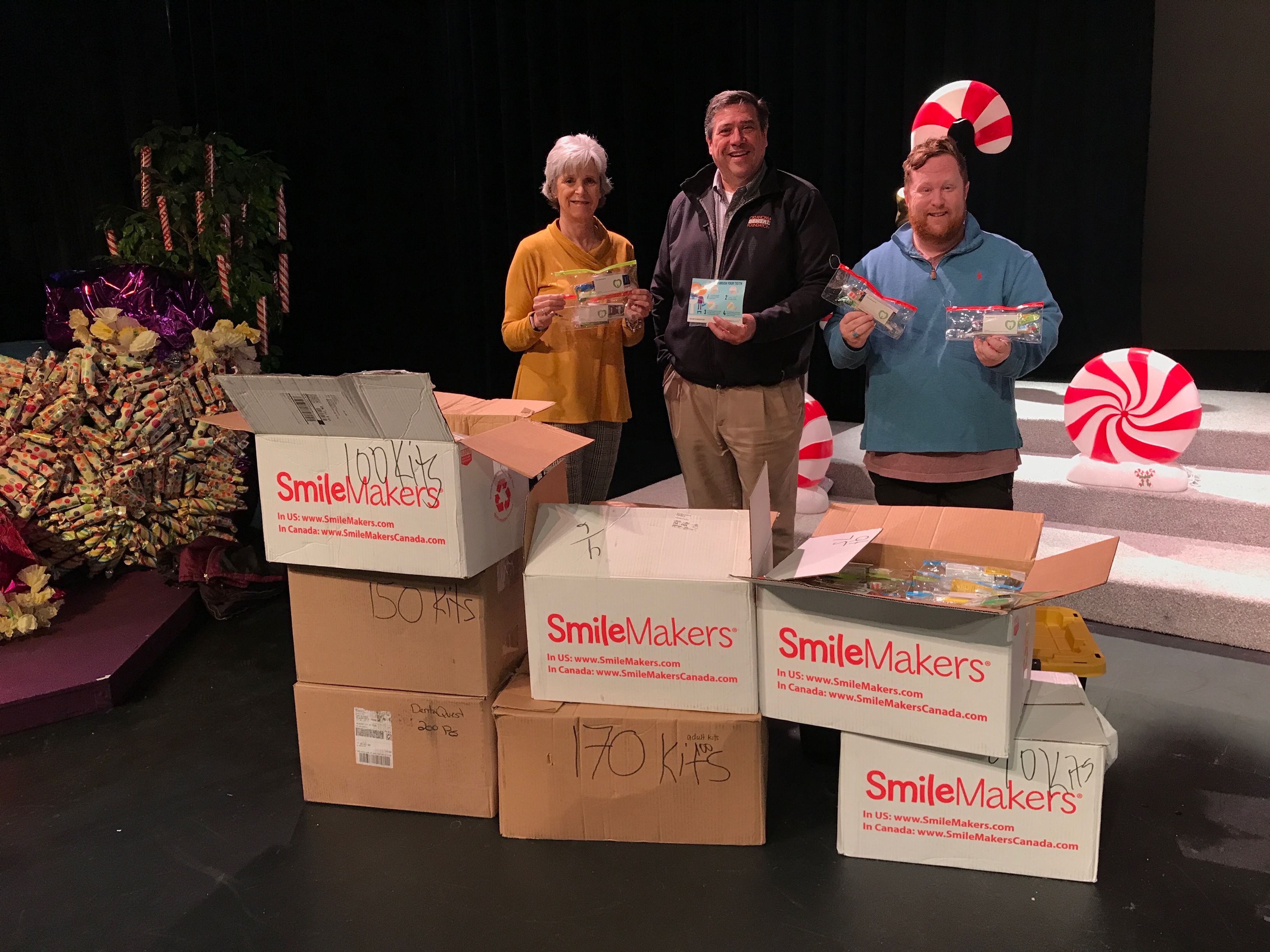 Executive director of the Oklahoma Dental Foundation John Wilguess (center) delivered 1,750 toothbrush kits to the Northwestern theatre staff, Kimberly Weast (left) and Mickey Jordan (right) on Tuesday.
They are supplying these kits to be handed out to the children and others Nov. 17-19 at the end of the annual children's production. This activity is organized as a part of the Kindness Day activities happening in northwest Oklahoma on Nov. 18.
ODF employees plan to attend the Friday productions and hand out the kits.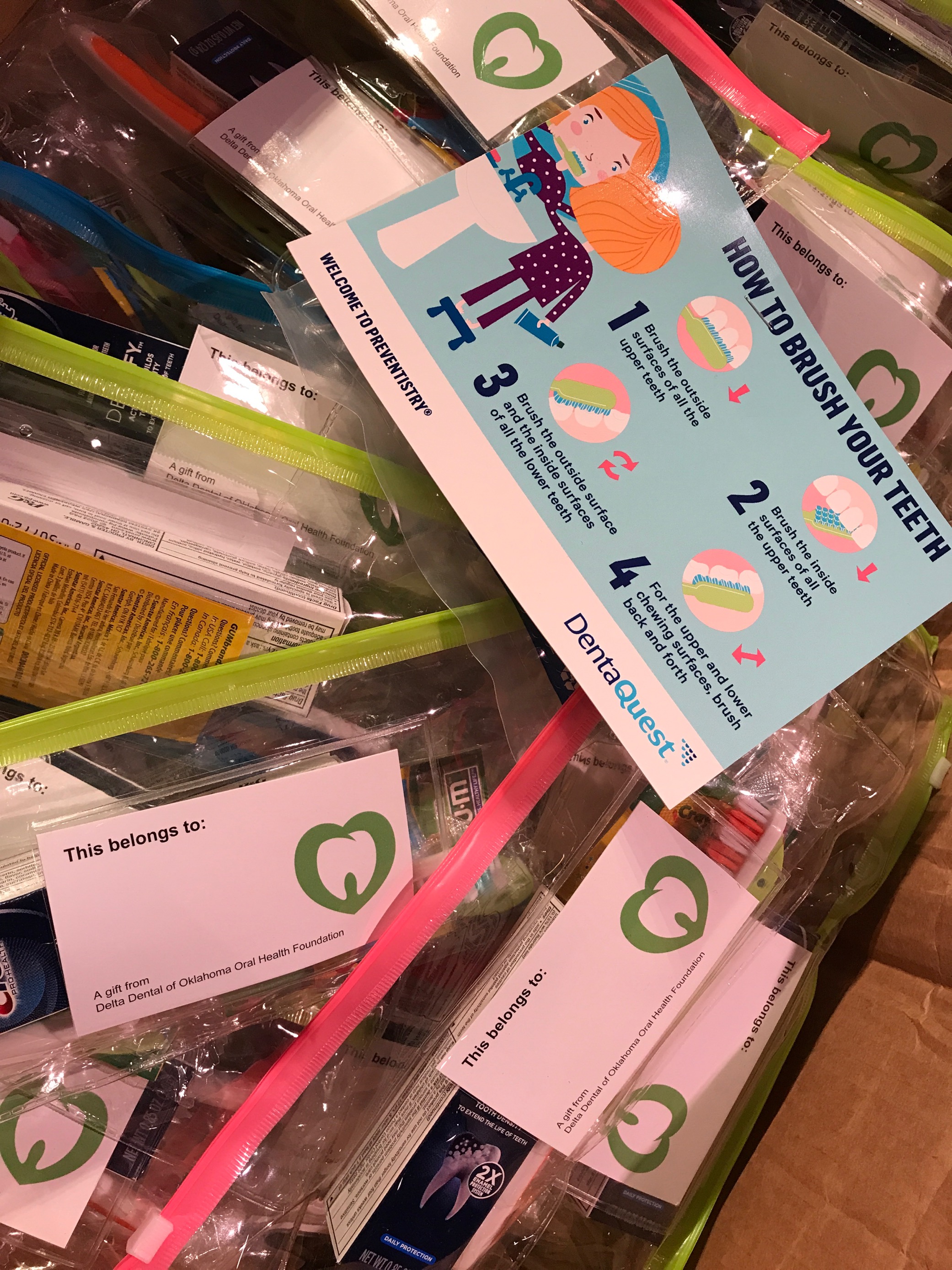 For more information on theatre performances and courses at Northwestern, contact Weast at (580) 327-8462 or kkweast@nwosu.edu or see more info at www.nwosu.edu/fine-arts.
-NW-
CONTACT FOR RELEASE:
Erin Davis, University Relations Specialist
eedavis@nwosu.edu, 580-327-8480