Northwestern's annual Bahama Breakaway set for April 25
April 12, 2019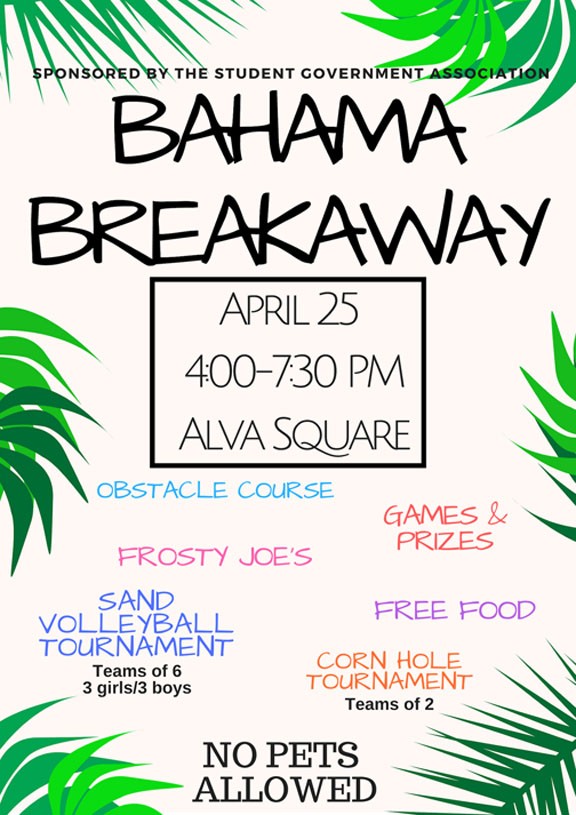 Students participated in several games last year on the downtown square for Bahama Breakaway. This year's event will take place April 25 with plenty of more games to enjoy and destress before finals week.
Northwestern Oklahoma State University students will be enjoying Bahama Breakaway on Alva's downtown square Thursday, April 25, from 4-7:30 p.m. Each year Northwestern's Student Government Association (SGA) sponsors this fun event for students before they dive into finals.
Alva Chamber of Commerce members will cook free hamburgers and hotdogs for students. There also will be an inflatable obstacle course and dual basketball hoops set up on the square for student participation along with free Frosty Joe's Sno-Cones provided by SGA.
They also will have a chance for cash prizes in a volleyball tournament, a corn hole tournament and various games. Including limbo, pass the coconut, 3-on-3 tug of war (females only), a water balloon toss, hula contest (males only), and a frozen t-shirt contest.
Students can sign up for the tournaments at the sand volleyball pit on the downtown square. Signup for both tournaments ends at 4:15 p.m. that day.
This year the SGA has more than $350 to offer in prizes as well as gift card giveaways throughout the event.
Something new this year for Bahama Breakaway is that SGA will provide a shuttle to take students to and from the event. The shuttle will be at the tennis courts to take students to the event downtown every 15 minutes from 3:45-5 p.m. The shuttle will leave the downtown area taking students from the event back to the tennis courts every 30 minutes from 5-7:30 p.m.
Bahama Breakaway shirts are still available in the Northwestern Business Office for $10 per shirt. Students who show up to the event in their Bahama Breakaway shirt will be entered twice for prizes and giveaways. Shirts also will be sold at the event.
Contact Olivia Yandel, SGA co-sponsor, with questions about Bahama Breakaway at (580) 327-8105 or oayandel@nwosu.edu.
-NW-
CONTACT FOR RELEASE:
Erin Davis, University Relations Specialist
eedavis@nwosu.edu, 580-327-8480