Northwestern to Present 'Greater Tuna' Theatre Production April 15-17
April 5, 2021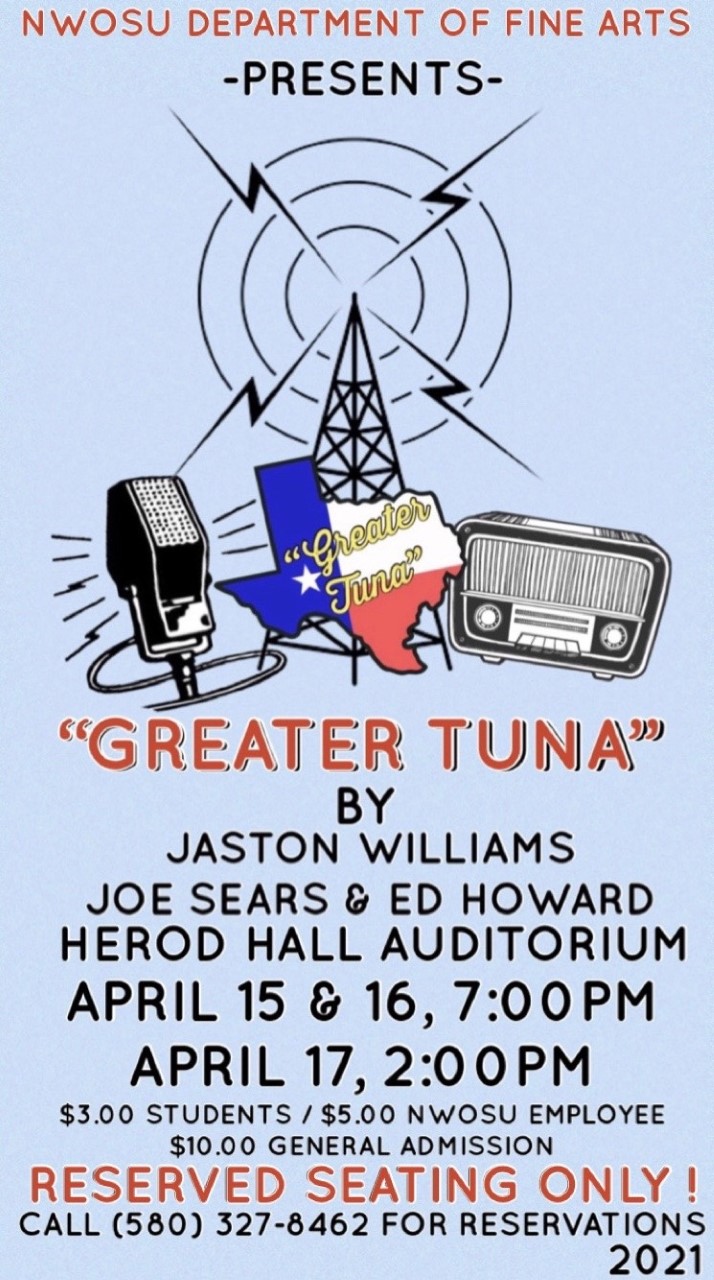 The Northwestern Oklahoma State University fine arts department will present its first theatre production of the spring semester, "Greater Tuna," in Herod Hall Auditorium in Alva on April 15 and 16 at 7 p.m. and April 17 at 2 p.m.
Mickey Jordan, director of technical theatre and Herod Hall facilities manager, said "Greater Tuna" by Jaston Williams, Joe Sears and Ed Howard is a colorful comedy about radio and daily life in the third smallest town of the lone star state, Tuna, Texas. The wacky inhabitants -- men, women, children and animals -- are all played by skillful, transformative actors who must change parts at breakneck speed and use inventive voice work to bring the citizens of Tuna to life.
Due to COVID-19 regulations there will only be reserved seating for the three presentations of the play. There are only 60 seats available per performance. Audience members must reserve seats in advance but can pay at the door.
To reserve tickets contact the production's director, Kimberly Weast, professor of theatre arts and chair of the department of fine arts, at (580) 327-8462 or kkweast@nwosu.edu. To reserve tickets, leave your name, phone number, email address, desired date of attendance and the number in your party.
Admission is $10 for general audience, $5 for Northwestern faculty and staff with employee IDs and $3 for students with current student IDs.
"'Greater Tuna' allows the audience to laugh at themselves and the people they know," Weast said. "It is a wonderful story with relatable characters, humor and a few minutes of contemplation."
Cast members for this production include the following:
Adele Callaway, nursing freshman from Shattuck; Sydney Endsley, speech and theatre junior from Ringwood; Lilith Ferrero, English education sophomore from Cordell; Sam Grinder, biology freshman from Sayre; Alica Hall, speech and theatre alumna, printing services coordinator; Temberlenn Hall, speech and theatre sophomore from Austin, Texas; Anastasia Harper, biology freshman from Alva; Erin Lehr, speech and theatre alumna; Peyton Lucas, psychology senior from Fairview; Austin Morton, mass communication junior from Buffalo; Lisa Turner, biology freshman from Alva; Dr. Dena Walker, associate professor of mathematics; Feliciti Wall, undecided freshman from Duncan; and Jordan.
Assisting behind the scenes, there are many other theatre crew members who work to give the production life. Scenic design is being created by Chris Chauncey, mathematics senior from Cordell; scenic painting is being provided by Sara Acosta, speech and theatre alumna; costumes are being organized by Ferrero; lighting is being designed by Endsley; audio design is resonating throughout the auditorium with work from Chauncey; and the production on the stage comes together thanks to stage managers Callaway and Destiny Engelken, biology sophomore from Alva.
"It is so gratifying to see the dedication of our students," Jordan said. "Theatre majors, minors and interdisciplanary participants have commited to creating an outstanding production. The hours that go into the unseen rehearsals, set construction, lighting and audio design are many, and the reward will be great."
For more information about "Greater Tuna" or the theatre program, contact Weast or Jordan at (580) 327-8458 or mojordan@nwosu.edu.
-NW-
CONTACT FOR RELEASE
Erin Davis, University Relations Specialist
eedavis@nwosu.edu, (580) 327-8480