Northwestern to play host to Tomáseen Foley's 'A Celtic Christmas' Nov. 28
November 27, 2017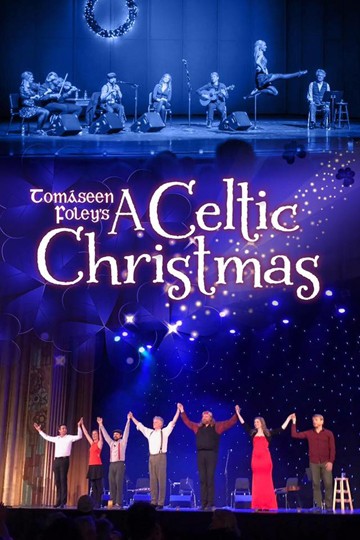 The live Celtic storytelling performance, Tomáseen Foley's "A Celtic Christmas," will come to Northwest Oklahoma on Tuesday, Nov. 28, at 7 p.m. in Northwestern's Herod Hall Auditorium. Tickets can be purchased online or at the door.
---
Northwestern Oklahoma State University will play host to the second performance in the Northwest Oklahoma Concert Series lineup with Tomáseen Foley's "A Celtic Christmas" on Tuesday, Nov. 28, at 7 p.m. in Herod Hall Auditorium.
Every Christmas from California to Florida and from Maine to Texas, Tomáseen Foley's "A Celtic Christmas" has crisscrossed the country, bringing to packed concert halls his authentic remembrance of a way of life that is no more. Now in its 20th season, this live performance recreates the joy and innocence of a night before Christmas in a remote farmhouse in the parish of "Teampall an Ghleanntáin" in the West of Ireland in the 1940s – Tomáseen Foley's birthplace – when the neighboring families gather around the fire to grace the wintry night with the haunting melodies of traditional Irish Christmas carols, to raise the rafters with the joy of their music and to knock sparks off the flagstone floor with traditional dances, and to fill the night with the laughter of their stories.
The Celtic Christmas cast is made up of various performers and instruments such as Tomáseen Foley, Native Irish storyteller, producer and artistic director; Edwin Huinzinga, fiddle; Brian Bigley, Uilleann pipes, whistles, flute and vocals; William Coulter, Grammy Award-winning guitarist, musical director and vocals; Kara Matthias, vocals; and world-champion level traditional Irish dancers Marcus Donnelly, Ann Profeta and Samantha Harvey, also on accordion.
Tickets may be purchased online at http://bit.ly/2ztiKOY or at the door for $20 general admission, $5 student admission and $50 for family admission (immediate members only).
Northwestern also will play host to the concert series' last two performances in 2018: "Russian String Orchestra" on Feb. 27 and "Flipside: The Patti Page Story" on April 3.
Get a sneak peek of Tomáseen Foley's music by visiting www.tomaseenfoley.com.
To learn more about the Northwest Oklahoma Concert Series' and the rest of its lineup follow the facebook page at www.facebook.com/NorthwestOkCS and Twitter at @NorthwestOkCS.
The Northwest Oklahoma Concert Series serves residents of northwest Oklahoma by providing cultural experiences in the performing arts presented by professional musicians with regional, national and international acclaim. The concert series is sponsored by the National Endowment for the Arts, Charles Morton Share Trust, Oklahoma Arts Council and Northwestern.
-NW-
CONTACT FOR RELEASE
Ali Gavitt, University Relations Specialist
apgavitt@nwosu.edu, 580-327-8480