Northwestern to play host to chamber music ensemble Tulsa Camerata Jan. 29
January 18, 2019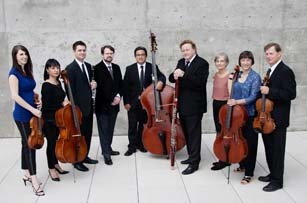 The chamber music ensemble Tulsa Camerata will come to northwest Oklahoma on Tuesday, Jan. 29, at 7 p.m. in Northwestern Oklahoma State University's Herod Hall Auditorium. Tickets can be purchased online or at the door.
Northwestern Oklahoma State University will play host to the third performance in the Northwest Oklahoma Concert Series lineup with Tulsa Camerata on Tuesday, Jan. 29, at 7 p.m. in Herod Hall Auditorium.
Formed in 2010, members of Tulsa Camerata have a passion for sharing chamber music with a broad regional audience. The group's mission is to enrich the cultural life of communities through artistically excellent and innovative chamber music concerts.
In addition to performing works from traditional chamber music repertoire, Tulsa Camerata is dedicated to promoting music of the 20th and 21st centuries, with an emphasis on living and ethnically diverse composers whose work may be little known to contemporary American audiences. Without a fixed instrumentation, the group is uniquely positioned to bring together accomplished musicians in ensembles that can create invigorating, fresh chamber music programs.
Tickets may be purchased online at http://bit.ly/2qp97xV or at the door for $20 general admission, $5 student admission and $50 for family admission (immediate members only).
Northwestern also will play host to the concert series' last performance in 2019: "Riders in the Sky" on April 23.
Get a sneak peek of Tulsa Camerata's music by visiting www.tulsacamerata.org or check out their Facebook page at www.facebook.com/tulsacamerata.
The Northwest Oklahoma Concert Series serves residents of northwest Oklahoma and the surrounding area by providing cultural experiences in the performing arts presented by professional musicians with regional, national and international acclaim. The concert series is sponsored by the National Endowment for the Arts, Charles Morton Share Trust, Oklahoma Arts Council and Northwestern.
To learn more about the Northwest Oklahoma Concert Series and the rest of its lineup follow the Facebook page at www.facebook.com/NorthwestOkCS and Twitter at @NorthwestOkCS.
-NW-
CONTACT FOR RELEASE:
Erin Davis, University Relations Specialist
eedavis@nwosu.edu, 580-327-8480