Northwestern to play host to Blood Drive Sept. 21-22
September 14, 2020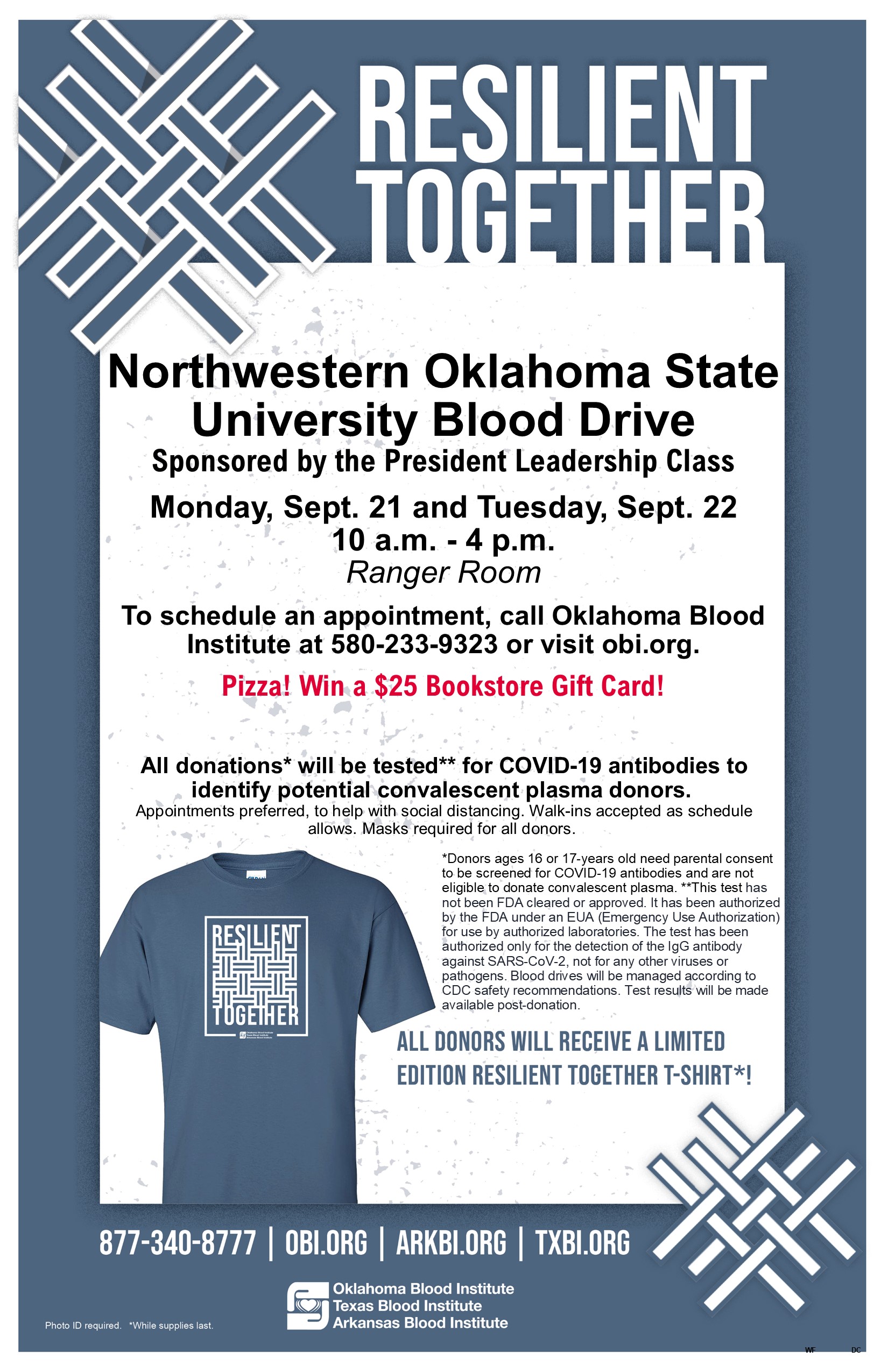 Northwestern Oklahoma State University's Alva campus is partnering with the Oklahoma Blood Institute (OBI) to hold a blood drive from 10 a.m. to 4 p.m. on Monday and Tuesday, Sept. 21-22, in the Student Center Ranger Room.
The blood donor goal for the Northwestern President's Leadership Class-sponsored event is 127 blood units for the drive. This event is open to the public.
Blood donation is safe and critically important, despite concerns surrounding coronavirus (COVID-19).
All blood donors will receive a free limited edition "Resilient Together" t-shirt, free health screenings and donor rewards points. Free pizza will be available, and all donors will be entered in a drawing for a chance to win a $25 Northwestern bookstore gift card.
This drive also will have a challenge among all students living in Northwestern's residence halls. The hall with the highest percentage of donors will win a pizza party.
Every donor can receive a free COVID-19 antibody test with results being mailed post-donation. This test has not been reviewed by the Food and Drug Administration and is not intended for diagnosis or treatment of COVID-19. Donor must be 18 years old to receive antibody test.
"Blood donors are needed now more than ever," Kaylyn Hansen, service learning coordinator, said. "Especially with the COVID-19 pandemic, we need all eligible donors to help rebuild the blood supply."
As COVID-19 and resulting concerns continue to spread, additional challenges to the blood supply have occurred, including canceled and postponed blood drives. Oklahoma Blood Institute depends on 1,200 donors per day to support the inventory needed for patients in more than 160 hospitals, medical facilities and air ambulances statewide.
"Blood is a perishable product, and we need constant donations not only to meet our community needs, but in case of local and national emergencies," John Armitage, M.D., president and CEO of Oklahoma Blood Institute, said. "We urge healthy adults to continue their regular blood donations so the lifesaving supply can be maintained for our local patients who depend on blood products during treatment for cancer, traumatic injuries and other life-threatening conditions."
Donors will need to show a photo ID to give blood. Everyone also is required to wear a face covering.
"Giving blood is such a rewarding thing to do when you think of all the people who could benefit from your donation," Lauren Lancaster, freshman PLC member of Alva, said. "When a person gives blood they may not think that it does much but to some people, it is the difference between life and death."
Those wishing to donate are encouraged to go online and make an appointment. To make an appointment for Monday, Sept. 21, visit https://www.yourbloodinstitute.org/donor/schedules/drive_schedule/324205. To make an appointment for Tuesday, Sept. 22, visit https://www.yourbloodinstitute.org/donor/schedules/drive_schedule/324227.
For more information contact Hansen at (580) 327-8150 or klhansen@nwosu.edu.
-NW-